50 Best Airsoft Guns 2023 | Ultimate Guide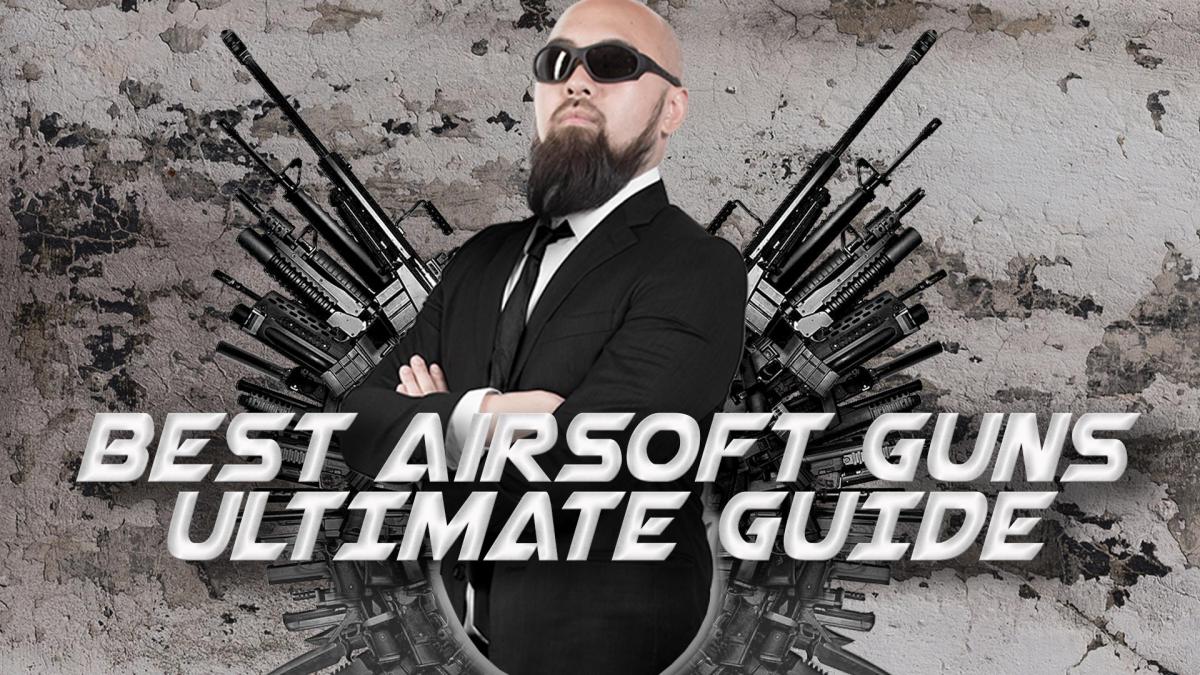 Choosing the best airsoft gun can be a mind-boggling experience since there are so many models and platforms to choose from. If you are just starting out in Airsoft, then this task becomes even more insurmountable with so many different opinions out there. To help both new players and experienced collectors filter out the noise, we wanted to give recognition to the Best Airsoft Guns of 2023. From reliable rifles, unique pistols, long-range snipers, room-clearing shotguns, and awe-inspiring machine guns, we look in-depth at every category to identify the winners that are worth your consideration. Do note that this isn't a list of the best airsoft guns of all time, but a ranking of the best guns available right now that you can buy. So sit back and read on for our picks of the 50 Best Airsoft Guns of 2023.
---
Recommended
---
How We Choose the Best Airsoft Gun
There are a number of important factors we considered when compiling our list of Best Airsoft Guns, these include:
FUN FACTOR– Airsoft is a hobby so airsoft guns must be able to generate joy. We look at recoil, sound, design, optional accessories, and overall awesomeness that makes the gun interesting. Non-shooting models can also be fun, like a beautiful revolver with realistic ammo that you can load into a rotating cylinder. We rate each of our picks on how much pleasure you can derive from ownership.
REALISM – What makes Airsoft guns attractive for so many is that they replicate real guns. While many manufacturers try their best to recreate the details and feel of a real gun, some succeed while others fail horribly and end up with something more akin to a toy. We rate how real each of our top picks feels and looks.
PERFORMANCE – Power measured in feet-per-second (FPS), range and accuracy are the key metrics we use to determine the best airsoft gun. From there, we also prioritize airsoft guns with an adjustable hop-up and high-quality buckings to ensure that they give the consistency and accuracy you need. All FPS ratings are universally based on 0.2 gram BBs.
BUILD QUALITY – We look for good quality construction, materials and refinement not only in the external components but also internally. The fit tolerances, discernable wobbles and rattles, smoothness of operation, durability of components, etc are all considered.
VALUE – Affordably priced airsoft guns that rank highly in all the above categories are prioritized over more expensive airsoft guns that offer the same, as "bang for your buck" is an important consideration for most airsoft players. This criteria rates if you are getting more for your money compared to similar guns in the same class, meaning is it a good deal. For more information on how to determine the value of an airsoft gun, check out this article on what goes into the cost of an airsoft gun.
COLLECTABILITY– Sometimes an Airsoft gun stands out simply because it is unique either because it's not produced by anyone else or holds enough of a cultural or collectable value to make you want to have a piece of history regardless of its utility. This criteria rates whether the gun is a must-have for collectors. Some rare or limited edition Airsoft guns even appreciate in value in the secondary market and we rate their investment value where applicable.
---
OUR TOP PICKS
---
Best performing and category-defining all-around airsoft pistol that all other brands aspire to beat, making it a staple for anyone's armory if you can overlook the plastic slide. Good cold-weather performance thanks to its light plastic slide, making the Tokyo Marui Hi Capa 5.1 an all-season performer. Don't be fooled by the plastic construction which is required by Japanese law. We find the plastic slide and grip to be very high quality, and the primary components are all housed within the metal mid-frame. While based on the real double stack 2011, the Hi Capa 5.1 is actually a fictional model. However, there are numerous metal upgrade slide options and grips can turn this into something much more realistic. People who choose the Tokyo Marui Hi Capa 5.1 take the approach of starting with a very good engine and then customizing the external parts around it to end up with an amazing pistol. Numerous options to upgrade by exploring the huge aftermarket parts market that can make this the perfect pistol for IPCS competition or skirmishing. If upgrading parts seems like too much trouble, then consider its more dressed up sibling, the Tokyo Marui Hi Capa 5.1 Gold Match.
Best all-around airsoft sniper rifle for most people. Amazing hop-up makes it the most accurate bolt action sniper rifle with modest factory power that can and should be upgraded with aftermarket parts to make it one of the most formidable airsoft rifles on the field.
The most popular model in both the real steel and airsoft community, the Glock 17 is one of the most popular Airsoft pistols hands down. The pistol is rugged and does the job with the most recognizable form factor that has become a staple of any serious tactical loadout. If you're looking for something smaller, then consider the equally good Umarex Glock 19 Gen 4, or the beefier Umarex Glock 45.
Positioning itself as an affordable alternative to the much more expensive Systema PTWs, and the only airsoft gun designed & made in the EU (Denmark), the EVO's compact form factor and impressive electronic trigger won it the Best AEG category in the Players Choice Awards for many years running. One of, if not, the best SMG AEGs available.
The best-looking out-of-the-box custom Glock for the same price as a standard Glock. Voted as the top 5 best pistols of the year by Players Choice Awards, this striking design from Agency Arms and custom Timberwolf lower frame comes with a handful of premium features that are usually found on more expensive pistols, including adjustable trigger, metal mag well, stippling effect and fibre optic sights. The adjustable trigger, which is a rare feature in this price range, can remove all slack from the trigger and make it as responsive as a high-performance race gun for uber-fast double-taps. Blacked out inner barrel adds to the realism. The EXA fits standard Glock 17 holsters and has a compatible accessory rail for lights and lasers. If you already own a Umarex Glock 17 with spare magazines, they all fit in the EXA making this pistol a no-brainer for Glock fans.
Modelled after the iconic British STEN gun from World War 2, the Northeast STEN GBB is an extremely faithful replica made out of full steel with operation and disassembly being practically identical to the real thing. With the weight and performance to match, this unique gun is essential to any WW2 British loadout and with six different models to choose from, you can be confident that one of them will be the right STEN for you.
Silverback's more affordable Tact41P sniper rifle is widely viewed as the little brother to their SRS bullpup sniper rifle, and yet still boasts a lot of great features at a fraction of the price. Based on their own design and not a replica of a real gun, Silverback was able to do all the things required to make a sniper rifle that was good for airsoft without being limited by real gun aesthetics. Serious snipers who care about performance should give the Tac41P a good hard look.
8. GHK M4 GBBR - Most Realistic Gas AR 15
The GHK M4 GBBR is the most realistic airsoft M4 gas blowback rifle for many years counting and still reigns supreme with authentic field-stripping and attention to the smallest details, although VFC is closing the gap in recent years and Marui's MWS might have a slight edge in cold weather use. GHK's ability to use both green gas and CO2 magazines still puts it a step above the rest for use in places with distinct seasons and large temperature differences. Very strong recoil and lots of accessories for upgrades.
Eye-catching "custom AR 15" with superior attention to detail, and offering a feature-packed electronic trigger control unit that offers a binary mode for ultra-fast CQB semi-auto shooting Special stock design to accommodate Titan Lithium-Ion batteries is also very forward-looking. The BAD AEG is not cheap and comes in either standard length or the SBR compact version, but if you want an AR 15 that is a bit edgier with an incredibly fast binary trigger for CQB game sites, this should be on your list.
The Krytac Trident line is probably one of the most robust out of the box electric airsoft guns available, with the approach that they are pre-tuned and pre-upgraded for better than average performance. Combining modern design with tried and tested robust internals, these airsoft guns are fantastic for both in and outdoor airsoft games.
---
Looking to get into Airsoft? We explain what it is and how to get started.
---
The most recognizable submachine gun ever, the MP5 has long been synonymous with SWAT, and elite branches of the police and military all over the world. Compact, ergonomic, and very versatile for many kinds of situations, the MP5 is still the best SMG to get. This blowback version is extremely realistic with excellent recoil impulse, rate of fire, and accuracy. The stamped receiver is built just like the real MP5 and you can even do the famous MP5 slap on the cocking lever. You can get the optional VFC Forend Weaponlight for Umarex MP5 to add to its tactical appeal.
The ARP-9 defined the 9mm pistol carbine category in Airsoft and is one of the most popular AEGs around. A solid mid-priced pistol carbine AEG that is compact to carry and manoeuvre yet performs solidly in both CQB and outdoor environments. Missing the bells and whistles of more expensive rifles but it does a fantastic job of firing BBs with fair accuracy and a good rate of fire.
An Airsoft pistol manufactured by real gun company SIG SAUER, the M17 is the designated sidearm of the US military and if history is any indication, the M17 will enjoy the same iconic following as its predecessor the Beretta M9. Strong performance, solid build construction and quality materials make this one of the best gas blowback pistols that VFC has ever made. Available in both black and tan.
A serious challenger to the Tokyo Marui VSR-10 that falls just short of the VSR-10's class-leading accuracy. But it makes up for that in heaps with modern tactical looks and solid build quality, and a portfolio of optional plug and play parts for easy customization. Also, consider the more compact Striker AST-02 and the even more compact AST-03.
The legendary German rifle was long delayed by Umarex and VFC, but despite a lukewarm reception by the player community, it is one of the most realistic and solid gas blowback rifles ever made. Doomed to be a collector gun, these are rare and hard to find but if you collect, this should be on your list. Many rare airsoft guns appreciate in value but it remains to be seen whether the G3A3 is sought after enough to be of investment value.
GHK's first-ever pistol, this is the most realistic out-of-the-box Glock 17 you can buy, with a game-changing blowback system, steel slide, over-molding manufacturing techniques, and realistically weighted trigger. Hard to upgrade other ordinary gas blowback pistols to feel like this no matter how hard you try. The heavy 5lb trigger imitates the real gun, and the trigger break combined with the strong recoil created the same sense of anticipation as when shooting a real Glock. f you dream about owning a real Glock but can't, then this is the one for you.
Highly popular in the Airsoft Action Air IPSC community, the Shadow 2 is not a simple refresh of the original CZ Shadow, but a redesign of the original with modern techniques and shooting in mind. With features such as a lowered bore access, an ergonomic grip, and an extended beavertail, the pistol points exceptionally well and naturally wants to guide the shooter to their target. One of the best blowback pistols that KJ Works has ever made.
A sniper in a pistol body. Very silent and deadly, this non-blowback version of the MK23 even comes with a replica LAM unit. Most people use this for sniping thanks to its high accuracy and long-range. With huge gas efficiency and a large magazine, you can shoot longer before needing to reload. If realism and shooting experience is not important to you, then the MK23 should be on your list.
The MCX is touted as an evolution of the AR-15 platform. Used by many special operations forces around the world, the MCX is highly modular, compact, and uses modern technologies designed to keep the weapon system usable far into the future. The airsoft version manufactured by SIG SAUER employs robust internals and dutifully replicates all details of its real steel counterpart!
The MPX is the modern reimagining of the legendary MP5. It looks familiar and feels familiar but that's where the similarities end. The MPX features AR-15 / M4 style controls and enlarged magazine wells for faster reloads and a more robust pistol grip. Made by SIG SAUER, this airsoft version does feature a small battery compartment but does still enjoy the same amount of modularity found with the MCX. A solid AEG SMG in a highly desirable body that gives the MP5 a run for its money.
---
Can you hit a dime from 50 feet away? Find out how accurate Airsoft guns really are.
---
As the winner of the Popular Airsoft Players Choice Awards 2021 for Best Airsoft Sniper, the Silverback SRS A2 certainly lives up to the accolades. Featuring a monolithic receiver made from aeronautical grade aluminum, the A2 is 25% lighter than the previous A1 models with the handguard using numerous M-LOK slots and QD points for the fast attachment of accessories and slings as well as modular attachment points for bipods, tripods, cheek rests and a 14mm CCW thread on the barrel. Internally, the SRS is a class leader when it comes to air displacement. The cylinder holds up to 41cc of air which is only second to its bigger brother the HTI, combining this with its buttery smooth action, 6.05 tight bore inner barrel, and adjustable trigger box, the SRS A2 is a marksman's dream rifle. To ensure the most flexibility, the SRS A2s come standard with a fast hop-up adjusting system that is compatible with standard AEG hop-up buckings.
The Nighthawk Custom Agent 2 is a perfect marriage between two of the premier real steel weapon manufacturers, Nighthawk Custom and Agency Arms. The Agent two features 1911 heritage with a Custom Glock design. With aspects such as aggressive serrations, custom frame work, and exceptional craftsmanship, the Agent 2 is a cut above many modern pistols. It's also Cerakoted by Hillbilly_223, who does the coating for the real Agent 2. Internally the airsoft pistol features TM compatible parts and can even take Tokyo Marui 1911 gas airsoft magazines! Very high-quality workmanship with details that you come to expect from an airsoft pistol in this price range, the AGENT 2 is a collector piece for those who have the money to spend on the best 1911 airsoft pistol.
Best performance for the buck, the KC-02's semi-auto blowback system remains unbeaten after nearly two decades since its original launch. Designed by legendary Airsoft engineer, Tanio Koba, the KC-02 offers crisp and stable blowback action in a compact no-frills design making this gun ripe for customization and upgrades to eye-watering power levels.
24. GHK AUG A2 GBBR - Most Solid Gas Blowback Rifle
One of the two all-time favorites we've seen come from GHK is this AUG and the SIG553. Priced for collectors and rare as always, the AUG comes in a couple colors and variants. Delivers very solid blowback and performance, and will surely turn heads. But this head-turner is not always available so grab one when you see it.
25.

GHK 553 GBBR
- Most Rare Gas Blowback Rifle
GHK is one of the most courageous companies out there that try to recreate iconic pieces instead of chasing popular models for financial gain. Beautifully recreated replica of the SG553 with a stamped receiver and fantastic blowback, this is such a rare gas blowback rifle that you know you're holding something special as soon as you pick it up. Collectors should not miss a chance to own a gun this special and rare.
The best and most awe-inspiring semi-auto sniper rifle after the now-defunct SOCOM GEAR M82. An epic collector rifle in the making for a decade, this rifle doesn't disappoint when it comes to the blowback and recoil. Construction is top-notch and solid with no creaks. Not coming with the scope and bipod is rather disappointing so it loses marks on realism, but collectors determined to own this amazing sniper rifle will surely find ways to make do with a similar scope or find a Marui PSG-1 scope.
Krytac is the airsoft division of KRISS, the real steel company that makes the Vector SMG - a gun so futuristic that it has been featured in many Hollywood blockbusters. The Krytac Kriss Vector is a faithful replica of the real steel version and seasoned collectors will invariably be drawn to its unique style, although comparisons to the more high performing but long-defunct gas blowback version will be hard to avoid. Great build quality but a slightly sluggish trigger gets points off on performance. If you want a Kriss Vector, then this is your only option since the gas version is unlikely ever to be made again.
Matrix fans who want to play Agent Smith will undoubtedly have looked at this fully licensed Desert Eagle from Cybergun, which offers size, sound and great performance. It's one of the biggest Airsoft pistols available but shooters with small hands might find the trigger might be a bit of a reach. Super strong blowback on green gas puts a smile on your face, but so-so build quality from WE detracts a bit from an otherwise beautiful package. With full metal construction and the associated weight, it shoots loud, shoots hard and has a very strong kick, just like the real thing. If you're on a budget, consider the CO2 powered KWC Desert Eagle airsoft pistols.
If you want the best room-clearing tool, look no further than this. The Tokyo Marui AA-12 holds the record as being the first Airsoft Automatic Electric Shotgun (AES) in the world with the ability to pump out three bbs per shot with 3 inner barrels at FULL AUTO for a blistering 30 rounds a second! Each inner barrel's hop-up can be individually adjusted allowing you to control the spread of how the BBs come out. Weighing in at about 4 kg the AA-12 is heavier than it looks and the quality polymer finish on it makes it feel authentic to the real thing with its sheer firepower, is the closest you will feel to firing the real thing too.
Loud and massive blowback recoil that embarrasses most blowback rifles, with eye-watering power out of the box. It's so loud that your ears may ring if you're aiming with your cheek to the stock. The VFC G28 GBBR, fully licensed by Umarex, is a full metal licensed replica this time in GBB form, stretching to just under a meter in length and weighing in at 5kgs, this absolute unit of a weapon is not known for its lightweight and mobility. If you plan to be out in the field all day, think twice about carrying this beast out. Thankfully at 440 FPS the G28's lack of mobility is negated by its ability to reach out to your intended target as a fully capable DMR. Featuring a quad rail system, collapsible stock, its own foregrip, Harris bipod and scope rings for a magnified scope and red dot sight, the G28 has almost everything you would need for a DMR setup right from the get-go and is ideal for any aspiring squad marksman.
---
Can an Airsoft gun hit a man-sized target from 200 feet away? Read our guide to find out.
---
High-performance AEGs with the best that VFC has to offer. While not technically an accurate replica of a real AR 15 variant, the gun is designed beautifully with billet style receivers and even sports a silver Samurai motif on the lower receiver giving it a modern and sleek look. Internally, the Samurai Edge features the latest Version 2.1 ECS and trigger unit that is programmable o add burst mode to the standard safe, semi, and auto. The gun is also fully ambidextrous. This is essentially VFC's showcase of its superior AEG abilities for people looking for an alternative to Krytac AEGs.
Best value for money AK electric airsoft rifle hands down, with a proven Type 3 gearbox that rocks with the best of them. Rough around the edges and doesn't quite match the refinement of Tokyo Marui or LCT's external builds, but that's what real AK rifles are like. Ample upgrade parts available for maintenance and upgrades, CYMA AK's have come a long way and matured into one of the best AK rifles you can buy. If you're on a budget and aren't fussed about the details, and just want an AK that can deliver the basics, then you can't beat the price.
Amazing value for money in a beautiful design. Voted best airsoft pistol by Popular Airsoft's Players Choice Awards, this pistol is a handsomely proportioned gun with an angular and modern lower polymer frame and half-height metal slide. Solid dual system performance that runs on CO2 or green gas, this pistol is priced lower than most other guns in its class. Lots of options in black, tan or two-tone with our without threaded barrels make this gun an extremely attractive buy.
Voted best gas blowback rifle by Popular Airsoft's Players Choice Awards, the Tokyo Marui MK18 MOD 1 is the latest from TM using the ZET system as seen in their highly acclaimed MWS guns. The fit and finish of the gun is what you have come to expect from Tokyo Marui, everything is solid and the rifle is also compatible with standard MWS parts making this an incredibly customizable gun right out of the box. Furthermore, the ZET system also gives the MK18 exceptional gas efficiency and consistency which translates into great performance on the field.
The M320 is a modern grenade launcher that can be used either by itself or in conjunction with a rifle. Much like a traditional grenade launcher you can remove the stock and mount it to the bottom of your airsoft gun. However, unlike traditional launchers such as the M203, this side loading design allows for much faster loading or reloading (not to mention you no longer need to push the launcher all the way forward to expose the breach). The M320 is made from polymer is lightweight and even has its own holster options for users that want to use it as a standalone weapon platform. For the money, the M320 launcher is well worth it if you want to get into launching rubber shells or just showering enemies with a blast of BBs.
A culturally important rifle from the Aliens movie franchise, this electric airsoft gun is so unique that it's a must for any serious collector. Dependable performance and good attention to detail make this a prop gun that can actually shoot, although Snow Wolf internals means you might do good with some internal upgrades to critical components for greater longevity and performance. Ultimately a fantastic collector gun for fans of the Aliens movie.