Best Airsoft Glocks 2022 Ultimate Guide | Redwolf Airsoft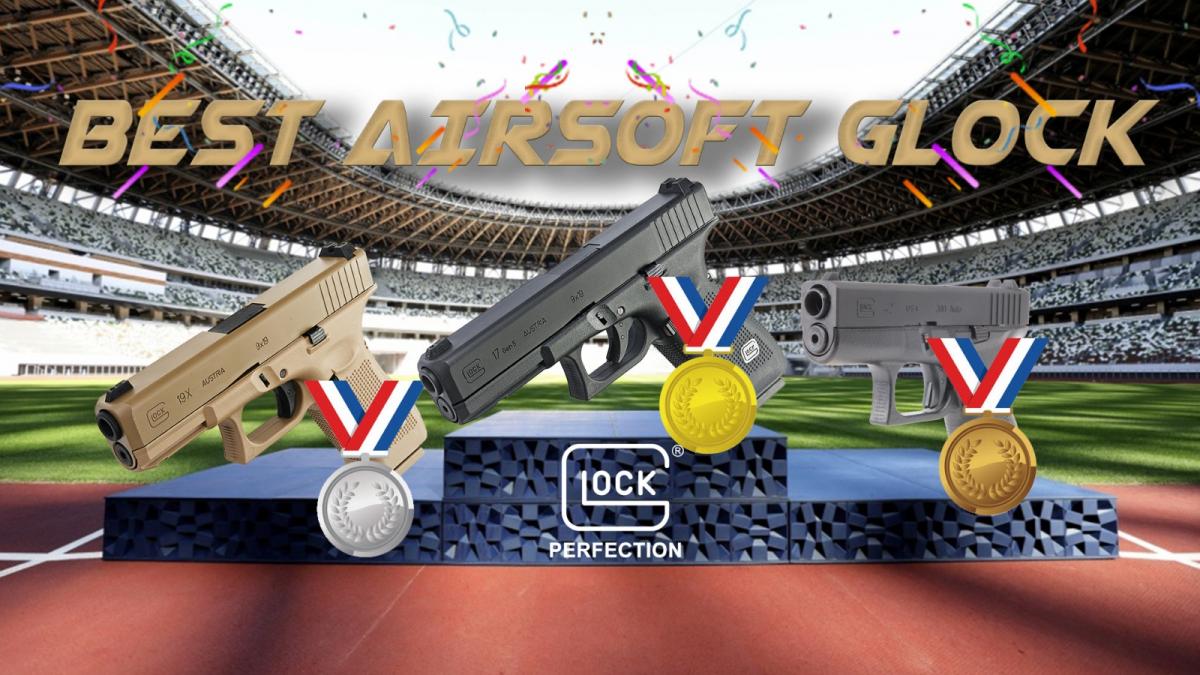 The Glock pistol has long been one of the most popular handguns of choice amongst the shooting community. Users range from law enforcement officers, military, to even civilian shooters. With its unparalleled popularity, it was certain that airsoft players and firearm enthusiasts living in countries where guns are restricted alike wanted to get their hands on one of these guns.
It was to no one's surprise that when there were finally fully licensed airsoft Glock pistols released to the market, they were wildly popular! Like many other airsoft pistols, these airsoft Glocks closely emulate their real steel counterparts from looks to function which offers not only a great gun for a day of airsoft gaming but for a chance to operate a replica pistol as close as possible to the real thing. Before reading, check out the video we did on the 2021 list.
Top 10 Airsoft Glocks
Over the years there have been airsoft pistols that have come close to emulating the legendary Glock but have fallen short. Due to their lack of proper licensing, many of these pistols were off-spec or featured design details not present on the real gun. These small design and manufacturing faults often left the users disappointed. However, everything changed in 2018 when Umarex secured the Glock license and launched a slew of officially licensed products that were accurate in shape, size, and function!
In our list of top 10 airsoft Glocks, we aim to provide a comprehensive list of these pistols. While many of them might be made by the same manufacture and some do look very similar, there are differences between them whether it be internal parts or external builds. We hope that this list offers some insight as to what we think are the best airsoft Glocks out of the many that are available! Before checking out our list, feel free to watch our video from 2021 of the Best Airsoft Glocks.
This particular example comes to us by way of GHK. GHK is one of the finest gas airsoft gun manufacturers that specialize in airsoft rifles, specifically AK rifles. After years of building what many consider industry-leading AK and M4 gas blowback rifles, GHK took their design and manufacturing know-how and applied it to creating an all-new system from the ground up for this airsoft Glock 17 Gen 3.
Touted as one of the most realistic airsoft Glock pistols, the GHK Glock 17 Gen 3 features probably the strongest recoil impulse of any airsoft pistol on this list. Combined with its heavy trigger and ability to work with other real steel accessories like lights, lasers, and/or holsters, it makes for an ideal training tool for law enforcement, military, and civilians alike where either ammunition is expensive or real firearms are prohibitive. Internally, the pistol also closely resembles that of a real firearm as it does away with traditional blowback units in favor of a large cylinder CNC machined into the slide. Furthermore, the other parts and firing mechanisms of the pistol are molded into the frame by using a process called "over-molding". This makes each part more robust and able to better take the recoil impulse of the gun!
Pros
Realistic Operation
Strong Recoil
Lightweight Realistic Magazine
Steel Slide for Longer more Robust Use
Over Molding Parts into the frame for Added Durability
Cons
New System Few Upgrade Parts
Over Molding Makes Replacement of Small Parts Near Impossible
Slightly Pricy
One of the most popular real steel Glocks carried by many is the Glock 43. This little gun is a single stack 9mm pistol ideal for concealed carry and is very popular amongst the ladies for its smaller, easier to grip frame. The Glock 42, is its 380 auto little brother.
The airsoft version of this gun exactly replicates the compact footprint of the real steel Glock 42 and even allows for some interesting gameplay for those that enjoy carrying a "back up to your back up" that can fit even in an admin pouch. While it may not have the highest FPS and may not be able to carry the most rounds, it can be a great starting point for, as previously mentioned, the ladies who want to try some shooting or even kids with smaller hands!
Pros
Small Footprint for Easy Carry
Lightweight
Great for Ladies or Kids with Smaller Hands
Cons
Relatively Low FPS
Lower Round Count Compared to other Glocks
Not Ideal for Engagements outside of 15m or 50ft
In the world outside of airsoft, the Glock 19 is the most popular Glock. Being a great gun that is in-between a full-sized pistol and a sub-compact, this compact carry gun is highly capable. Being so popular, it was an instant success when the airsoft version was released.
The Umarex airsoft Glock 19 Gen 3 was one of the original "big three" (read more to find out which ones are the other two!) that was released all at once. These airsoft Glocks featured systems that were similar externally and internally to many other pistols that were on the market at the time. Features like how the hop-up was adjusted and blowback housing, were all products of its time. They were not bad, but there was nothing really "new" about them. The Glock 19 Gen 3 was a solid entry and quickly became a very successful airsoft gun as it was a familiar system for both players and manufacturers to work on.
Pros
Snappy Recoil Impulse
Stable and Consistent FPS
Works with Real Steel Holsters, Lights, Lasers
Fair Amount of Parts
Cons
Shorter Inner Barrel due to Overall Size
Smaller Gas Reservoir
Lower Round Count
The Glock 18C is a full-auto capable pistol that in the real world is limited to military and law enforcement only. While some may argue its usability in the real steel world, the airsoft version is certainly more practical and easier to come by. The airsoft Glock 18C replicates the real steel one nicely and will put a smile on your face every time you shoot it on full auto.
The Umarex airsoft Glock 18C features an extended 50 round magazine that also comes with an exceptionally large gas reservoir. This allows you to shoot the pistol on full-auto more frequently and still have enough rounds and gas to last you a few bursts. However, the one place where this gun truly shines is when you pair it with different carbine kits that will instantly transform your airsoft Glock pistol into a faux SMG!
Pros
Fun Full-Auto Firing
Extended 50rd Magazine
Ideal for Carbine Kits
Works with Real Steel Lights, Lasers, and Holsters
Cons
Cool Down Effect will Cause Gun to Shoot Slower and be Ineffective when Held on Auto for too Long too Often
Some Carbine Kits Might Not Fit
Uses More Gas Than Semi-Only Airsoft Glocks
The Glock 45 is one of Glock's latest releases and is what many consider the successor of the Glock 19X (more on this later). The Glock 45 adopts a highly demanded full-sized grip to a compact, Glock 19 length slide. This allows the gun to be a kind of "best of both worlds" that offers operators with larger hands more surface area while still being relatively easy to carry and conceal.
The airsoft Glock 45 is an incredibly handsome-looking pistol and unlike other airsoft Glocks on our list, this one features a set of front slide serrations for easier manipulation. In addition, its patterning after the Glock 19X means its frame has done away with the finger grooves in exchange for a more "universal" gripping surface with improved texturing. Internally, the gun also features VFC's "Guide Hop" technology which cleverly allows you to adjust your hop-up without having to remove the slide. You can simply adjust it by using an allen key and twist its guide rod found under the barrel to adjust for more or less hop. This is combined with an improved blowback housing for a better shooting experience and stronger felt recoil!
Pros
Full-Size Frame, Compact Slide Design
Front Slide Serrations
Latest "Guide Hop" Hop-Up Design
Snappy Recoil
Cons
Lower Base FPS
Fewer Upgrade Parts
The Glock 17 Gen 3 is widely attributed to be the pistol that popularized polymer-framed striker-fired pistols. When it was initially launched in 1998 it came with revolutionary features such as a universal accessory rail, thumb rests, and finger grooves! While there were other pistols during that time that had the same or similar features, it was the Glock that made these features mainstream. Further combining these with its legendarily reliable performance, it propelled the Glock into the hearts and minds of users around the world.
The airsoft version released in 2018 was probably the second most popular but best sold out of the original "big three" that came out during that time. The system used was very traditional which lent itself to be easily worked on by third-party parts makers. The airsoft Glock 17 Gen 3 was not considered groundbreaking but its readily available stock numbers meant players that have been waiting for fully licensed airsoft Glocks can finally get their hands on one. Combined with the steady stream of upgrade parts, it was a great platform for players to use and modify!
Pros
Tried and Tested Internal Gas Blowback System
Works with Wide Variety of Real Steel Accessories like Light, Lasers, Holsters
Fair Amount of Upgrade Parts
Readily Available
Cons
Older Gas Blowback System
Fewer Truly NEW Upgrade Parts
Gen 3 Design can be Considered "Dated" by even Glock Standards
The Glock 19X is a very significant pistol as it was one of the guns considered by the United States Army to replace its then aging M9 service pistol that has been the replacement to the long-serving M1911. The Glock 19X was the first Glock to offer the full-sized frame paired to a compact slide form factor, not to mention it came standard in the color FDE (Flat Dark Earth). Though it eventually lost out to SIG's P320, the Glock 19X has been wildly successful in the civilian market, filling a void that many wanted. If it wasn't for the Glock 19X there would not be the Glock 45.
The airsoft Glock 19X was equally as wildly successful in the airsoft community as many considered it a departure from the generic, "Glock look". The airsoft Glock 19X came feature-packed with the Gide Hop hop-up adjustment system, an updated blowback system, and a dual recoil spring system for snappier recoil feeling. Due to its popularity, it also quickly enjoyed some aesthetic upgrades such as threaded outer barrels!
Pros
Participated in the U.S. Army Modular Handgun Bid to Replace the M9
Unique Design
Standard FDE Color
Works with Real Steel Accessories such as Lights, Lasers, and Holsters
Cons
The Glock 17 Gen 4 was the successor to the Glock 17 Gen 3 and was released in 2010. While there are not many drastic changes on the surface, there are some subtle improvements that made the Gen 4 Glock stand out. Some of the key features are the updated frame texturing, the ability to add a back strap for different hand sizes, and the usages of a dual recoil spring for better recoil mitigation. For many real steel shooters, these were welcoming updates to a Gen 3 pistol that, at the time, was already over 10 years old.
The airsoft Glock 17 Gen 4 was the most popular release of the original big three. Much like its real steel counterpart, it featured the same texturing and dual recoil spring. It was incredibly snappy and offered a strong recoil impulse. The pistol also boasted extremely stable FPS, making it a great skirmishing choice for airsoft players that wanted a highly reliable sidearm. As mentioned, this was the most popular pistol of the initial release, but due to lower numbers, it did take longer to get into the hands of the airsoft players and collectors.
Pros
Dual Recoil Spring
Superb Grip Texturing
Strong, Snappy Recoil
Works with Real Steel Accessories such as Lights, Lasers, and Holsters
Cons
Low Stock Number at Initial Launch
The Glock 19 Gen 4 was also released in 2010 and was quickly one of the most successful pistols of the Glock lineup. As we previously discussed when talking about the Glock 19 Gen 3, the Glock 19 is Glock's most popular pistol due to its compact size. The Gen 4 Glock 19 builds upon that success and is given the same treatment as seen on the Glock 17. The inclusion of the ability to add different back straps did make this pistol a much better option than the Gen 3 as it did not cater too well to shooters with larger hands.
The airsoft Glock 19 Gen 4 is the current standard when it comes to pistols in this size and form factor. The gun is extremely robust and kicks very hard, even when compared to other guns that are larger than it. Combined with the ability to use real steel accessories such as lights, lasers, and holsters, not only is the airsoft Glock 19 Gen 4 ideal for the airsoft player but it can act as a great training tool!
Pros
Strong Recoil Impulse
Stable FPS
Compatible with some Real Steel Accessories such as Lights, Lasers, and Holsters
Cons
Slightly Lower FPS
Relatively Small Upgrade Pool
Honorable Mentions:
It's only fitting that our first honorable mention is actually a custom Glock. The EXA pistol, in the real steel world, started its life out as a generic, regular Glock and Agency Arms then modified it with extensive slide work, upgrading the trigger, and swapping the frame. This takes an already good platform and makes it great, pushing the stock Glock to peak performance.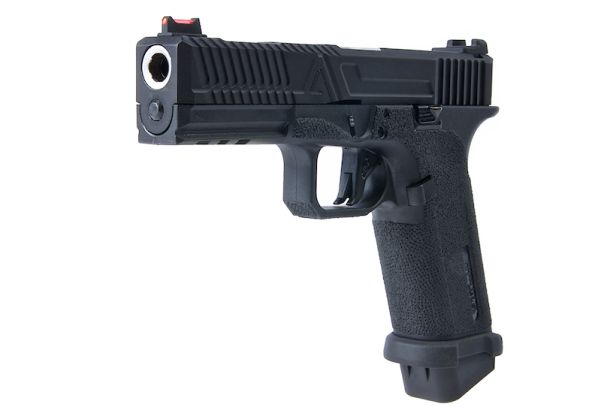 In a way, the same can be said about the airsoft EXA. While internally it takes some of the best parts from different airsoft Glocks, externally it's highly modified. Being produced from blueprints supplied by Agency Arms themselves, this pistol is truly 1:1 with the real Agency Arms EXA pistol and even comes standard with a fully licensed Timberwolf frame from Lone Wolf Manufacturing. The frame is so important to the overall feeling of this custom airsoft Glock because it offers a straighter, more natural gripping angle. This is also seen on the real steel version as well!
The EMG Strike Industries ARK 17 is similar to the EXA pistol as it started its life as a generic, normal-looking Glock. Being made by Strike Industries, its also highly stylized and features many futuristic design cues such as angular window cuts and markings.
The airsoft version of the ARK 17 pistol can also be classified as a highly customized airsoft Glock. Many of its base features and controls are exactly the same as what you would find on a Glock pistol and many of the same accessories work as well. The ARK 17 also features an RMR cut for you to mount an RMR red dot optic on it.
The Glock 17 Gen 5 is the latest release from Glock Inc. and features many updates highly requested by the shooting community. Among some of the requests is the removal of the finger grooves and improvements to the texturing on the frame. Glock then further went and added a slightly flared magwell which facilitated smoother reloads without having to buy extra accessories. In addition, Glock added some subtle design changes to the front of the slide by bevelling it, taking away some of the hard edges.
The airsoft Glock 17 Gen 5 is the best pistol out of the lineup of airsoft Glocks we have listed. Not only does it employ the latest gas system which is highly efficient but it also offers a substantially harder kick than any other model on this list barring the GHK Glock 17 Gen 3. This latest gas system will be the standard going forward, making it ideal for third-party manufacturers to start doubling down on producing aftermarket upgrade parts for the pistol. As expected, the airsoft Glock 17 Gen 5 also works perfectly with other real steel accessories such as lights, lasers, and holsters. Finally, the airsoft Glock 17 Gen 5 is backward compatible with all other Glock 17 magazines except for the one made by GHK.
Pros
Exceptional Fit and Finish
Strong Felt Recoil
Latest Gas Blowback System and Hop-Up
Works with Real Steel Accessories such as Lights, Lasers, and Holsters
Cons
Long Restocking Time
Parts and Accessories can have Limited Supply Due to High Demand
Conclusion
The Glock handgun is a revolutionary firearm. It's a gun that greatly shifted the paradigm of the pistols. Many of the dominant platforms were full metal and relatively complex pieces of machinery. What Glock did was through advanced materials (polymer) and a simplified firing system using a striker, it ushered in an era of simplicity and reliability. They might not have been the first to do it, but they certainly executed this the best. Now, this concept is seen through to today where polymer-framed pistols are some of the most prevalent on the market and are made by some of the biggest weapons manufacturers such as SIG, H&K, as well as Smith & Wesson.
The same can be said of the airsoft Glock. For many years, players have clambered for a chance to own one of these pistols. We often in the airsoft community try to emulate many of the top military and law enforcement units around the world and in doing so, the Glock pistol has always been an essential sidearm. With Umarex pushing out so many of these well-made, fully licensed airsoft Glocks, we can only expect bigger and better things to come as there are still many models in the Glock product line yet to see their airsoft debut!