Umarex Glock 18C Green Gas Airsoft Pistol (by VFC)
Fully Licensed by Umarex (Elite Force) & Glock
Semi / Full-Auto with a High Rate of Fire
Full Blowback Action Metal Slide
Ported Metal Barrel
Full Glock Markings & Real Caliber Engraving
Removeable Metal 50-Round High Capacity Magazine
Adjustable Hop-Up
Dual Recoil System (Same As Umarex Glock 17 Gen 4 by VFC)
SHIPS IMMEDIATELY MAP PROTECTED
Click Above to Watch Our Review Of the Umarex (Elite Force) / VFC Glock 18C on our Youtube Channel
The Glock 18C was created as a request by the Austrian counter-terrorist team known as EKO COBRA during the mid-1980s as they wanted a sidearm with the capability of select fire. A select-fire full-auto pistol in a compact footprint presented many more tactical options, and the 50-round high-capacity magazine meant that it could serve as a reasonable primary weapon when outfitted with a carbine kit.
The Umarex (Elite Force) Glock 18c airsoft pistol is one of the most popular airsoft gas blowback pistols. It is fully licensed by Umarex (Elite Force) & Glock and can be fired in both semi-auto and full-auto at approximately 1200 rounds per minute The rate of fire on this airsoft Glock 18C is tremendous and you can empty the entire magazine in a matter of seconds. If the extended 50-round magazine seems too unwieldy for you to carry in your holster as a backup weapon, you'll be pleased to know that standard-sized Glock 17 magazines will also fit the Glock 18C just fine. Conversely, the extended magazine designed for the Glock 18C can also fit into the Glock 17 and other semi-auto Glock models. In fact, the Glock 18C airsoft pistol has exactly the same footprint as an airsoft Glock 17, making the Glock 18C literally just a full-auto version of the Glock 17. Use your thumb to press the magazine release button on the textured grip, and the metal magazine drops out freely for quick mag changes. Umarex (Elite Force) has opted to use the same 2-stage recoil spring system found in the Glock 17 Gen 4 pistol for added durability and stability when shooting full auto. The 2-stage recoil spring system allows for a faster initial cycle, with high tension developing as the slide reaches the rear-most position to accelerate the return of the slide to the battery position. This creates a much snappier shooting experience. The front and rear iron sights are accentuated with white markings for quick aim in low-light conditions. Trigger pull is firm with a short take-up, with a distinct trigger wall that makes it easier for the shooter to squeeze off precise shots.
Like all other Umarex (Elite Force) Glock gas blowback airsoft pistols, this Glock 18C features a full metal slide that cycles on each shot, creating a recoil impulse. The slide moves backward fully and chambers the next round as it moves forward, just like in a real Glock. The ported outer barrel is also full metal. The Glock 18C comes with all authentic markings including Glock trademarks and realistic 9x19 engravings. Our version is highly realistic, as it does not come with the "Airsoft Only" and "Caliber 6mm" markings as found on American & European domestic market models. The firing mode can be easily selected by turning the switch on the rear of the slide. Like the real Glock 18C, there is no safety lever, and the integrated trigger safety is what prevents the gun from firing accidentally. An accessory rail on the front lower frame allows you to install flashlights and laser accessories. You can also opt to upgrade to an after-market threaded barrel so you can install a suppressor. The Glock 18C airsoft pistol field strips just like the real gun. You simply remove the magazine, pull down on the disassembly switch in the middle of the lower frame, pull the slide back, and then push it all the way forward and off of the lower frame. This gives you access to the hop-up adjustment knobs, which are used to add backspin onto the BB so they can fly farther. The hop-up is designed for BBs that weigh 0.2g - 0.3g for best performance.
The Glock 18C airsoft pistol is the most popular pistol for a reason, and not solely for the fact that Glock pistols are the most recognized pistols in the world. The Glock 18C is durable and reliable, and the option for overwhelming firepower, when shot in full-auto, is a nice option to have when your primary rifle fails. If you are going to be using this as your primary weapon, then we recommend you get a few more magazines as spares since the rate of fire is very high and you'll run out of ammo quite quickly.
This airsoft Glock 18C is designed to use Green Gas for the best performance.
Check out more Airsoft Guns
Features:
Fully Licensed by Umarex (Elite Force) & Glock
Magazine Reverse Compatibility with Umarex (Elite Force) Glock 17 (Gen 3/4/5), Glock 19x, Glock 45 & Agency Arms EXA Series Gas Airsoft Pistols
Approximately 300 FPS
Full Metal Slide
Full Metal Ported Barrel
Easy Switch Between Firing Modes (Semi / Full Auto)
Includes:
x1 Umarex Glock 18C Gas Airsoft Pistol (by VFC)
x1 Umarex Glock 18C 50 Round Gas Magazine (by VFC)
Still unsure about which Glock is best for you?
Head over to our Blog section and read up on what we think are the Best Airsoft Glocks available today.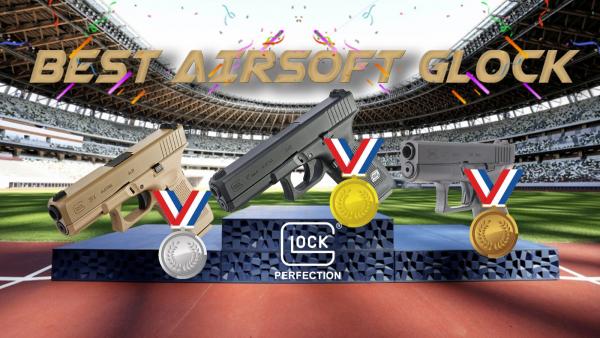 If you want a full-auto pistol but want something other than a Glock, then you can also consider the Krytac Maxim 9, the KSC M93RCC, the entire M712 model line, Action Army AAP 01, the sci-fi WE Galaxy Series, or the iconic KSC M93R Auto 9C as seen in the movie Robocop.
Specifications

Platform

GAS

Brand

Umarex

Color

Black

Originating Armory

GLOCK

Replica Type

PISTOL

Model

G SERIES

Capacity (rds)

50

Power (fps)

300

Power Source

Green Gas / Top Gas

Shooting Mode

Semi Auto / Full Auto

Blowback

Yes

Hop-up

ADJUSTABLE

Net Weight (kg)

0.87

Length (mm)

185.0

Content Included

Umarex Glock 18C GBB Pistol (by VFC)




Umarex Glock 18C 50 rds Gas Magazine (by VFC)

Material

Metal
Write Your Own Review
David Johnson
great fun but needs more mags
I had an old 18C before but after shooting it over the years it broke and I could never find parts for it...so i was quite impressed with this gun when i found out it was already full metal. only gripe, i can never seem to find short magazines for it, these must be popular cuz when i look, they seem to be out of stock...maybe just my luck haha
MAX
BAD SHIPPING
The shipping is horrible i have waited over a month it has not arrived hopefully it is worth it [REDWOLF] Sorry about the wait but COVID-19 has really impacted international shipping. Things are getting better. I see that you might have ordered the gun with ECONOMY shipping and during February 2021, COVID was causing additional problems with shipping so there were additional delays. But those have been resolved and we do hope you feel the wait for this G18C was worth it.
Jordan
shipping
where does it ship from and how long do you think it would take to get to Massachusetts [RedWolf] We ship to anywhere around the world as long as airsoft is legal. The time of shipping varies depending on the shipping method that you choose during checkout but be aware that due to COVID (during the time of this reply), shipping can be delayed due to limited staff. Rest assured, we will do whatever we can to ensure your order gets to you.
therealbotbender
great shell poor fit and finish
size and branding is dead on , rs accessories fit with little to no modifications. thats really where the pros stop , the blowback housing was delivered to me lose causing jamming issues, and who knows what else. easy fix just take the slide off and tighten the screw under the rear sight . this will only force you to realize that the steel slide release is eating into your aluminum slide , and good luck trying to find any steel option to replace said slide as tm is the only g18 that receives any support in the aftermarket territory , and while redwolf does offer stock parts , i have been less than impressed with the stock reliability and accuracy of said stock parts. [RedWolf] Thank you for letting us know about the problem. We will be sure to let the factory know about the issue of the blowback unit. Glad it was just a screw issue. As for the slide, we understand your frustration but I guess what Umarex is planning to do is to keep it budget-friendly. If the slide stop is also aluminum, it would wear out much faster and the pistol can quickly lose its slide stop feature. That is also the reason why we stock extra slides as replacements if people prefer the original look.
Jacob
Bad quality materials used in manufacturing.
Not going to lie. Very disappointed. Feals very cheaply made compared to the Glock 17 gen 4. Or any of the other leading competitors. Kinda wish I dident buy it. [RedWolf} Sorry to hear about that Jacob, but we can assure you that this pistol is made with the same exact material as the Glock 17 Gen 4, so we aren't sure why you think the 18C feels cheaper. So if the build quality is the main reason, nothing has changed among the previous airsoft Glocks.
Jan
Fast shipping, exellent product
I Trust this store 100%... Will buy from this website again, the shipping was quick, took 4 days with economy shipping (i dont know if thats the regular timeframe for economy or if just got lucky) the glock 18c looks and feels AMAZING!!! And the 50rd mag... BRUH!!! GET ONE!!!! [RedWolf] Glad you like this Glock!
Manuel
Great
Comes as advertised, works well so far. Took 33 days to arrive but it was well worth it. Came decently lubricated and ready to shoot. Only issue I had was that the full auto takes a couple shots to engage completely and sometimes when you pull the slide back it gets stuck but it's nothing too bad. 9.9/10 rating. [RedWolf] Thank you for your review Manuel. Airsoft guns sometimes do need to be broken in. But we are glad you like the 18C so much!
Kieron
Unreal rate of fire
This thing shoots so fast that everyone runs for cover whenever I whip it out. It's not hard to control to keep it on point, but you do expend the 50 rounds quite quickly if you're not careful. Would recommend that people get more than 1 magazine since it's a pain to keep reloading in-game. My Elite force Glock 17 magazines also works with this gun (since they're both made by VFC) but the low capacity magazines run out very quickly if you run on full auto. Still, it's good that the magazines are interchangeable.