What are the most powerful airsoft guns? | Redwolf Airsoft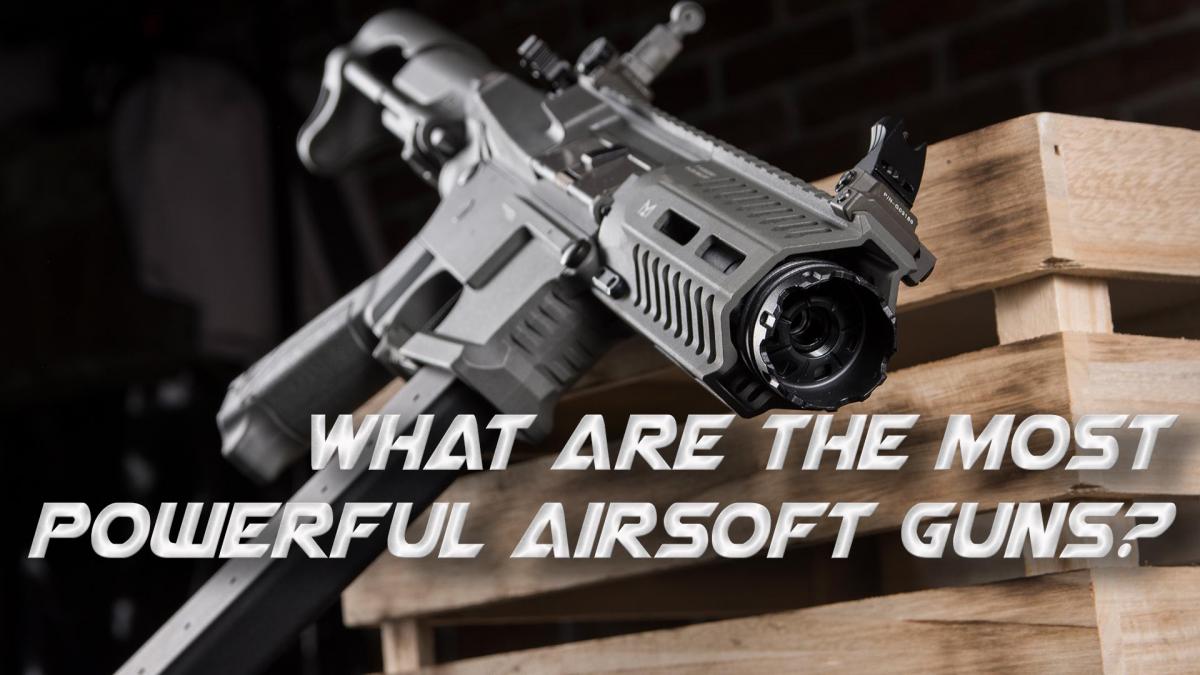 Airsoft guns come in numerous shapes and sizes suited for a variety of purposes and roles often defined by their power. High power airsoft guns allow for the bb to travel further as there is more initial energy to push the bb out of the barrel of the gun making them ideal for long range shooting. There are many airsoft guns that can deliver eye watering power, but there are many factors to consider when shopping for a powerful airsoft gun.
While it is natural for players to look for the most powerful airsoft gun they can find in hopes of gaining a competitive edge, power isn't the only thing that makes an airsoft gun good on the field. Accuracy is essential for hitting your intended targets, something that massive power alone cannot guarantee. Furthermore, rate of fire (ROF) is also very important for follow-up shots and on AEG rifles in particular, a higher power level may come at the cost of slower trigger response and a lower rate of fire. More importantly, a good hop up is absolutely vital to maintaining backspin on the bb so that the power can be properly utilized for greater range. A high-power gun without a hop up will always perform worse than a lower power gun with a hopup, as a BB fired without hop will not fly very far upon leaving the gun. Thus this list picks the best guns in each category to ensure they do a great job of balancing all of these factors. Simply listing a gun with high FPS but not much else would be a disservice to our readers.
It is essential to note that before you purchase or upgrade a gun with very high power, you should be aware of local power regulations. Many countries have power limits on airsoft guns and will classify them as real unlicensed firearms if the limit is exceeded which could be treated as a criminal offence and punishable by lengthy jail time. So make sure you stay within legal limits at all times. If you plan to play at airsoft fields or officially organized games, you should also be aware that many sites have power limits well below any legal limit to keep the sport safe and enjoyable for everyone, nobody wants to be shot in the face by a 500 FPS gun at point blank range and suffer injuries. So be considerate and know that even if you have the most powerful airsoft gun in the world, you may not be allowed to use it in most games, after all airsoft is supposed to be a fun recreational activity and not one where you are supposed to hurt or injure others. When playing with friends, make sure you are using a reasonable amount of power and shooting them from a safe distance to avoid injuring or hurting them, else you may end up losing your friends and banned from your local airsoft site.
What Makes Some Airsoft Guns More Powerful Than Others?
The definition of most powerful airsoft gun can be divided into either (a) guns that have the highest FPS out the box, or (b) guns with the greatest upgrade potential to become very powerful airsoft guns. Factors like barrel length can significantly affect power output as a longer barrel gives more time for the expanding gas or air to push the bb to higher velocities. In the case of spring powered guns or electric guns, cylinder volume can be a factor too; a rifle could have a relatively weak spring and lower FPS out of the box, but a large volume cylinder could mean it can be upgraded to much greater power levels. Gas and CO2 guns also tend to deliver high power with ease, although the actual performance will depend on the specific gas that is used, temperature variations, and time between shots – all of which can significantly affect power output and the performance of the gun. We consider all these aspects as we present to you our top picks for the most powerful airsoft guns.
Most Powerful Airsoft Pistols
Pistols are not usually the first thing that comes into mind when thinking about the most powerful airsoft gun, The relatively small size of a handgun offers limited barrel length, spring or gas capacity, which limits power output compared to longer guns. However, there are plenty of CO2 and NBB pistols that can offer a competitive FPS for long range shooting. Two kinds of pistols do especially well in this area, and they are either CO2 powered, or green gas non-blowback pistols.
Most Powerful Airsoft Rifle
In terms of airsoft rifles it comes as no surprise that designated marksman rifles and battle rifles are the ones that made our list. It is also important to note that the most powerful of these are gas blowback rifles. Many GBBRs actually work better with heavier BBs beyond the standard 0.2g BB that FPS is measured by. So while the FPS number on a gun can seem humble at first glance, using a heavier 0.25g or 0.3g BB can actually increase the overall power and energy of the gun. This concept is known as joule creep. Quite simply put, a heavier BB will take more pressure to create inertia to move out of the barrel, which by nature creates more compression of gas behind the BB and creates greater power. Thus in some guns, using a heavier BB may actually deliver an increase in power simply because the heavier BB can maximize the compression and potential of the airsoft rifle. This will be especially pronounced in guns with longer inner barrels. Some of these guns are so powerful that a 0.2g BB will simply leave the barrel to soon before it has reached maximum velocity. So don't be fooled by what seems to be a relatively low FPS number. There may be more behind that story.
Most Powerful Airsoft Sniper
Of all discussions on strong airsoft guns, sniper rifles likely occupy the highest proportion of such debates and rightfully so. After all, as rifles who's entire purpose is built around long range accuracy, power is an essential equation to consider here. Almost all dedicated airsoft snipers are spring powered as they offer unparalleled power consistency compared to gas rifles that suffer from joule creep, fluctuating gas pressures as well as cooldowns, all of which affect fps and will require constant adjustment of the hopup to maintain accuracy. Another reason is that gas snipers simply do not perform well in colder climates.
However, while spring airsoft snipers are more consistent, the constant pulling of a powerful bolt can be very tiring for the shooter over time as a strong FPS also needs a stiffer spring. The strength of a spring isn't all that matters, a larger volume cylinder can compress more air than a smaller one even if it is paired with a stronger spring, further narrowing the pool of most powerful airsoft snipers.
Most Powerful Airsoft Shotgun
Shotguns are not usually something you would associate with high power in airsoft, the multiple BBs fired per shot usually dilute the amount of gas or air behind each pellet leading to much lower FPS compared to single shot guns, however there are exceptions to this rule.
Most Powerful Airsoft Revolver
Some of the most powerful airsoft guns are actually revolvers, because they are by nature NBBs with few moving parts allowing for 100% of the gas to be dedicated for propelling the BB out of the gun. What they lack in magazine capacity they make up for in ease of use, simplicity, reliability and raw power.