20 Best Airsoft Brands: 2022 Ultimate Guide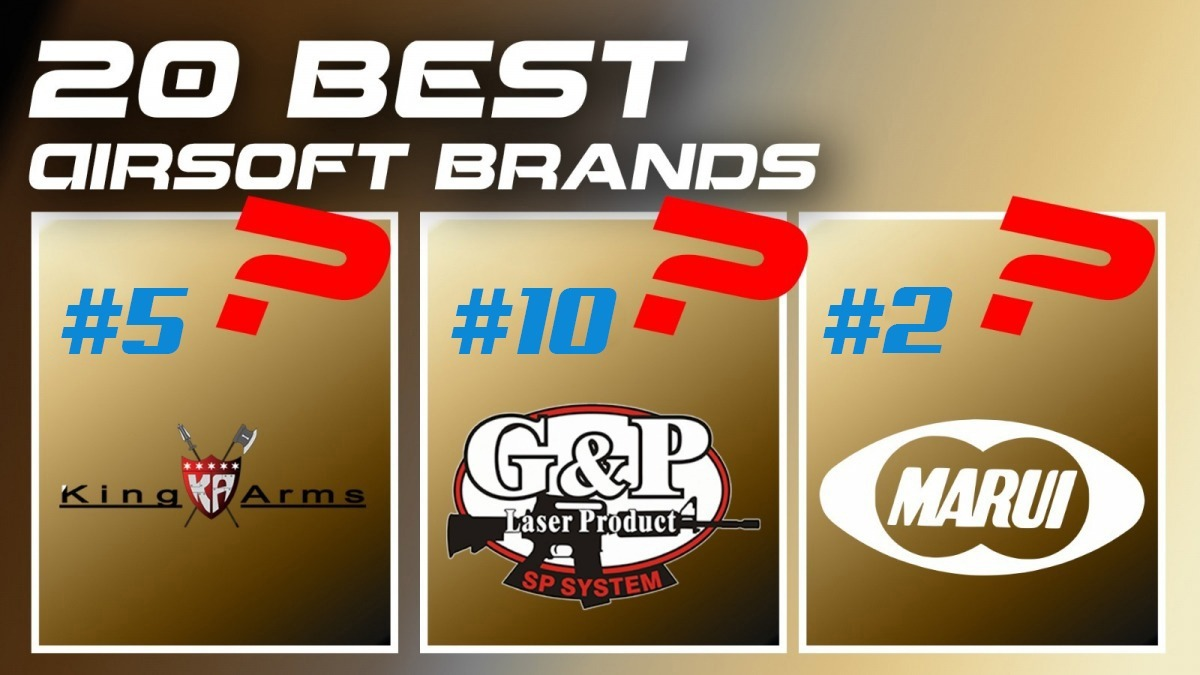 Did you know that for the past 10 years Redwolf Airsoft has won the award for "Best Airsoft Retailer in Asia" at Popular Airsoft's Players Choice Awards? In doing so, we have come across many brands, some good, some…not so good. No matter if you are a veteran in our community or someone new, we always want to know what are the "best airsoft brands".
Much like how many of us consume sports, we love seeing standings, and over the many years of airsoft being made more and more prevalent, we have seen many good airsoft brands come and go while several top airsoft brands have solidified themselves as some of the best manufactures around. In this ultimate guide, we not only want to help you find the best airsoft gun brand but give you a better understanding of 20 of the best airsoft brands you can find. For this extensive list, we will use a tiering system, five brands with four tiers. Before reading more, check out the video we did on the best brands from 2021.

20 Best Airsoft Brands
How we will quality each brand will be based on their respective category, their product range, how innovative they are, and overall quality. There are some brands that might not have made this list not due to their quality of the product but rather due to limiting factors of not being able to meet one or more of the requirements. So if you do not see your favorite top airsoft brand, don't worry, it's not because we think they are inferior.
Tier 5
To kick off our guide, we are going to start with the base tier. In finding the best airsoft brands, we are not saying this base level is bad, but a great starting off point for players that are new and want something good that won't break your bank. These are by all accounts good airsoft brands and should not be considered what some may say "trash tier". These brands include: A&K, Amoeba, APS, and King Arms
20.

King Arms

- Excellent Entry Level
King Arms has been known for making fairly decent, entry-level guns for some time. For players getting into airsoft this brand is a good jumping off point. Recently we have seen a bit of a resurgence from King Arms as they produced several good airsoft guns such as the GALIL and the Thompson, which shot well and were fairly inexpensive allowing King Arms a spot as one of the top airsoft brands.
19.

APS

- Creative Designs
APS is easily deserving to be on this list as it is what many would consider being a good airsoft brand. Though many will instantly remember their claim to fame being the CAM870 shotgun (Read more about the best airsoft shotguns here) APS has been making many different guns such as entry level AEGs and pistols for many years.
Among the best airsoft brands, APS certainly does bring a lot of creativity especially with their pistols and grenade launchers, they are always willing to try new and different designs. There is something for everyone when it comes to APS.
18.

A&K

- Light Machine Guns You Didn't Know You Needed!
A&K has been around for many years and they bring something quite unique to the table when considering them to be one of the top airsoft brands. A&K is famous for their relatively inexpensive LMGs or light machines guns. Finding entry level M4 or AK AEGs are not difficult, one might even say the market is quite saturated with these models. For the player looking for something different or desires to fill a different role on the field, wielding an LMG might be the choice for you. There are other brands that offer different machine gun options for players to buy, but if you are wanting to give this platform a try A&K is one of the best airsoft brands to go for!
17.

Amoeba

- Most Prolific Entry Level Brand
Amoeba is probably the most prolific entry level brand we have on our list of best airsoft brands. Amoeba is a branch of ARES, more on them later, which offers great performing airsoft guns to many different players that are looking for inexpensive AEGs to even sniper rifles (check our ultimate guide to snipers here). Over the years, Amoeba has cemented themselves as undoubtedly one of the top airsoft brands for beginners providing them an extremely wide array of products to select from, not to mention their great upgrade potential for those that want an inexpensive platform to try their hand at teching.
Tier 4
Now we have our base tier rounded out, we move up to the next level of best airsoft brands. This level is a great place for players that are starting to want more from their airsoft guns while still not having to over commit to a higher price range.
16.

ICS

- Resurgent Star
Of the top airsoft brands, ICS has a long history of making many different styles of airsoft guns. Over the years they have experimented with reproducing several real steel replicas to varying amounts of success. However, in recent years, they have started coming out with their own designs that easily put them in the conversation with other top airsoft brands. Combing their new design direction with updated internals, and new split gearbox technology, ICS has earned a spot on the best airsoft brands ultimate guide.

15.

KJ Works

- Cult Classic Brand
If there was ever a category of best airsoft gun brand based on "cult following" KJ Works would probably take the top spot. KJ Works has a lot of history and has been a brand that has consistently produced relatively affordable gas blowback rifles, pistols, and sniper rifles for some time. While they may not have such a huge catalog of products like some of the other top airsoft brands here, they certainly do produce a consistent product.
Why would I consider KJ Works as a best airsoft gun brand? KJ Works has a low barrier of entry and features many popular styles of pistols and rifles for players that are interested in getting into the GBB (Gas Blowback) scene.
14.

WE Tech

- A Bit of Everything
WE or WE Tech is about as prolific as the aforementioned Amoeba. They have produced so many different styles and so many different varieties of guns, that many players in the community consider WE to be the maverick of the many top airsoft brands. Just based on all the different styles ranging from WWII to modern era airsoft guns, WE has rocketed itself into the conversation for being one of the best airsoft brands. If you are looking for inexpensive, fun, and truly unique gas blowback guns, WE probably will have the one for you.
13.

G&P

- Workhorse Guns
G&P is easily the king of this tier of brands, easily making it one of the top airsoft brands. I know I can speak for myself and many in the airsoft community, that many of us have probably owned an AEG from them at one point in life. While they are not known for being the most flashy or sporting some of the latest trends, G&P has always made workhorse airsoft guns many users can easily take out of the box and enjoy week in and week out.
Good airsoft brands make sure their users have fun using their products and G&P does this quite well. As stated, they have not been known for being a very "fashionable" brand, you can never say they don't try to innovate. Their "Transformer" series of AEGs, which allowed players to swap out the complete fore end of the gun, was a trendsetter that spawned other spin-offs of the same concept from other brands. Lately, they have started making upgrade parts for the Tokyo Marui M4 MWS platform, these parts greatly increase the overall performance of that gun, firmly putting G&P as one of the best airsoft brands.
Tier 3
The middle tier of our list features some truly top airsoft brands. You will see a trend that the further up you move on the list of best airsoft brands the more unique the product offerings are. Unique not only in the specific model or models these brands bring to the table but their overall offerings in terms of product range or many different platforms. In the prior tiers, many of the products are great for beginners or people that might want to modify an otherwise inexpensive platform. What we are going to start seeing moving forward is how many of these brands start to differentiate themselves from others in terms of external quality, internal technology, and commanding unique segments of the community. What is the best airsoft brand you ask? Keep reading to find out!
12.

ASG

- Hailing from Denmark
Based in Denmark, ASG is worthy of a spot on this list as they probably brought one of the best out of the box AEGs ever to market in the ASG CZ Scorpion. Further cementing themselves as one of the best airsoft brands, they feature an award winning pistol, the CZ P-09, and their latest Shadow 2 has been making waves in the competition world. ASG has helped bring the real steel brand CZ into the mainstream of the airsoft world, as one of the top airsoft brands, they deserve a lot of praise for taking a chance on a gun that is neither an M4 nor an AK!
11.

Cybergun

- Licensed Guns Used By The Military
Cybergun is a brand that has been around for many years and has produced many licensed products instantly recognized by many players around the world. Some of their most signature licenses they hold are Colt and FN. While in times past they might have had some hits and misses, products coming from them now are nothing short of being some of the most highly sought after airsoft guns the community could ask for. From the critically acclaimed FN SCAR-H to the Colt M4 (essential to any US Military build), Cybergun has billed itself as one of the best airsoft gun brands.
The only knock on them would be their top end and entry level products are too vastly different. While their top end GBBRs are some of the best, their entry level AEGs have a hard time competing with some of the other offerings featured on this list. While not bad, they are just a little basic.

10.

ARES

- Taking Chances, Winning Big
ARES is a company that brings us many high quality, unique AEGs that other brands might not consider producing. Their tried and tested "Electronic Fire Control System" has been fielded for many years and still remains a reliable internal part essential to their brand's performance. Not only do they produce some licensed products from real steel manufactures such as Otto Reppa of Germany but they also have SR-25s that have made it into being considered one of the best sniper rifles (read more here). In addition to their standard format AEGs, they also made their take on the previously mentioned Transformer from G&P called the M45 series which features the same removable front end concept but designed in an easier to operate way. ARES is undoubtedly one of the best airsoft brands, making it into the top 10!
9.

G&G Armament

- Come-Back Brand Achievement
If there was ever a "come back brand" achievement award G&G would run away with this easily. For many that have play airsoft for a long time, G&G was at times a "middle of the road" brand at best with guns that often times gave you more hassle than joy. However, over the past several years, they have not only made a 180 in terms of their product quality, they have also created a category defining product in the ARP-9 to which all other 9mm style ARs will be measured against.
G&G has managed to revitalize their brand in a big way making them an easy choice as one of the best airsoft brands and well deserving to being in the top airsoft brands discussion. As they move into more GBB products, many are excited for what they have in store. If their successful SMC-9 GBB SMG / Pistol was any indication as to where they are heading, we will be looking forward to more amazing products from G&G Armament.
Tier 2
We are coming into the last several brands now and we are about to see some of the best brands airsoft has to offer. On this level, you will expect nothing but some of the highest levels of fit and finish and attention to detail second to none. Brands on this level are not just concerned about releasing as many products as they can but rather about releasing the best products they can make. These brands might take a longer time to get certain guns to market but when they hit, they instantly sell out (for better or for worse), and often times guns from these brands will be the closest thing to the real firearm many of us can get outside of countries with laxer gun laws.
8.

RWA

- Best Licensed Custom Pistols
While many will know Redwolf as a retailer, RWA also makes some of the nicest airsoft products. I know, writing this from my perspective looks a little bias as this is coming from Redwolf but if you take the time to look at some of the Nighthawk Custom pistol releases, Agency Arms slides, and Battle Arms Development kits for the Tokyo Marui M4 MWS, these are incredible homages paid to the real steel brands they represent. Many of these products take time to produce but the attention to detail is unparalleled and many of which are considered to be some of the best in class, like the Nighthawk Custom GRP CNC Steel 1911. Even though the price for some of these pistols can rival some real steel guns what you get in return can be nothing less than an exquisite airsoft replica, making RWA one of the top airsoft brands.
7.

Inokatsu

- Ultra-Realism
Inokatus, much like RWA, is considered a premium brand and for a long time produced some of the very finest GBBs money can buy. Their M4 GBBR was considered one of the most authentic replicas of the real steel rifle you can get your hands on and their SIG P226 is almost indistinguishable from the real one. As of the the best airsoft brands, Inokatsu's products were exceptional for both users and collectors alike and its name was almost spoken with a kind of reverence. It was thanks to top airsoft brands like Inokatsu that many other good airsoft brands became great, taking the time to put more effort in their fabrication and production processes translated into better products for the users! For its contribution to high quality, Inokatsu deserves to be among the top tier of best airsoft brands.
6.

LCT

- Sticking to Their Guns
LCT is renowned for their AK line up. There are not that many brands out there that can stick to their guns as much as LCT in their commitment to making some of the best AK AEGs users can ask for. What makes them a top airsoft brand?
LCT not only features many of the classic AK models but many modernized ones as well not to mention their line of first party accessories designed to just plug and play with the AK of your desire. In recent years, seeing the lack of internal upgrade parts for the AK platform, LCT started producing different motors as well as recoil kits for their AEGs. Good airsoft brands continue to innovate and LCT has managed to produce many products for the AK community earning them a spot this high on the list of best airsoft brands.

5.

Umarex

- Brought Glocks BACK to Airsoft
Coming into the Top 5 of our list, we start with Umarex. Umarex has been producing some of the finest airsoft guns for sometime and they have been killing it with their line of H&K guns. Much like real steel H&K, Umarex replica H&Ks are incredibly well produced down to the tiny details of the metal.
For firearm enthusiasts and collectors alike, these are some of the best airsoft guns you can get your hands on. Being a top airsoft brand, they also produce one of the most successful lines of licensed products, the Glock series of pistols. Easily one of the best airsoft brands around, Umarex kicks off the Top 5 with a bang!
Tier 1
This tier is the top of the pyramid and what should represent the best our community has to offer! Not only do these brands such as Krytac, GHK, VFC, and Tokyo Marui represents excellent fit and finish but cutting edge technology and innovation.
4.

Krytac

- Newest Kid on the Block
Seemingly out of nowhere came Krytac and they took the world by storm. Billed as one of the best airsoft brands they brought in a lot of people when developing their guns and they quickly set the standard in what AEGs should be. Their fit and finish are among the best and their internals feature electronics that have become industry standard. In recent times, they have come out to lead the charge with the Airsoft T-Plugs revolution in hopes to unify the many different brands under one battery plug. However, what truly sets them apart is Krytac being under the Kriss Group umbrella. Under the Kriss Group (a firearms company) they have access to the Kriss Vector SMG which they faithfully reproduced in many different versions which still garners high praise form users around the world. Krytac has built a strong name for itself in the short time that is been on the market and earned a spot on being one of the best airsoft brands.
3.

GHK

- Rising Star
We previously mentioned LCT, GHK is very similar as they make some of the finest, most realistic AK GBBRs. Much like that seen in real steel AKs, each and every GHK AK feels raw and robust, as if you can take it to hell and back. The wood used is real wood and every impulse you feel from each trigger pull puts a smile on your face. Probably what puts GHK above many other brands as a best airsoft gun brand is the fact that they have not compromised on the quality in which they deliver. Internally the guns feature many steel parts to ensure longevity and optimal performance, you can even opt to have your gun be powered by Co2 simply by simply swapping out the magazine. If the AK platform is what you want to get into and the best is what you are looking for, GHK is going to be considered the best airsoft gun brand.
2.

VFC

- Gets Better Every Year
While some might think this is a "controversial" pick for best airsoft gun brand, allow me to explain why VFC is deserving of being placed this high on the list, second place! Looking at their catalog they manage to produce something for everyone from pistols to snipers to AEGs and GBBRs, not to mention everything in between. Their AEGs have always gotten high praise and are oftentimes considered best in build for modders especially coming from the HPA community.
Their GBBRs have also been some of the best in class with several of their SMG being many of the top performing airsoft guns users can get their hands on. VFC's constant desire to fine tune their products ensures that the end user gets a great gun and being a top airsoft brand we should expect no less form them. VFC with their ability to constantly produce great products that users are proud to own earns them the number two spot on the top 20 best airsoft brands.
1.

Tokyo Marui

- Long Live the King
I don't think there was any doubt that Tokyo Marui will be on the top of this list. Tokyo Marui has always been the most consistent brand making them the best choice for aftermarket manufactures that make upgrade parts for them.
While some of their pistols might feature plastic slides, the quality of their overall products set their brand apart as the best airsoft gun brand. Over the years Tokyo Marui has managed to deliver exceptional products and with their foray into the GBBR market introducing the MWS system, they quickly rose to the top, beating out many other established industry giants. It is with this combination of consistency and manufacturing know-how that sets Tokyo Marui apart from the many other top or even good airsoft brands.

In Conclusion
There are many other top airsoft brands that produce a wide range of airsoft guns which could have made it to our list of best airsoft brands, but what we see here is a collection of brands that have pushed the envelope and strove to be the best in their respective categories. Over the years we have seen many brands, even those that would be considered "entry level", greatly improve their overall product quality. We have start to see less and less truly low quality products which has really helped grow our hobby. Good airsoft brands are offering more products to the masses at more affordable prices and top airsoft brands are continuing to innovate to bring us better products that push the sport forward. The 20 best airsoft brands of 2020 could change next year seeing that every brand represented here continues to challenge the status quo, what would 2022 bring? I am optimistic about new things we have not even thought of yet!