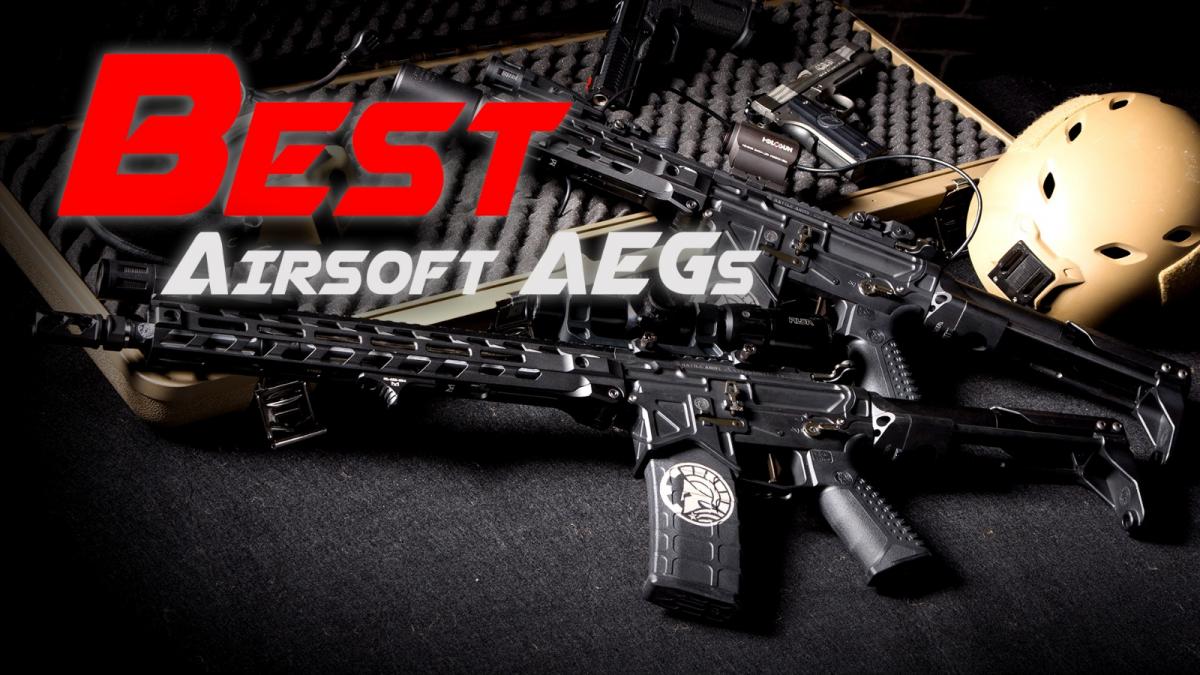 Automatic electric guns (AEGs) are some of the most popular airsoft guns on the market today thanks especially to their fast rate of fire, low recoil, and relative affordability compared to gas-powered guns. In this article, we'll take a look at what AEG airsoft guns are and how they function as well as our top ten list of the best airsoft AEG guns available today. Before reading our article, check out the list we made for 2021!
What Are AEG Guns?
The concept of an Electric Airsoft Gun (AEG) was invented by Tokyo Marui in Japan during the early 1990s. Modern AEG airsoft guns are powered by either a NiMh, Lithium Polyer (LiPo) or Lithium Ion (Li-Ion) battery that drives a motorized piston assembly in order to create the air pressure necessary to launch a BB out of the gun's barrel. Unlike gas-powered guns, AEG guns do not require cartridges of pressurized Co2 in order to function. This makes them a little more affordable to operate since you don't have to worry about purchasing Co2 cartridges. While you won't need to replace the Co2 cartridge on an AEG gun, you will need to recharge its battery after extended periods of use (ranges from every 2000 – 5000 rounds depending on the model). AEG guns also offer the benefit of enabling semi-auto, burst, and full-auto fire since they do not need to be cocked in between shots like spring-powered airsoft guns. AEGs deliver consistent power no matter the operating temperature, unlike green gas or Co2 powered airsoft guns that weaken notably in colder weather. If you shoot a lot in full auto, then AEG airsoft guns also deliver consistent FPS shot after shot, but it is not susceptible to gas cooldown that plagues gas-powered airsoft guns.
Some advanced AEG rifles equipped with an electronic trigger can even support binary shooting mode, which shoots once when you pull the trigger, and once more when you release the trigger. Electronic triggers can give AEG airsoft guns an unlimited number of shooting features because many are programmable to the owner's needs.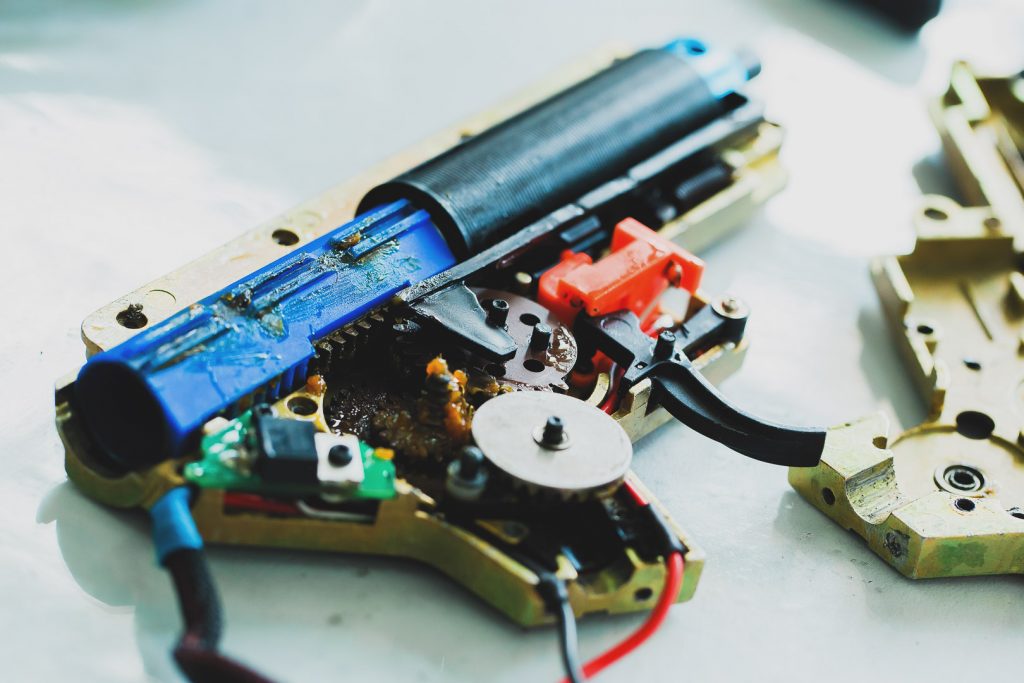 AEGs which use the standard gearbox that was invented by Tokyo Marui are also easy to modify and upgrade, thanks to the large selection of aftermarket parts.
RedWolf's Picks for Best AEGs
What is the best AEG? This is a question we hear all the time at RedWolf Airsoft. To help you choose the best airsoft AEG gun for your unique needs and play style, here are our picks for the best airsoft AEG guns on the market today:
Price: $419.99
FPS: 380
Model: AR/M4 Series
Modeled after the superb quality and incredibly popular Daniel Defense line of AR-15s, this AEG is a rifle suited for a wide range of battle scenarios. It features a built-in foregrip, an adjustable stock, and a cutting-edge new G&P i5 Version 2 gearbox that enables high FPS and a fast rate of fire.
Pros
Great Reliability
An Included Foregrip and Picatinny Rails that Surround the Barrel for Adding Even More Attachments
Aluminum Alloy Construction
Cons
Only Works with 11.1v LiPo Batteries
LiPo Batteries are Expensive, Fragile, and Prone to Exploding if Overcharged
Price: $359.99
FPS: 380
Model: MP7
Modeled after Heckler and Koch's MP7 - one of the most widely used SMGs in the world - this excellent SMG features next-generation micro fire control in addition to impressive features such empty magazine detection and fully ambidextrous controls.
Pros
Realistic Construction, Markings, and Features that are True to a Real MP7
High FPS for an SMG
Next-Generation Micro Fire Control and FET
Cons
Adjustable Stock May Experience Durability Issues
No Picatinny Rails on the Bottom or Side of the Gun Makes Adding Attachments Such as Flashing and Lasers a Challenge
Price: $549.99
FPS: 260
Model: Other
If a fully automatic airsoft shotgun that is capable of sending BBs downrange at a rate of 30 per second sounds like your idea of a good time, you are sure to love the Tokyo Mari SGR-12. This monster of a shotgun is magazine-fed and can even be equipped with a 3,000 round drum mag for maximum destructive potential.
Pros
A Hefty and Intimidating Design
Full-Auto and Semi-Auto Functionality
Come with Three Included Picatinny Rails that can be Attached to the Gun's M-LOK System
Cons
High Price Tag Compared to the Average Airsoft Shotgun Price Range
Can only be Powered by 8.4v Batteries
Plastic Construction
Price: $439.99
FPS: 400
Model: P90 Series
The P90 has always been a corner stone of the airsoft scene and one of the early guns loved by many players and collectors around the world. This airsoft SMG if fully licensed and comes by way of Krytac, makers of some of the best electirc airsofts on the market! This electric airsoft gun not only is true to form in terms of size but also function! A fantastic choice by anyone looking for a great gun!
Pros
Lightweight and Maneuverable
High FPS
Excellent Trigger Response
Fully Licensed Product
Cons
Not Ideal for Long Range Engagements
Relatively Small Battery Compartment
Price: $1,495.00
FPS: 350
Model: WWI and WWII
This long-awaited replica of the Browning M1919 is perfect for serious airsoft players who are looking for a tripod-mounted machine gun that is capable of making an entire area off-limits to enemy players. It features a 5,000 round auto-winding ammo crate box magazine that feeds simulated dummy rounds for maximum realism.
Pros
Perfect Rate of Fire and Ammo Capacity for Allowing Extended Cover Fire
Highly Accurate Replica of the Real Steel Browning M1919
Constructed Mostly of Steel with some Aluminum Parts
Cons
A Price Tag North of a Thousand Dollars Makes this Gun Unattainable by all but the Most Seriou Airsoft Players
Its 15.6KG Weight Makes Lugging this Behemoth Around the field a Real Chore
FPS: 400
Model: AR/M4 Series
If you are looking for an all-around great M4-style AEG that won't break the bank, you'd be hard-pressed to find one better than the Umarex HK416A5. This rifle features tried and tested VFC AEG internals and a solid, sturdy construction that is truly built to last.
Pros
High FPS
Sturdy, Durable Construction
One of the most Reliable Internal Assemblies on the Market
Cons
Asia Edition Means that the Rifle Lacks EU F and 6mm Markings
Price: $269.99
FPS: 370
Model: AR/M4 Series
Designed to replicate the G&G CM16 9mm carbine, this compact rifle is perfect for close-quarters combat where maximum maneuverability is a priority. Featuring the traditionally solid G&G gearbox paired with their inline MOSFET, the ARP9 is a unique and reliable AEG rifle.
Pros
Lightweight and Maneuverable
A Unique 9mm Carbine Design that Sets the Rifle Apart from Other M4-Style AEGs
A Reliable G&G Gearbox
Cons
Some Users May Find the ARP9's Smaller Stock Uncomfortable
Not Compatible with Standard M4 AEG Magazines
Lower FPS than some other AEG Rifles
Price: $399.99
FPS: 330
Model: MCX
The real steel MCX Virtus from Sig Sauer was specifically engineered for the demands of special forces operators, and this replica perfectly matches the real steel version's performance. It offers an MLOK rail system for easily adding attachments and a full-metal construction aside from the gun's stock and grip.
Pros
Full Metal Construction
Compatible with Standard M4 AEG Magazines
Adjustable Stock
Cons
Price: $449.99
FPS: 340
Model: KRISS Vector
Modeled after the unique and immediately recognizable KRISS Vector, this eye-catching SMG is sure to be the envy of your airsoft teammates and the terror of your opponents. The Krytac KRISS Vector feature semi-auto, 2-round burst-fire, and full-auto fire as well as licensed KRISS Vector GEN II housing and a licensed KRISS Vector Gen II folding stock.
Pros
A Unique and Eye-Catching Design
Better Accuracy than many SMGs
A Semi-Auto, Burst-Fire, and Full-Auto Selector Switch
Cons
Plastic Construction
Not as Compact and Maneuverable as Smaller SMGs
Honorable Mentions:
Price: $449.99
FPS: 350
Model: AR/M4 Series
The BCM MCMR by VFC is a high-quality, high-performance AEG that not only looks great but shoots like a dream. It features the latest technology from VFC and also works with other standard M4 AEG magazines. The only drawback is that due to it being so new at the publishing of this article, there are not many upgrade parts for it, making it unable to break into the top 10!
Price: $1,359.99
FPS: 300
Model: M249 Series
The Tokyo Marui MK46 MOD. 0 is the only airsoft AEG machine gun that comes standard with an electronic blowback system. The Rate of fire and operation of the gun is very realistic and even the weight is highly accurate. However, due to this gun being relatively heavy and having many moving parts due to its recoil system, it could be prone to breakage under heavy use.
Price: $369.95
FPS: 390
Model: Scorpion EVO
The perfect compromise between an SMG and a rifle, the ASG Scorpion EVO3A1 is ideally suited for both CQB and longer range, outdoor battles alike. It features a semi-auto, 3-round burst, and full-auto sector switch as well as ambidextrous controls and a crisp trigger response.
Pros
Compact and Maneuverable Yet Accurate at Longer Ranges
A CNC Machined Outer Barrel
A Semi-Auto, 3-Round Burst, and Full-Auto Selector Switch
Ambidextrous Controls
Cons
A 75 Round Magazine that Doesn't Hold as many BBs as most AEG Magazines
Not Compatible with Standard M4 AEG Magazines