Best Electric Airsoft AEG Guns: 2023 Ultimate Guide | Redwolf Airsoft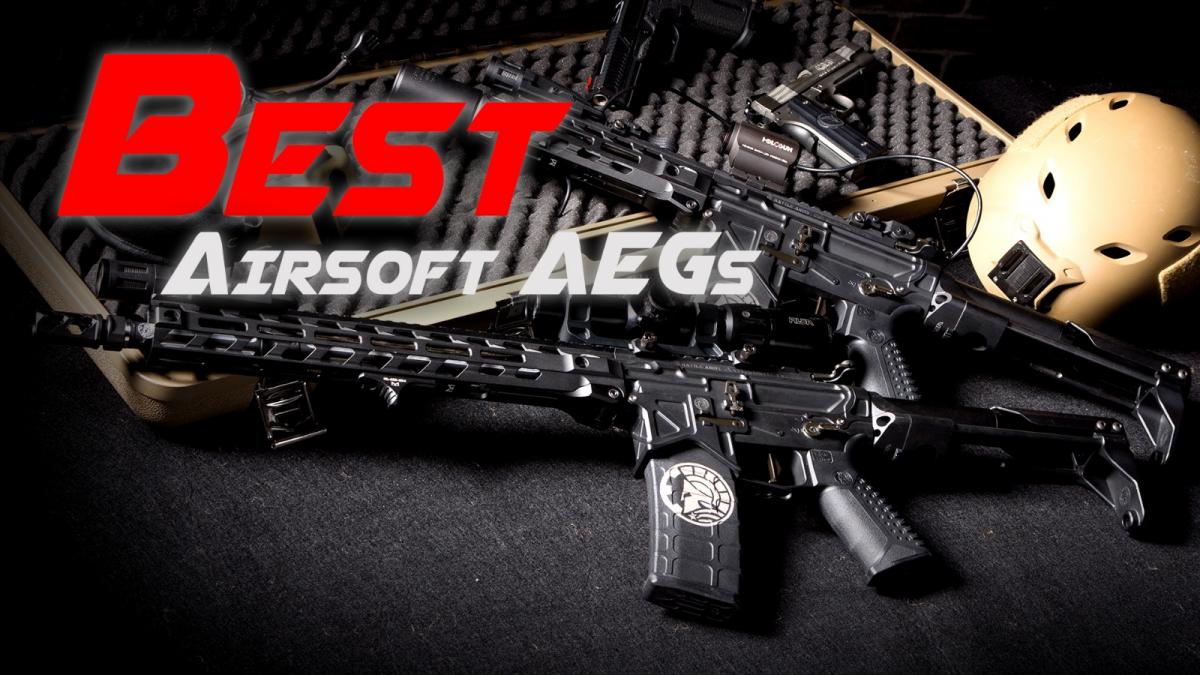 Automatic electric guns (AEGs) are some of the most popular airsoft guns on the market today thanks especially to their fast rate of fire, low recoil, and relative affordability compared to gas-powered guns. In this article, we'll take a look at what AEG airsoft guns are and how they function as well as our top ten list of the best airsoft AEG guns available today.
What Are AEG Guns?
The concept of an Electric Airsoft Gun (AEG) was invented by Tokyo Marui in Japan during the early 1990s. Modern AEG airsoft guns are powered by either a NiMh, Lithium Polyer (LiPo) or Lithium Ion (Li-Ion) battery that drives a motorized piston assembly in order to create the air pressure necessary to launch a BB out of the gun's barrel. Unlike gas-powered guns, AEG guns do not require cartridges of pressurized Co2 in order to function. This makes them a little more affordable to operate since you don't have to worry about purchasing Co2 cartridges. While you won't need to replace the Co2 cartridge on an AEG gun, you will need to recharge its battery after extended periods of use (ranges from every 2000 – 5000 rounds depending on the model). AEG guns also offer the benefit of enabling semi-auto, burst, and full-auto fire since they do not need to be cocked in between shots like spring-powered airsoft guns. AEGs deliver consistent power no matter the operating temperature, unlike green gas or Co2 powered airsoft guns that weaken notably in colder weather. If you shoot a lot in full auto, then AEG airsoft guns also deliver consistent FPS shot after shot, but it is not susceptible to gas cooldown that plagues gas-powered airsoft guns.
Some advanced AEG rifles equipped with an electronic trigger can even support binary shooting mode, which shoots once when you pull the trigger, and once more when you release the trigger. Electronic triggers can give AEG airsoft guns an unlimited number of shooting features because many are programmable to the owner's needs.
AEGs which use the standard gearbox that was invented by Tokyo Marui are also easy to modify and upgrade, thanks to the large selection of aftermarket parts.
RedWolf's Picks for Best AEGs
What is the best AEG? This is a question we hear all the time at RedWolf Airsoft. To help you choose the best airsoft AEG gun for your unique needs and play style, here are our picks for the best airsoft AEG guns on the market today:
RWA BATTLE ARMS DEVELOPMENT 556-LW AEG AIRSOFT RIFLE
With an eye-catching design with superior attention to detail and offering a feature-packed electronic trigger control unit that offers a binary mode for ultra-fast CQB semi-auto shooting. The RWA BAD LWA 556 AEG is easily one of the lead contenders for best airsoft M4 out there. It also features a special airsoft M4 stock design to accommodate Titan Lithium-Ion batteries. The BAD AEG is not cheap and comes in either standard length or the SBR compact version, but if you want an AR 15 airsoft gun that is a bit edgier with an incredibly fast binary trigger for CQB game sites, this should be on your list.
Tokyo Marui AK47 Type 3 Next Generation (NGRS EBB) Airsoft AEG Rifle
The Tokyo Marui AK47 NGRS (Next Generation Recoil Shock) was a highly anticipated gun leading up to its release. The NGRS offered users that lived in countries with climates unsuitable for extensive gas usage more realism with its electric recoil system. While the gun doesn't kick as hard as a gas airsoft gun, it does offer some extra fun for players that value these things. In addition, it being a TM, this means it will enjoy fantastic performance and a wide array of aftermarket upgrade parts.
The long-awaited Umarex (Elite Force) Heckler & Koch MP7 electric airsoft submachine gun is finally here and is a full-sized and accurate representation of the wildly popular SMG from Heckler and Koch. Being a product fully licensed by Umarex (Elite Force) and H&K it features all the corresponding markings and trades. The Umarex (Elite Force) H&K MP7 electric airsoft SMG comes with a few features that do make it stand out as a unique product in its own right.
Aesthetically, the gun features a full CNC steel flash hider and the high-quality polymer build known from its gas airsoft counterpart which is also made by VFC and licensed by Umarex (Elite Force) and Heckler & Koch. Internally the Umarex (Elite Force) H&K MP7 electric airsoft SMG features a new, next-generation micro switch and FET system. Additionally, the Umarex (Elite Force) H&K MP7 electric airsoft SMG features empty magazine detection giving this electric airsoft submachine gun an extra level of realism.
If a fully automatic airsoft shotgun that is capable of sending BBs downrange at a rate of 30 per second sounds like your idea of a good time, you are sure to love the Tokyo Mari SGR-12. This monster of a shotgun is magazine-fed and can even be equipped with a 3,000 round drum mag for maximum destructive potential.
The EMG / Cybergun P90 is a fully licensed product made by one of the best airsoft manufacturers Krytac. This SMG from FN was originally designed and manufactured in the 1990s with the purpose of being used as a replacement for weapons chambered in 9mm.

The Krytac P90 is one of the most faithful replicas out there; the polymer construction of the gun is superb and is far separated from the plastic used in previous models. The upper receiver is made from lightweight metal and when mated to the polymer lower receiver the gun is robust and solid. One interesting feature found in this futuristic airsoft gun would undoubtedly be its trigger; its travel distance and pull weight are adjustable by swapping out a spring. It's incredibly quick response is due to its high-tech electronics used and the Krytac P90's magazine has a last-round cut-off feature for more realism.
Featuring a full steel and aluminium construction, simulated belt recoil and mounted on a steel tripod, RWA spared no expense in making this the most faithful replica of the M1919 on the market. With a massive 5000 round box magazine, this gun is perfect for laying down a blistering amount of long-range suppressive fire on the enemy. Only 500 pcs were made and RWA has said they will not make more so there is only a small window to own one of these historical pieces that few manufacturers would venture to make.
If you are looking for an all-around great M4-style AEG that won't break the bank, you'd be hard-pressed to find one better than the Umarex HK416A5. This rifle features tried and tested VFC AEG internals and a solid, sturdy construction that is truly built to last.
The G&G ARP9 is a unique and exciting entry into the CQB M4 style rifle AEG category. Extremely compact and lightweight, from afar the ARP9 resembles a traditional M4 type rifle, but when one gets closer, they realize the ARP9 is a completely different beast. Based on the G&G CM16 series of AEGs the ARP9 retains all of the features favored by players but in a unique 9mm style carbine. Using the traditionally solid G&G gearbox, paired with their inline MOSFET, the ARP9 puts out all of the same performance of a CM16 M4, but in a compact and unique package.
Conceived for the demands of the Special Operations community, the MCX VIRTUS from SIG SAUER is engineered for adaptability, sound suppression, and longevity. The VIRTUS builds upon the popularity and lessons learned from the MCX legacy that came out prior to this current version.
Modeled after its real steel counterpart, the ProForce release of the SIG SAUER MCX Virtus Airsoft AEG (Auto Electric Gun) Rifle does not disappoint. With a Full CNC machined receiver, integrated M-LOK handguard, 3-position telescoping stock, open full-length Picatinny rail for the addition of sights, and a modular locking accessory mounting system. The SIG AIR Proforce MCX Virtus is an airsoft BB-slinging brute with 120 round mid-cap magazine that keeps you active and engaged on the firing line.
The Kriss Vector is easily the most recognizable and iconic SMG of the last decade making it an obvious choice for a futuristic airsoft gun. Promising modern ergonomics and very low recoil in the real steel rifle, the shape is instantly identifiable and its styling is so futuristic that many sci-fi blockbuster movies have used the Kriss Vector. This fully licensed Airsoft Kriss Vector is made by Krytac, a 100% wholly-owned subsidiary of the KRISS GROUP, the real steel company. In other words, 1:! this Airsoft Kriss Vector is as about as close as you can get to carrying the real thing.
The MK46 is a variant of the base M249 seen and used by many militaries around the world. The MK46 in particular is a variant used by the United States military forces and can easily be differentiated from the baseline M249The two key differences are the addition of picatinny rails on the upper receiver for the mounting of optics and the railed hand guard up front.
The airsoft version we have here is a faithful replication from famed, legendary manufacturer Tokyo Marui. This AEG features the latest "Next Gen Recoil System" which means it will give the users a slight recoil impulse when shooting it, adding some extra realism. The battery location is also different from where it would traditionally be, rather than the stock, it is located in the hand guard.
Positioning itself as an affordable alternative to the much more expensive Systema PTWs, and the only airsoft gun designed & made in the EU (Denmark), the EVO's compact form factor and impressive electronic trigger won it the Best AEG category in the Players Choice Awards for many years running. One of, if not, the best SMG AEGs available.