10 Best Gas Airsoft Guns: 2023 Ultimate Guide | Redwolf Airsoft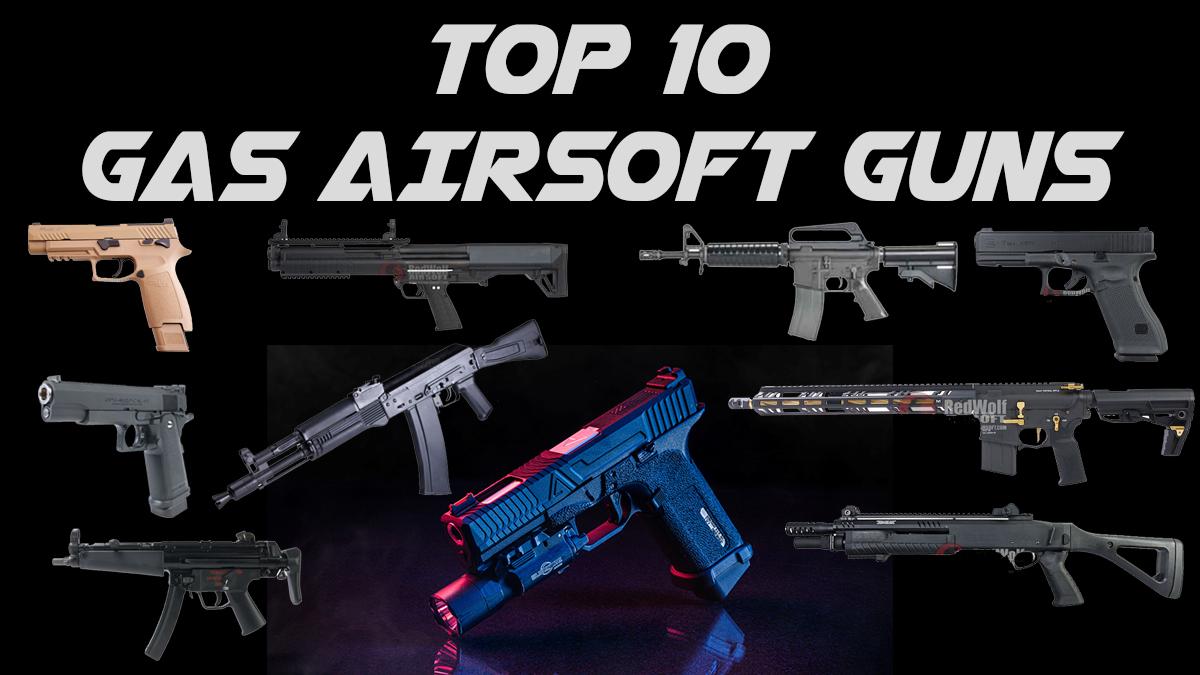 Airsoft has been around since the 1970s after being invented in Japan. Here we take a look at the Best Airsoft Guns available today Though some of these airsoft guns aren't made this year, we think these are some of the best you can buy. Here are our 10 picks for Best Gas Airsoft Guns for all airsofters from beginners to advanced players in the year 2023. But what makes a gas airsoft gun the best gas airsoft gun? First, we must understand how gas airsoft guns work before we determine what makes them "best".
What are Gas Airsoft Guns
The Best Airsoft gun comes in many different shapes and forms, and today's focus will be on the gas-powered platform which we call Gas Blowback (GBB). No manner which platform the airsoft gun is designed from, they all should have a tube which we call an inner barrel that allows the user to shoot a ball bearing (BB) out of it like a blow dart, but the BB will be given a backspin prior accelerating in the inner barrel so it can travel further.
A gas blowback airsoft gun utilities a gas reservoir storing pressurized gas (similar to propane gas) known as top gas/ green gas. Whenever the user pulls the trigger, a knocker will hit the valve on the gas reservoir, causing it to release a small amount of pressurized gas into the GBB platform. The gas will first push the BB out of the chamber, causing it to fire; the remaining amount of gas will cause either the pistol's slide/ the rifle's bolt to move back so the airsoft gun can load the second round for a follow-up shot. However, gas-powered airsoft guns are quite prone to cold weather; when shot too fast, a cool-down effect might occur resulting in a significant fps drop.
There are other types of gas airsoft guns too such as None Blowback (NBB) and Bolt action airsoft rifle. You can click here to learn more to read our post "How Do Airsoft Guns Work?".
10 Best Gas Airsoft Gun
The EXA Pistol is based on a Glock pistol. Functionality and manipulation wise it is no different than a Glock. However, with blueprints provided by Agency Arms and Lone Wolf Arms; both the slide and frame provide better ergonomics and control to the user. Making this the most user-friendly and aesthetically appealing GBB pistol, arguably one of the best green gas airsoft guns currently in the market.
Pros
Improved ergonomics
Fiber front sight for easier aiming
Improved trigger
Extra backstrap to adapt to different users' hand size
Aesthetically improved
Metal slide
Ideal pistol for training/ dry fire
Many aftermarket parts for upgrade and repairs
Capable of taking almost all airsoft Glock mags
Cons
Unable to install an optic
Currently no threaded barrel available
With US Armed Forces and Law enforcement beginning to switch from Glock to P320, this airsoft variant P320 is quickly gaining popularity as well within the airsoft community. Some may argue that the P320 provides better ergonomics and is much easier to implement red dot onto the pistol (as this is a growing trend), it is logical for us to include the SIG AIR P320 into the top 12 rosters. With military and Law Enforcement Officers starting to use them, there is no doubt this will be one of the top contenders as the best gas airsoft guns.
Pros
Optic ready
Top trending pistol in the market now
Real counterpart used by US Armed Forces
Great blowback
1:1 size with real steel counterpart
Ambidextrous controls
Metal slide
Licensed by Sig Sauer
Cons
Limited holster options at this moment
Lack of aftermarket parts at the moment
The Glock 17 Gen 5 is the newest and most advance real steel pistol from Glock. The Airsoft version is not just a re-skinned Glock 17 Gen 3 and Gen 4; but in fact, has many functional improvements that make it perform better than its earlier cousins. With the improved blowback unit and ambidextrous controls, this Glock is the most advanced Airsoft Glock today. A modern classic of an all-time favorite gas airsoft gun.
Pros
Redesigned blowback housing, more gas efficient than Umarex Glock 17 Gen 3
The most modern Glock 17 to date
Ambidextrous controls
Integrated flared magwell on pistol grip to assist reloads
New hop-up adjustment design, can adjust hop-up without removing the slide
Metal slide
Fully licensed by Glock
Cons
Redesigned blowback housing caused it to be proprietary, and lack of aftermarket upgrades/ support
Some users may not like enlarged mag catch/ release
The Hi-Capa has been known to be the best airsoft pistol for years for its reliability, upgradability, and performance. It is the "go-to" pistol for all competitive shooters for its high round count, reliability, and accuracy. This pistol has the most aftermarket parts known available to this date. The number of upgrade parts allows the user to personalize their hi-capa however they want.
Pros
Large gas reservoir
Plenty of aftermarket parts for repairs
Great gas efficiency
Works well in a wide range of temperature environments
Works well with both HKC134a and Green Gas
Impressive accuracy
Cons
Relatively large pistol grip
Plastic construction, fragile with green gas
Race gun appearance, not appealing to users that prefer realistic pistols
The Marui's MWS (AR line) is late to join the GBB Rifle market but has the best performance out of all its competitors; but given its brand reputation, a lot of aftermarket parts were made specifically for this gun despite its late entry.
Pros
Robust bolt lock mechanism
Great range
Superior accuracy
Plenty of aftermarket part
Cons
Unrealistic internal mechanism
Squishy trigger sensation
For AK Model GBBR, GHK is probably the go-to brand. The reason why everyone loves the GHK AK series is that it is still the most gas-efficient AK GBBR in the market. Though the bolt is a bit unrealistic since it doesn't fully travel, it more than makes up for it with its satisfying kick.
Pros
Great gas efficiency
Strong recoil
Robust internals
Cons
Unrealistic short bolt travel
MP5s are by far the most iconic SMG in the world right now. You probably have seen it in movies/ video games such as Die Hard, The Rock, Counter-Strike, etc. Just to name a few. Its compact size makes it easy to carry around and it is the most popular gun to do the "HK Slap", but the lack of modularity/ picatinny rail makes configuring this gun very difficult.
Pros
Can shoot 3-rds burst
Licensed by Heckler & Koch
Retractable Stock
Solid steel stamp receiver
Built to withstand the "HK Slap
Iconic appearance
Cons
Lack of modularity
No picatinny rails for common accessories
The M733 is probably a rifle that is instantly recognizable my many movie buffs and firearms enthusiasts. The rifle is the precursor to the rifle that we now know today as the M4. However, its biggest claim to fame is its prominent featuring in the hit movie HEAT staring Robert De Niro. The M733 is a very well made rifle and comes with strong, snappy recoil that is sure to put a smile on anyone's face!
Pros
Fully Licensed Product
Iconic Design
Strong recoil
Excellent gas efficiency
Compatible with VFC M4 magazines
Cons
Not Ideal for Long Range Engagements
Does Not Feature Picatinny Rail
When it comes to the term "shotgun", people usually correlate to the classic wooden furniture pump-action accessories - one that resembles the 870 style shotgun. Hence it was refreshing when we see the STF12 join the airsoft market. Based on a reliable Tokyo Marui shotgun system and paired with a folding stock, the STF12 not only performs great but is extremely portable.
Pros
Base on Tokyo Marui M870 System
Feature picatinny rail for mounting accessories
Compatible with Tokyo Marui shotgun shells
Folding stock
External gas cartridge for ease of refilling gas
Cons
Quite heavy given so many polymer parts
Complicated to disassemble for repair and maintenance
Unable to tell if the gun run out of BBs
The KSG is a rather unusual-looking gas shotgun; but due to its bull-pup nature, this shotgun gives a very compact silhouette while allowing it to have a relatively long inner barrel. Marui improved their M870 system in this gas shotgun so it can no longer slam fire, and it has an alternative chamber in the back to hold spare shotgun shells. This gun most notably is seen in the action movie John Wick.
Pros
A very compact footprint
Improved M870 System From Tokyo Marui
Features a lot of picatinny rail for accessories
Has alternative chamber for spare shotgun shells for reloading use
External gas cartridge for ease of refilling gas
Cons
Difficult to disassemble for repair and maintenance
Unable to adjust hop-up
Unable to tell if the gun run out of BBs
Final Remarks
It is very subjective when it comes down to what is considered as "the best" gas airsoft gun since user preference varies. However, most airsofters would agree that a good gas airsoft gun should be gas efficient despite the weather, manipulates like a real firearm, and realistic in looks. The 10 that we provided serves as a general reference. If you'd like to learn more, be sure to visit our online store www.redwolfairsoft.com or click here!