Airsoft has been around since the 1970s after being invented in Japan. Since then many models and platforms have come and go, but some jewels have stayed around for several decades and have yet to be unseated from their thrones. Here we take a look at the Best Airsoft Pistols available today - in our 2020 guide. Keep in mind that this is not a Top 12 Pistols Released in 2020, but rather a list of all the pistols that you can buy in 2020. While there have been other amazing pistols out there in the past, some are sadly no longer available so will not be included here. Here are our 12 picks for Best Airsoft Pistols for all airsofters from beginners to advanced players in the year 2020.
How To Find YOUR Best Airsoft Pistol?
Before we begin, we must first ask ourselves "what is the 'best' airsoft pistol"? Often times airsofters are constantly searching for the best airsoft pistols for their personal use. However, since every user is a little different, the definition of "best" differs for every individual. Throughout the years, quite a few good gas blowback pistols were released from various manufacturers, so today we are going to list out 12 airsoft pistols that we think are best, whilst listing each one's pros and cons so airsofters can find their personal "best airsoft pistol."
12 Best Airsoft Pistols
1. Tokyo Marui Hi-Capa 5.1 GBB Pistol (including all variants)
The Hi-Capa has been known to be the best airsoft pistol for years for its reliability, upgradability, and performance. It is the "go-to" pistol for all competitive shooters for its high round count, reliability, and accuracy. Comes in a variety of configurations in 5.1-inch slide, 4.3-inch slide, in full auto and semi-auto versions. For style-conscious shooters, the Hi Capa Gold Match takes the cake with both performance and looks to boot. With a huge (not an overstatement by any measure) aftermarket parts market, there are infinite ways that you can upgrade and customize the Hi Capa to make it yours. Full metal kits, steel barrels, triggers, barrels, hammers, safety, grip, sights - the list just goes on and on. If you like to tinker and tune, then the Tokyo Marui Hi Capa is really the best choice. But if you want to use it out-of-the-box, it offers the most reliable and stable performance compared to ANY pistol on the market, bar none.
Pros
Large gas reservoir
Plenty of aftermarket parts for repairs
Great gas efficiency
Works well in a wide range of temperature environments
Works well with both HFC134a and Green Gas
Impressive accuracy
Amazing and accurate hop-up system
Cons
Relatively large pistol grip
Plastic construction although the mid-frame is metal (due to Japanese laws restricting full metal pistols)
Race gun appearance, not appealing to users that prefer realistic pistols
2. Umarex Glock 17 Gen 3 GBB Pistol
Glock is probably the most well-known pistol in the world right now. Many real steel companies offer modifications and upgrades for the real Glock 17 Gen 3. Its popularity is due to how many law enforcement agencies are using this pistol. Hence this is a good airsoft pistol for both competitive shooters and milsim airsofters.
Pros
Based on the most popular real steel pistol in the market
First officially licensed Glock in the market
Many aftermarket parts for upgrade and repairs
Ideal pistol for training/ dry fire
Metal slide
Cons
Recoil weakens quite significantly in cold weather
Late to appear in market, aftermarket parts mainly dominated by non-licensed variants
3. Umarex Glock 17 Gen 5 GBB Pistol
The Glock 17 Gen 5 is the newest and most advance real steel pistol from Glock. The Airsoft version is not just a re-skinned Glock 17 Gen 3 and Gen 4, but in fact, has many functional improvements that make it perform better than its earlier cousins. With the improved blowback unit and ambidextrous controls, this Glock is the most advanced Airsoft Glock today. So far as of this writing, it has only been released in Asia and Europe but is not available in the USA. The good news is RedWolf ships to the US if you want the latest version Glock 17.
Pros
Redesigned blowback housing, more gas efficient than Umarex Glock 17 Gen 3
The most modern Glock 17 to date
Ambidextrous controls
Integrated flared mag well on pistol grip to assist reloads
New hop-up adjustment design, can adjust hop-up without removing the slide
Metal slide
Fully licensed by Glock
Cons
Redesign blowback housing caused it to be proprietary, and lack of aftermarket upgrade/ support
Some users may not like enlarged mag catch/ release
4. KJ Work CZ Shadow 2 ASG Licensed
The CZ Shadow 2 is a very popular pistol among the real steel competitive shooting community. Known for its low bore axis, this airsoft pistol allows users to intuitively shoot with ease. With customizable grip panels and other accessories, this is easily one of the most aesthetically appealing airsoft pistols. Really great build quality and strong recoil impulse for a good shooting experience
Pros
Low bore axis for more controlled recoil and better accuracy
Changeable grip panels to alter the design
Fully licensed by CZ
Full metal construction
Slide cycles faster than most metal slide pistols
Can use both CO2 and Green Gas magazines
Cons
Slide is very low profile, making certain racking techniques very difficult to perform
Quite a heavy pistol
5. RWA Nighthawk Custom AGENT 1
The Agent 1 is a cross-collaboration between Nighthawk Custom and Agency Arms with additional support from Rail Scales and Hillbilly 223 Cerakote Finish. This is one of the few Commander-sized 1911 pistols available in airsoft. With everything crafted from CNC aluminum with amazing attention to detail, full Tokyo Marui compatibility, and uniquely Cerakoted finishing, this is basically a pre-upgraded 1911 airsoft pistol out of the box. Solid build and tight tolerances make for a good shooting experience. Limited edition to 95 pieces worldwide.
Pros
Rare limited edition - only 95 pieces made
Fully licensed by Nighthawk Custom, Agency Arms, Rail Scales, and Hillbilly 223
Made using real firearms blueprint
One of the very few commander sized 1911 in the market
Plenty of aftermarket parts for upgrade/ repairs
Uniquely Cerakoted by famous real steel coater Hillbilly 223
Comes with an aluminum pistol case
Full metal construction (CNC Aluminum and stainless steel)
Compatible with Marui 1911 magazines
Cons
Expensive due to limited production and manufacturing process
Relatively small gas reservoir given single stack 1911 platform
6. Action Army AAP-01 Assassin GBB Pistol
The AAP-01 might be one of the most innovative pistols in the airsoft market to this date. Drawing inspiration from Ruger while accepting airsoft Glock magazines; this pistol is the most budget yet user-friendly pistol for airsoft. Not modeled after any real gun, the AAP-01 offers lots of thrills for an affordable price. Action Army has released a full spectrum of parts so you can customize the AAP-01 like Lego to your liking. Bolt-only blowback makes for very crisp and fast cycling. Available in FDE and black color
Pros
Looks similar to real steel Ruger
Very affordable with decent performance
Compatible with existing airsoft Glock magazines
No "slide" on this pistol (only the bolt moves) hence super fast-cycling speed
Extremely gas efficient
Highly customizable with a universe of parts from Action Army
Cons
Fictitious model - not based on real steel
Plastic external construction, more prone to breakage
7. Gun Heaven ASG Dan Wesson 715 6 inch 6mm Co2 Revolver
Though revolvers may not be very practical, there is a certain charm in single-action wheel guns, especially during reloads. Amongst all the existing airsoft revolvers now in the market, the Dan Wesson Revolver by ASG is probably the most robust yet beautiful wheel pistol. Finished in brilliant silver, this long barrel revolver is visually formidable and intimidating. Aesthetically appealing yet without compromising in performance, this definitely is one of the best airsoft pistols for revolver enthusiasts. CO2 revolvers generally deliver impressive power because there is no gas wasted on cycling a slide. All the gas is used to propel the BB out of the gun with a big bang.
Pros
Licensed by Dan Wesson
Realistic metal shell loading
Full metal construction
Includes speed loader
Great gas efficiency
Extremely realistic and fun to use
High power
Cons
Uses Co2, can only remove capsule after completely depleted
Low round count for skirmishing
8. RWA Nighthawk Custom GRP
It's widely known that buying a CNC Steel kit and fully upgrading a 1911 could be very expensive. Even so, the internal dimensions can be a little off that requires after purchasing teching/ fitment. The RWA GRP is basically a pre-upgraded airsoft pistol out of the factory with all the right trades and guaranteed functionality. For buyers that seek a very strong blowback and accuracy of a TM pistol, the Nighthawk Custom GRP would be the best blowback airsoft pistol for them.
Pros
Licensed by Nighthawk Custom
Full CNC Steel Construction
Base on Marui system for reliability and accuracy
Weight almost 1:1 with the real counterpart
Will take Green Gas magazine (modification is required)
Extremely robust
Strongest blowback in any out of the box airsoft pistol thus far
Cons
Uses Co2, can only remove capsule after completely depleted
Relatively expensive for skirmishing
9. Umarex Glock 18c GBB Pistol
Though rare, there are airsofters that would like to have a full-auto feature on their pistols. Although there is only a handful of them available, we feel the Umarex Glock 18C would be the superior choice among others. Fully licensed, has a real steel counterpart, made with the latest technology, and has the ability to switch between semi-automatic and full-automatic; we believe this is the best airsoft pistol for full-auto lovers.
Pros
Has full-auto capability
Redesigned blowback housing, more gas efficient than Umarex Glock 17 Gen 3
Can use other Umarex Glock magazines (17 size or larger)
Metal slide
Licensed by Glock
Cons
Full-auto feature increases internal wear and tear
Fire selector on 18c could accidentally shifted base on end user's way of holding pistol
10. SIG AIR P320 M17 6mm Gas Version GBB Pistol
With US Armed Forces and Law enforcement beginning to switch from Glock to P320, this airsoft variant P320 is quickly gaining popularity as well within the airsoft community. Some may argue that the P320 provides better ergonomics and is much easier to implement red dot onto the pistol (as this is a growing trend), it is logical for us to include the SIG AIR P320 into the top 12 rosters.
Pros
Optic ready
Top trending pistol in the market now
Real counterpart used by US Armed Forces
Great blowback
1:1 size with real steel counterpart
Ambidextrous controls
Metal slide
Licensed by Sig Sauer
Cons
Limited holster options at this moment
Lack of aftermarket parts at the moment
11. EMG/ TTI Licensed John Wick 3 2011 Combat Master GBB Pistol
With Hi-Capa/ 2011 being one of the most popular airsoft pistol platforms and the recent popularity of the John Wick franchise, gun enthusiasts and airsofters naturally start seeking the weapons that were used in these movies. One of the most recent models is the Taran Tactical Innovation (TTI) 2011 Combat Master. Though the dimensions aren't exactly the same as the real pistol, this model is heavily featured in the 3rd movie. For airsofters that like 1911 style manipulation with a modern twist, the Combat Master is a great choice.
Pros
Made popular by movie franchise: John Wick
Ergonomics similar to Tokyo Marui Hi-Capa
Metal slide
Large gas reservoir
Magwell included
Licensed by Taran Tactical
Cons
Not same spec as Tokyo Marui Hi-Capa
Depending on climate, slide cycle can get sluggish
Inaccurate grip texture, barrel color, and slide length
12. Cybergun FNX-45 Tactical GBB
Though this pistol was released a couple of years back, this is one of the first airsoft pistols that was released with an optic-ready cut built into the slide. The gigantic gas reservoir in FNX-45's magazine makes this one of the strongest blowback and gas efficient pistols using green gas, though the drawback will be the enormous pistol grip. Airsofters with relatively large hands, be sure to check this airsoft pistol out!
Pros
Very large gas reservoir
Double action pistol
Strong blowback
Interchangeable back strap
Ambidextrous controls
Licensed by FN Herstal
Cons
Relatively large grip
Long trigger travel
No optic plate to support pistol though it is optic ready
Honorable Mention: Umarex Glock 17 Gen 3 By GHK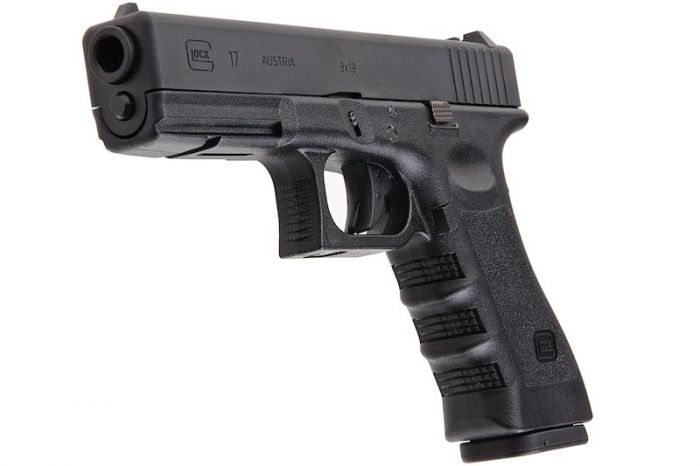 Over 2 years in the making, this Umarex Glock 17 made by GHK is arguably the most anticipated pistol for the past 3 years. However, production got delayed for over a year during COVID, and all of a sudden GHK and Umarex announced the release of this pistol in September took the world by surprise. This pistol is by no means an entry-level price airsoft pistol, but the build quality is 2nd to none. The slide is made out of CNC steel with a completely new redesigned internal, this airsoft pistol provides one of the most satisfying recoil impulses to this date. The initial launch is only limited to Asia with very limited quantity hence it isn't being compared equally with the rest of the pistols above yet. But this pistol is released in the year 2021 so we felt it is necessary to mention it in this blog post.
Pros
CNC Steel Slide
Innovative blowback system
Strongest recoil impulse from an airsoft pistol
Smooth slide cycle
Realistic trigger pull weight
Lightest pistol magazine to this day
Able to function properly even during cold weather
Can handle Co2
Cons
Extremely limited in quantity during launch
High price tag
Lack of aftermarket/ repair parts
Difficult to load magazine
Extremely difficult to adjust the hop-up
Though the video is dated 2020, the content and reference of this video are still relatable to this day. Watch the video below to learn about why we picked these Top 12 Airsoft Pistols!