Best Tokyo Marui Guns: 2022 Ultimate Guide | Redwolf Airsoft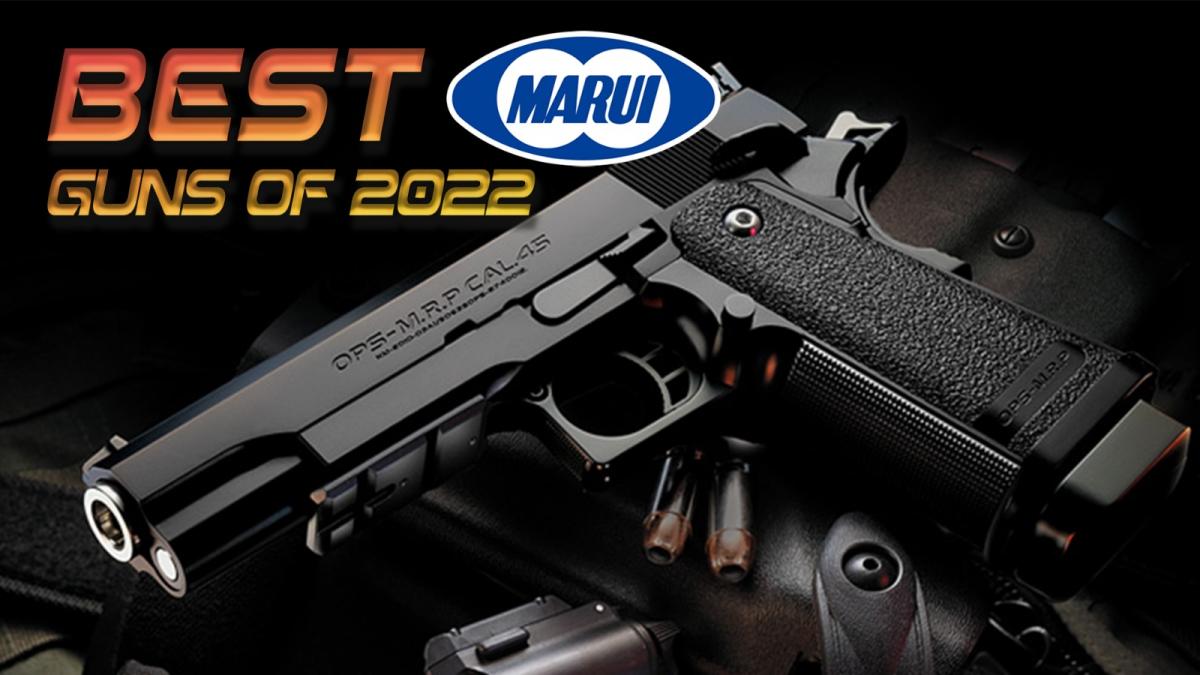 Tokyo Marui started out as a Japanese toy manufacturer before eventually moving into the airsoft space. In 1992, Tokyo Marui revolutionized the airsoft market by introducing the first airsoft guns in the world to be powered by an electric motor. Before this innovation, all airsoft guns had to be cocked manually before each shot, or be attached to a huge external gas tank using a hose, which was cumbersome and unrealistic. Tokyo Marui's electric airsoft guns, though, allowed for both semi-auto and full-auto fire, making them an instant hit among airsoft players. Before checking out our list, check out the video we did on the best Tokyo Marui Guns of 2021!
Today, Tokyo Marui is still renowned for producing some of the best airsoft guns on the market and is the leading innovator of new technologies in Airsoft guns. Tokyo Marui Airsoft guns can also be easily modified thanks to the large number of companies that make aftermarket parts for them. This makes Tokyo Marui Airsoft guns the easiest to modify amongst top Airsoft Brands. We share our 2022 Top Ten list of Tokyo Marui airsoft guns below.
Top Ten Tokyo Marui Airsoft Guns
Price: $319.99
FPS: 280
Model: 1911
An anime-inspired take on the classic 1911, this eye-catching pistol makes for a flamboyant yet highly reliable and accurate sidearm. Its 19-round capacity far surpasses that of an actual 1911, giving this gun all of the advantages that a 1911 offers without the signature drawback of not having as high of an ammo capacity. Limited supply and hard to find at times make this a desirable collectible. And if past experience means anything, second-hand trading prices for anime or game based Tokyo Marui airsoft pistols tend to be higher.
Pros
Collectible Appeal
High Ammo Capacity for a 1911
Potential Investment Value
Cons
More suited for Cosplay instead of realistic gaming and requires camouflage
Plastic Construction Due to Japanese Laws Preventing Full Metal Pistols
A Style That May Not Be Appealing to Users Wo Prefer Realistic-Looking Guns
Price: $154.99
FPS: 240
Model: Desert Eagle
One of the largest airsoft pistols on the market, this Desert Eagle replica packs a punch in terms of both FPS and recoil. Its hefty weight and menacing kick make it a great handgun for those who want a realistic Desert Eagle experience. The large slide cycles back strongly with each trigger pull. Particularly popular with fans of the Matrix trilogy where this chrome Desert Eagle saw a lot of action onscreen.
Pros
Imposing Look with Strong Recoil
High FPS (340FPS) Using Green Gas
Large 27 Round Magazine Capacity
Cons
Less Aftermarket Upgrade Parts than Other Tokyo Marui Gas Airsoft Pistols
The Pistol's Large Grip Isn't the Best for Small Hands or Young Players
PLastic Construction Due to Japanese Laws Preventing Full metal Pistols
Price: $289.99
FPS: 250
Model: M870
Modeled after the Remington 870, this gas-powered airsoft shotgun is capable of shooting either 3 or 6 BBs at a time depending on the mode you select - and with the ability to send each BB downrange at 250 FPS, the M870 Breacher certainly packs a lot of firepower into a compact package. That may not sound like a high velocity, but getting hit with 3 or 6 BBs at 250fps will surely get your attention. If you want to learn more about some of the best airsoft shotguns, check out our blog.
Pros
High FPS Per BB
The Ability to Select Between 3 or 6 BBs Per Shot
Compact, Maneuverable Design
Cons
Plastic Construction Due to Japanese Gun Laws Preventing Full Metal Guns
Lack of a Stock Reduces Long-Range Accuracy
Price: $139.99
FPS: 240
Model: 1911
Another great 1911 replica from Tokyo Marui, this handgun features a throwback design reminiscent of the original 1911s issued to US troops during WWII. With the ability to hold 26 rounds and a power of 240 FPS, though, this handgun is perfectly at-home on modern airsoft battlefields. In addition, the 1911 is one of the most loved platforms for players that enjoy upgrading their pistol. The Tokyo Marui 1911 series of pistols boasts one of the widest ranges of upgrade parts for the player that wants nothing more than to supercharge their pistol for either more realism or the competition circuit!
Pros
High Ammo Capacity
Classic 1911 Design
Realistic Blowback Function
Wide Variety of Upgrade Parts
Cons
Plastic Construction Due to Japanese Gun Laws Preventing Full Metal Guns
Uses a Lot of Gas Per Shot, Requiring a Full Tank of Gas to Empty the Magazine
Price: $479.99
FPS: 300
Model: AK Series
If you are a player that prefers the AK series over AR15 or M4 patterned rifles, the AK White Storm might be one you want to keep an eye on. This futuristic AK electric airsoft rifle is designed to not only appeal to players that want something different but it also comes with outstanding performance, accuracy, and a unique white colored finish!
Pros
Unique White Finish
Features Electric Recoil
AK Style Patterning
M-LOK and Picatinny Rail
Cons
Lower Power Due to Japanese Gun Laws Preventing Full Metal Guns
The White Color Might Stain Easily
Price: $349.99
FPS: 320
Model: KEL-TEC KSG
Modeled after the futuristic-looking KEL-TEC KSG, this pump-action shotgun delivers a high FPS and a nice, hefty feel that makes it one of the most interesting shotgun models available on the airsoft market. Best of all, this shotgun's bullpup design means that it is able to hold 30, 30-shot rounds while still being quite compact. Its mostly plastic construction might turn some people off but the racking sound and experience will put a smile on anyone's face, quickly making you forget this is a gun made from ABS. Adding to its already impressive features are picatinny rails for lights, lasers, or optics, making this an exceptionally capable airsoft shotgun!
Pros
High FPS
High Ammo Capacity
Futuristic Design that is True to the Actual Model
Fantastic Shooting and Operating Experience
Cons
Plastic Construction Due to Japanese Gun Laws Preventing Full Metal Guns
A Little Bulkier Than Some Other Shotgun Options
Reloading Can Be Cumbersome
Price: $499.99
FPS: 300
Model: Desert Eagle
Modeled after the oversized Desert Eagle found in the Resident Evil 2 videogame, this massive pistol is a gun that definitely packs a wallop. You won't be fast-drawing it, and it isn't the most maneuverable option, but it is a hard-hitting gun that is sure to be the most intimidating handgun on your battlefield. Biohazard / Resident Evil guns from Tokyo Marui are proven to be models that appreciate over time due to the continued cult following and success of the video game. These guns are always unique, timeless designs and will also hold cultural relevance!
Pros
High FPS
Increased Accuracy Thanks to its Long Barrel
An Attention-Grabbing and Intimidating Design
Appreciating Value Over Time
Cons
Not The Most Maneuverable Sidearm
May Be Uncomfortable to Carry on your Hip
Plastic Construction Due to Japan Gun Laws Preventing Full Metal Guns
Price: $179.99
FPS: 275
Model: VSR10
Simple, straightforward, and affordable, this rifle makes for an ideal entry-level or budget sniper thanks to its reliable design and relatively high FPS. If you're looking for an airsoft sniper rifle under $200, you'd be hard-pressed to do better than the Tokyo Marui VSR-10. The most impactful thing about the VSR-10 is how it is considered the essential rifle for any aspiring airsoft sniper. Being one of the best-made airsoft sniper rifles with the MOST upgrade parts available the VSR-10 is the industry benchmark to which all other airsoft snipers are compared. For more airsoft snipers, check out our other blog on the top airsoft sniper rifles!
Pros
Low Price
A Heavy Piston and a Nice Bit of Realistic Operation
A Smooth Bolt for Fast Follow Up Shots
Most Upgrade Parts of Any Airsoft Sniper Rifles
Cons
Lower Based Out of the Box FPS Compared to Other Branded Airsoft Snipers
Plastic Construction Due to Japan Gun Laws Preventing Full Metal Guns
Price: $569.99
FPS: 380
Model: AR/M4 Series
Modeled after the civilian AR-15 as opposed to the military M4, this attractive airsoft rifle is one of the few models that replicates the civilian variant. Unlike the AR-15, though, this rifle does offer full-auto fire. It also offers a highly modular design that can be easily customized to your preferences. Using Tokyo Marui's own in-house developed gas blowback system, the ZET system, this gun also boats a Tokyo Marui original gun design. Learning from the original M4 style MWS, the MTR16 is made to how Marui wanted. In the same vein as other Tokyo Marui guns, the MTR16's MWS system is highly upgradable! This means you will be able to make this rifle shoot and operate how you want it to! Find out why this gun is one of the best gas airsoft rifles on this blog we wrote!
Pros
High FPS
Metal Construction
Unique AR-15 Design
Highly Customizable
Unmatched Upgrade Potential
Cons
Only Includes 20rd Capacity Magazine
An Angled Butt Plate that Some Users Might Find Uncomfortable
Price: $179.99
FPS: 300
Model: HI-CAPA
Featuring a black and gold design, this flashy handgun certainly looks expensive even if its actual price is quite affordable. It also offers functionality to match its eye-catching looks, with a high FPS and a 31 round magazine. The Gold Match is a continuation of the legendary Hi-Capa that has long been considered the industry standard in many categories. The Hi-Capa series leads other airsoft pistols in terms of FPS consistency, accuracy, reliability, and upgradability. The last point, upgradability is probably its greatest strength. No other airsoft gun is quite as upgradable as the Hi-Capa. Every part of the gun can be upgraded to a part or accessory that best suits you as a player! This ability truly allows the Hi-Capa to be the one pistol with the most possibilities!
Pros
Luxurious and Attractive Design
Red Fiber Optic Front Sight for Fast Target Acquisition
High FPS
Unmatched Upgrade Potential
Best In Class Out of the Box Performance
Cons
Plastic Construction Due to Japan Gun Laws Preventing Full Metal Guns