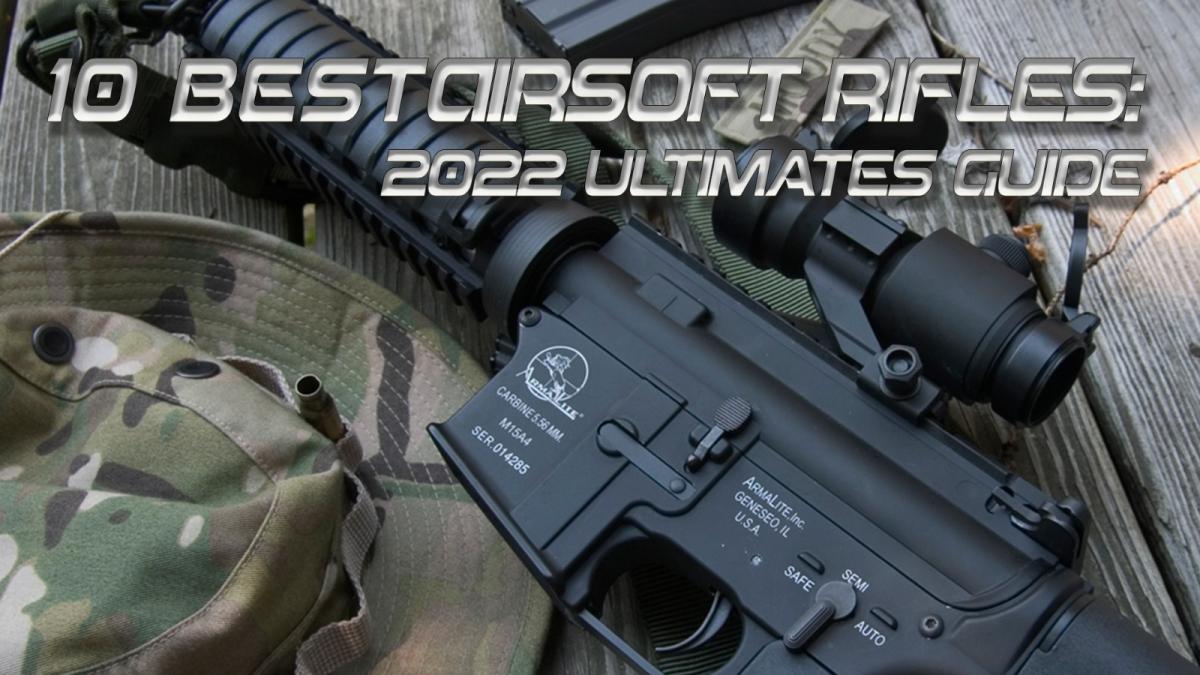 Introduction
At Redwolf Airsoft we have vast experience in airsoft rifles over the years and we personally have now had over twenty years in the hobby. It is with these decades of experience and vast product catalog in mind that we write this blog. Before we start, feel free to check out the video we made for 2021.
What To Look for in an Airsoft Rifle?
So what can determine "the best airsoft rifle"?
This changes depending on many factors so let's look at some of the most common ones. Performance, materials, branding, reliability, realism, cost, availability, upgradeability, and the ease of customization….
We will be using these factors as well as some personal bias based upon what I like to provide you a list of my 10 best airsoft rifles available in 2020. They are in no particular order.
10 Best Airsoft Rifles
Our first pick is actually an AEG (automatic electric gun) which for me is very unusual. What is even more unusual is that it's not technically a complete rifle!
This pick is the VFC Virgo system which is available in either standard or deluxe versions. The version I'm mainly talking about is the deluxe version although the standard version is also very good and available in "pre-built" form as the VFC Avalon Samurai Edge AEGs. The VFC Virgo M4 conversion kit (deluxe version) is on my list as while it's not a GBB rifle it does have some interesting features that make it appealing for many players. The kit itself comes assembled except for the lack of inner barrel, rail system, and flash hider and buttstock assembly. The entire gearbox assembly is all pre-installed so nothing to worry about there, however, the hop unit will need to be assembled and installed on your own choice of inner barrel and hop rubber. In the kit is a 10.5" outer barrel so an inner barrel around 285mm should be correct. For the cosmetics, it's all personal choice but I do recommend getting the VFC Avalon type buffer tube to ensure compatibility with the receiver.
The reason I chose this product on my list of best airsoft rifles though was mainly due to the incredible trigger response, The Virgo ECS (electronic control system) does an amazing job of making sure the extremely potent brushless motor gets the power it needs instantly and reliably every time you pull the trigger. The programmability of the ECS is also very good however I have found that left in factory default mode it has never been left lacking and while I don't use bursts or automatic, those modes are pleasingly fast if required. I would recommend using only 11.1V Lipos batteries for reliability. The final great feature of this product is that it's a standard V2 AEG and takes standard AEG magazines meaning that the third-party market for this is simply unmatched.
Pros
Highly customizable 
Very good out of the box performance 
Can be programmed to various configurations 
Good aftermarket compatibility
Cons
On the higher end of the mid-range budget 
Requires some extra parts that are not provided 
Requires some knowledge of AEGs to assemble
Next on my list is the MK18 GBBR by Tokyo Marui. This new release takes the fantastic proven system that is the ZET System and puts it into a highly desirable form with the Daniel Defense style rail, 10.3" CQBR barrel, and the ever-comfortable crane type stock. The Zet System by Marui has quickly proven to be both reliable and well-performing.
Pros
TM hop-up gives amazing range 
Great build 
Cerekote finish 
Good GBB "kick"
Cons
Certainly on the more expensive side 
GBB may not suit all players 
Gas magazines are both expensive and heavy compared to AEG mags
I think most people are aware of this one. The ASG Evo3 takes technology in AEGs to PTW levels with active bolt stop and highly tunes ETU (electronic trigger unit). The AEG can utilize some real furniture parts thanks to being correct dimensions and its performance is fantastic. Perfect for close-quarters fighting with a compact frame and good ergonomics as well as a folding stock for ease of storage.
Pros
Compact 
Feature-rich 
Very responsive 
Quick change spring 
Modern
Cons
Unique magazines 
Relatively costly 
Tiny battery space
Now, this may seem a bit of a wildcard among the list of best airsoft rifles for 2022 but this is where it all started. Long before ETUs and high-speed gears, this was Marui's first AEG model back in 1990 although in that initial release none of the models had a hop-up. The EG560 motor still turns over with some urgency even by today's standards and most importantly it's different!
Sure it has some drawbacks such as the creaky plastic and low aftermarket support for its V1 gearbox design, however, you get to be Solid Snake for the day and it's hard to put a price on that!
Pros
Relatively inexpensive 
Lightweight 
Reliable
TM legendary hop 
It's a FAMAS
Cons
Plastic body 
Low aftermarket support 
Relatively low power 
Unique magazines
The legendary AK47 is an icon both historically and culturally. This example from CYMA is exceptionally made and features great external and internals for everyone from seasoned players to beginners. This electric airsoft gun comes standard with a metal body and real wood handguard for added realism. Internally, the gun features a version 3 gearbox that is Tokyo Marui spec. This means the sky is the limit when it comes to upgrade potential!
Pros
Full Metal Body  
Real Wood Handguard  
TM Spec Version 3 Internals
Cons
Base Form Is Rather Spartan  
Older Design
Relatively low out of the box power
So here is something that is more representative than anything. While I would choose this model from the current selection of E&C AEGs, I have used it here more as a placeholder for most of the AEGs that E&C makes.
No frills, strong, affordable, and compatible with so many aftermarket parts you will never be out of options.
These AEGs are great for those on tighter budgets who are still after a full metal, decent-performing AEG.
Pros
Low cost 
Standard V2 compatibility 
A good selection of models
Cons
Less precise manufacturing 
Variable QC 
The next one is again somewhat representative but is also the latest variant on the market. The GHK M4 variants all share the same working parts but have different furniture, barrel lengths, etc. Whichever variant of GHK M4 you choose you will have a great GBB rifle for build quality and performance.
GHK is my chosen platform for GBB M4 rifles
Pros
Highly realistic 
Great build quality 
Good performance
Cons
Expensive magazines 
Low magazine capacity 
Quite costly to buy
The next one is somewhat unique in my list of best airsoft rifles. Mostly as it's actually an LMG but also because it's a class of its own. The first "recoil" LMG AEG and the first LMG by TM. This beast is certainly special and set the industry on fire when it got announced. If you have the strength and the wallet for this hefty weapon you really should take a look.
Pros
Simulated recoil 
TM performance in an LMG 
Great build quality
Cons
Expensive 
Heavy 
Had some teething issues at first release
So I was stuck as to which LCT product to put here as I knew I wanted to add one. After some consideration, it had to be the LK33 in any form. The full folded and welded steel receiver is as well done as it was on their G3 variants but the HK33 is just a little bit more manageable for the average player by being a bit shorter and lighter.
The LK33 is a replica of the classic 5.56mm roller locked rifles from the famous German arms company and it feels amazing!
Pros
Great build quality and materials 
Decent out of the box performance
Quick change spring 
Realistic feel and build
Cons
Heavy 
Relatively costly 
Unique magazines 
Not very customizable
Now I could write an entire article on this rifle (You may see that at some point) but this is, to me, the best airsoft rifle made so far. Now please do bear in mind that it is my personal opinion based upon what I like but the full stamped, folded, and welded steel body, solid recoil impulse, amazing performance and the ability to fit a huge amount of the real parts make this an absolute winner for me. Plus it's a G3!
Pros
It's a GBB G3! 
Full steel construction 
Highly realistic
Cons
Large and heavy 
20 magazine capacity 
Relatively costly
Conclusion
In conclusion to this, I will remind you that "best" is usually very subjective. However, I hope that you can use some of the points I have made to help you make a decision on what might be good for you.
Don't forget to check out all these products and many more at https://www.redwolfairsoft.com/airsoft-guns
Also, check our regular videos on new products on Youtube at