20 Best Airsoft Rifles: 2023 Ultimate Guide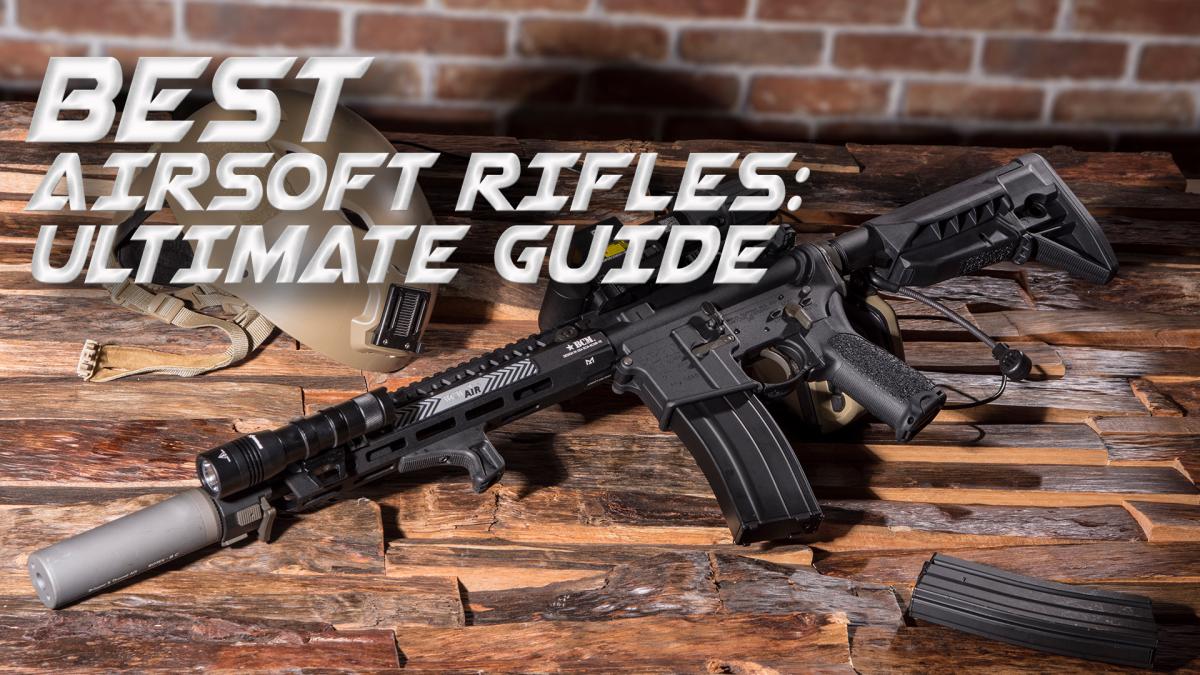 Introduction
Airsoft rifles are one of the most popular categories of airsoft guns by a significant degree and their library encompasses an immense range of different models with both AEGs and GBB included. This huge range of guns is naturally a daunting prospect for any player wishing to purchase their new gun, but rest assured we at Redwolf have you covered by presenting you with our carefully curated rifle recommendations for this year, so in no particular order; here are our top 20 picks for best airsoft rifle for 2023.
HOW WE CHOOSE THE BEST AIRSOFT GUN
There are a number of important factors we considered when compiling our list of Best Airsoft Rifle,these include:
FUN FACTOR– Airsoft is a hobby so airsoft guns must be able to generate joy. We look at recoil, sound, design, optional accessories, and overall awesomeness that make the gun interesting. Non-shooting models can also be fun, like a beautiful revolver with realistic ammo that you can load into a rotating cylinder. We rate each of our picks on how much pleasure you can derive from ownership.
REALISM – What makes Airsoft guns attractive for so many is that they replicate real guns. While many manufacturers try their best to recreate the details and feel of a real gun, some succeed while others fail horribly and end up with something more akin to a toy. We rate how real each of our top picks feels and looks.
PERFORMANCE – Power measured in feet-per-second (FPS), range and accuracy are the key metrics we use to determine the best airsoft gun. From there, we also prioritize airsoft guns with an adjustable hop-up and high-quality buckings to ensure that they give the consistency and accuracy you need. All FPS ratings are universally based on 0.2 gram BBs.
BUILD QUALITY – We look for good quality construction, materials and refinement not only in the external components but also internally. The fit tolerances, discernable wobbles and rattles, smoothness of operation, durability of components, etc are all considered.
VALUE – Affordably priced airsoft guns that rank highly in all the above categories are prioritized over more expensive airsoft guns that offer the same, as "bang for your buck" is an important consideration for most airsoft players. This criteria rates if you are getting more for your money compared to similar guns in the same class, meaning is it a good deal. For more information on how to determine the value of an airsoft gun, check out this article on what goes into the cost of an airsoft gun.
COLLECTABILITY– Sometimes an Airsoft gun stands out simply because it is unique either because it's not produced by anyone else or holds enough of a cultural or collectable value to make you want to have a piece of history regardless of its utility. This criteria rates whether the gun is a must-have for collectors. Some rare or limited edition Airsoft guns even appreciate in value in the secondary market and we rate their investment value where applicable.
---
---
20 Best Airsoft Rifles
Positioning itself as an affordable alternative to the much more expensive Systema PTWs, and the only airsoft gun designed & made in the EU (Denmark), the EVO's compact form factor and impressive electronic trigger won it the Best AEG category in the Players Choice Awards for many years running. One of, if not, the best SMG AEGs available.
The GHK M4 GBBR is the most realistic airsoft M4 gas blowback rifle for many years counting and still reigns supreme with authentic field-stripping and attention to the smallest details, although VFC is closing the gap in recent years and Marui's MWS might have a slight edge in cold weather use. GHK's ability to use both green gas and CO2 magazines still puts it a step above the rest for use in places with distinct seasons and large temperature differences. Very strong recoil and lots of accessories for upgrades.
Eye-catching "custom AR 15" with superior attention to detail, and offering a feature-packed electronic trigger control unit that offers a binary mode for ultra-fast CQB semi-auto shooting Special stock design to accommodate Titan Lithium-Ion batteries is also very forward-looking. The BAD AEG is not cheap and comes in either standard length or the SBR compact version, but if you want an AR 15 that is a bit edgier with an incredibly fast binary trigger for CQB game sites, this should be on your list.
The Krytac Trident line is probably one of the most robust out of the box electric airsoft guns available, with the approach that they are pre-tuned and pre-upgraded for better than average performance. Combining modern design with tried and tested robust internals, these airsoft guns are fantastic for both in and outdoor airsoft games.
The legendary German rifle was long delayed by Umarex and VFC, but despite a lukewarm reception by the player community, it is one of the most realistic and solid gas blowback rifles ever made. Doomed to be a collector gun, these are rare and hard to find but if you collect, this should be on your list. Many rare airsoft guns appreciate in value but it remains to be seen whether the G3A3 is sought after enough to be of investment value.
---
---
The MCX is touted as an evolution of the AR-15 platform. Used by many special operations forces around the world, the MCX is highly modular, compact, and uses modern technologies designed to keep the weapon system usable far into the future. The airsoft version manufactured by SIG SAUER employs robust internals and dutifully replicates all details of its real steel counterpart!
Best performance for the buck, the KC-02's semi-auto blowback system remains unbeaten after nearly two decades since its original launch. Designed by legendary Airsoft engineer, Tanio Koba, the KC-02 offers crisp and stable blowback action in a compact no-frills design making this gun ripe for customization and upgrades to eye-watering power levels.
One of the two all-time favorites we've seen come from GHK is this AUG and the SIG553. Priced for collectors and rare as always, the AUG comes in a couple colors and variants. Delivers very solid blowback and performance, and will surely turn heads. But this head-turner is not always available so grab one when you see it.
GHK is one of the most courageous companies out there that try to recreate iconic pieces instead of chasing popular models for financial gain. Beautifully recreated replica of the SG553 with a stamped receiver and fantastic blowback, this is such a rare gas blowback rifle that you know you're holding something special as soon as you pick it up. Collectors should not miss a chance to own a gun this special and rare.
---
---
Conclusion
In conclusion to this, I will remind you that "best" is usually very subjective. However, I hope that you can use some of the points I have made to help you make a decision on what might be good for you.
Don't forget to check out all these products and many more at https://www.redwolfairsoft.com/airsoft-guns
Also, check our regular videos on new products on Youtube at
https://www.youtube.com/user/redwolfairsoft
---
---