Best Airsoft Shotguns: 2023 Ultimate Guide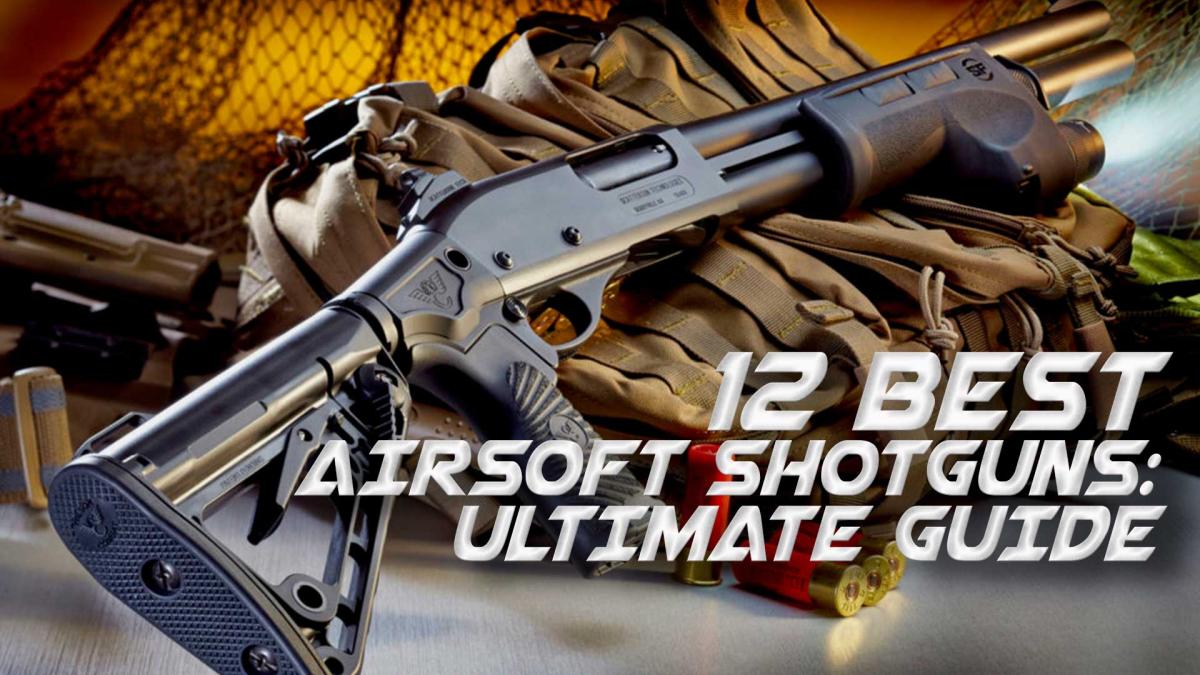 Introduction to airsoft shotguns
Airsoft shotguns have existed since the very beginning of airsoft and have had a wide range of systems and designs ranging from spring-powered, gas powered, including an airsoft double barrel shotgun and more recently some even using electric motors similar to standard AEGs. But what determines the 'best' airsoft shotgun? This certainly can divide opinion but for the sake of clarity we would only consider something a "true" airsoft shotgun if it fired more than one BB in a single shot. This will exclude some of the cheaper options which only fire one BB as they operate more like a pump-action sniper rifle than an actual shotgun. So with that said and done, here is our list of the 12 best airsoft shotguns available in 2023.
HOW WE CHOSE THE BEST AIRSOFT SHOTGUNS
There are a number of important factors we considered when compiling our list of Best Airsoft Shotguns, these include:
FUN FACTOR – Airsoft is a hobby so airsoft guns must be able to generate joy. We look at recoil, sound, design, optional accessories, and overall awesomeness that make the gun interesting. Non-shooting models can also be fun, like a beautiful revolver with realistic ammo that you can load into a rotating cylinder. We rate each of our picks on how much pleasure you can derive from ownership.
REALISM – What makes Airsoft guns attractive for so many is that they replicate real guns. While many manufacturers try their best to recreate the details and feel of a real gun, some succeed while others fail horribly and end up with something more akin to a toy. We rate how real each of our top picks feels and looks.
PERFORMANCE – Power measured in feet-per-second (FPS), range and accuracy are the key metrics we use to determine the best airsoft gun. From there, we also prioritize airsoft guns with an adjustable hop-up and high-quality buckings to ensure that they give the consistency and accuracy you need. All FPS ratings are universally based on 0.2 gram BBs.
BUILD QUALITY – We look for good quality construction, materials and refinement not only in the external components but also internally. The fit tolerances, discernable wobbles and rattles, smoothness of operation, durability of components, etc are all considered.
VALUE – Affordable airsoft guns that rank highly in all the above categories are prioritized over more expensive airsoft guns that offer the same, as "bang for your buck" is an important consideration for most airsoft players. These criteria rates if you are getting more for your money compared to similar guns in the same class, meaning is it a good deal. For more information on how to determine the value of an airsoft gun, check out this article on what goes into the cost of an airsoft gun.
COLLECTABILITY – Sometimes an Airsoft gun stands out simply because it is unique either because it's not produced by anyone else or holds enough of a cultural or collectable value to make you want to have a piece of history regardless of its utility. This criteria in particular rates whether the gun is a must-have for collectors. Some rare or limited edition Airsoft guns even appreciate in value in the secondary market and we rate their investment value where applicable.

12 Best Airsoft Shotguns
An extremely popular shotgun, the M1100 is used widely by law enforcement agencies around the world. The Maruzen M1100 holds 7 shells at a time and each shell is ejected on each shot. Three shells are included with the gun, each capable of holding 1 to 5 BBs at a time.

This unique semi automatic gas shotgun has an extremely realistic action but power is a little limited so this is not really suitable for serious skirmishing. The more BBs you try to load into each shell at a time, the less power you get. We recommend keeping to 3 BBs per shell at a time for decent performance.

Gas powered by HFC134a. Semi-auto action means that each shell is ejected automatically as fast as you can pull the trigger without the need to cock on every shot.
The only shotgun that can reliably shoot 6 BBs simultaneously on each trigger pull for true shotgun functionality. The gas-powered M870 is decently hefty and definitely heavier than the older Marui M3 and SPAS 12 spring shotguns. With a full metal barrel and a zinc alloy receiver, the gun feels solid. The BEST part of this gun is the sound it makes when you rack it. Lots of clicks and clacks which sound convincingly menacing and real. The good news is that this M870 can take green gas! One full charge can power up to 100 shots of 3 BBs at a time.
Modeled after the futuristic-looking KEL-TEC KSG, this pump-action shotgun delivers a high FPS and a nice, hefty feel that makes it one of the most interesting shotgun models available on the airsoft market. Best of all, this shotgun's bullpup design means that it is able to hold 30, 30-shot rounds while still being quite compact. Its mostly plastic construction might turn some people off but the racking sound and experience will put a smile on anyone's face, quickly making you forget this is a gun made from ABS. Adding to its already impressive features are picatinny rails for lights, lasers, or optics, making this an exceptionally capable airsoft shotgun!

The APS system (MKIII) is a CO2 powered system where the shells are loaded with the gas and up to 6x6mm BBs which are then fired all in one go down a smooth bore barrel like the real thing. The spent shell is then ejected when the shooter pumps the action and a new shell is loaded ready to fire. Shells are fed from the tubular magazine under the barrel.
Obviously this being a shell ejector means that you do have the concern of losing shells but this is probably the best shotgun to use for airsoft 3 gun or practical shooting competitions.
The Farsan real wood double-barrel shotgun is an awesome, classic-style shotgun. Being a staple of the old west and commonly featured in movies and videogames, the double barrel shotgun one of those airsoft guns that inspires a lot of emotion. As its name would suggest, the furniture is real wood which adds to its overall realism making it an excellent wall hanger.
This airsoft gun is a realistic functioning break open shotgun that is shell loaded. Each shell features 5 round capacity and can be fired individually for each barrel with independent triggers, giving it an exceeding amount of authenticity.
So this entry is probably the newest product on the list. The VFC gas shotgun is a licensed replica of the Fabarms STF12 and it utilises the same shell and gas system as the TM gas shotguns.
This one is certainly a good option for those who want that gas system in a more modern layout.
The external build quality is very good and it replicates the cosmetic features of the original very well !
From Jurassic Park to the Matrix and Half-Life, the SPAS-12 is a legendary shotgun that is instantly recognizable and the Tokyo Marui SPAS 12 airsoft shotgun is the only model of its type out there. This SPAS 12 airsoft shotgun is an older product but still extremely relevant today. It utilizes the 30 round "shell" style magazine that Marui later used in the gas shotgun series. What does differ is that instead of gas, the older design is powered by a spring which is manually "cocked" when you operate the pump action.

The BO Manufacture FABARM Licensed STF12 is a 3 shot Shotgun licensed by FABARM SpA, Italy. The STF/12 is one of the most adaptable and customisable shotguns in its class. Thanks to unique high-end features, performances and a firmly modern look, this is the shotgun of choice for growing military, Law Enforcement and shooting sports enthusiasts worldwide.
The Airsoft replica makes no difference and follows the same path to make it the new reference in 3 shots airsoft shotgun. Designed and developed from scratch by the BO Manufacture team, this replica offers pretty good accuracy and shooting consistency and a yet extremely compact design. It is made out of a high-density ABS materials matched to the anodized metal barrel. There are currently 3 versions of the Shotgun in both tan and black. There's the 18 inch Ressort Spring Shotgun, 11 inch Compact Spring Shotgun and the 11 inch Short Spring Shotgun.
A class defining product as the first electric powered airsoft shotgun, the Tokyo Marui AA-12 lives up to the hype of its real steel counterpart by sheer weight of fire through its innovative triple barrel electric system. The AA12 fires from either a box or drum-type magazines and feeds 3 BBs per time much like the spring counterparts. Each of the 3 barrels has its own adjustable hop unit which allows the user to set the spread of the shots to be as accurate or widespread as possible, a feature only limited to Marui electric automatic shotguns.

Conclusion
In conclusion to this list I will remind you that "best" is usually very subjective. However I hope that you can use some of the points I have made to help you make a decision on what might be good for you.
Don't forget to check out all these products and many more at https://www.redwolfairsoft.com/airsoft-guns
Also, check our regular videos on new products on Youtube at
https://www.youtube.com/user/redwolfairsoft