12 Best Airsoft Shotguns: 2022 Ultimate Guide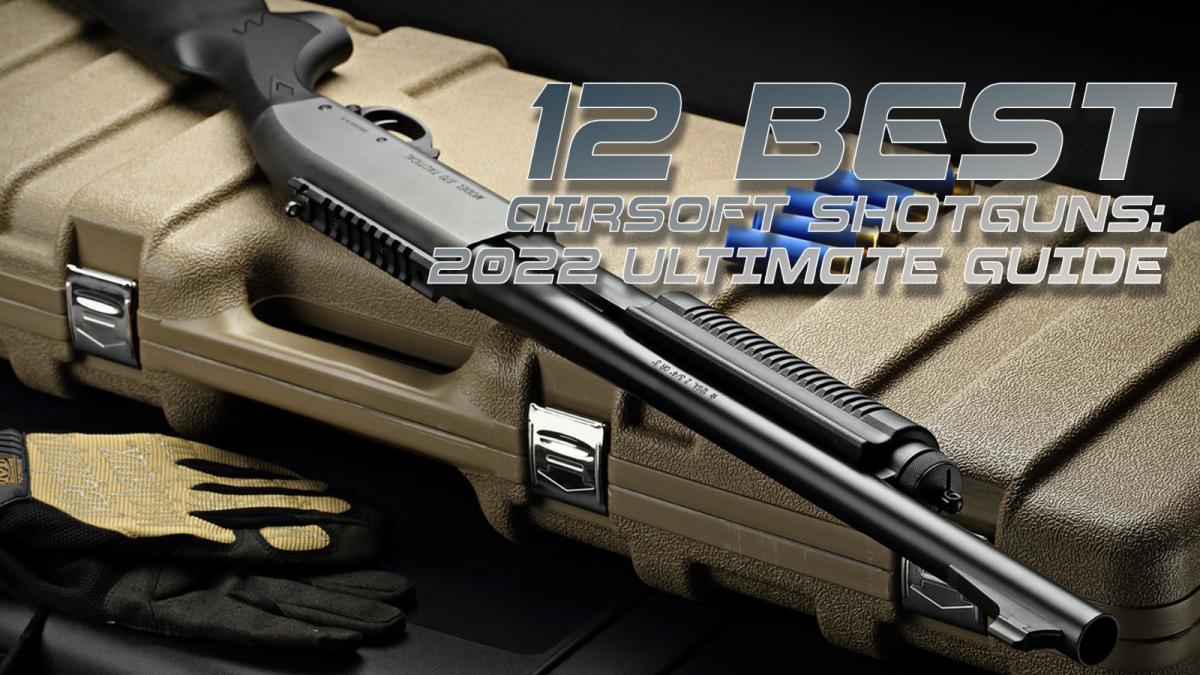 Introduction to airsoft shotguns
At Redwolf Airsoft we have seen a variety of airsoft shotguns over the years. Some spring-powered, Some using various gases as propellent, and more recently some even using electric motors like normal AEGs.
Unfortunately, the popularity of airsoft shotguns does waver and as a result, they often go out of production as will be evidenced by some entries on this list. Before we start, check out the list we made for 2021 in the video below!
What To Look for in an Airsoft Shotgun?
So what can determine " the best airsoft shotgun "?
Well, this is certainly a can of worms as different people will have wildly different requirements and expectations. That said we would only consider something a "true" shotgun if it fires more than one BB in a single shot. This will exclude some of the cheaper options which only fire one BB as they operate more like a pump-action sniper's rifle than an actual shotgun.
So with that said let me provide you with our list of the 12 best airsoft shotguns available in 2020. They are in no particular order.

12 Best Airsoft Shotguns
So this choice will be familiar to anyone that has been around in airsoft for a while but maybe not so much for newer players and collectors.
Maruzen is a Japanese brand that has been around a long time and they are known for making some very nice looking gas-powered replicas.
The M1100 is a gas-powered, semi-auto, blowback shotgun that ejects shells!
BBs are loaded up to 5 at a time in the shells and then the shells are fed into the tubular magazine on the shotgun.
With each pull of the trigger, all of the BBs in the shells are fired from the smoothbore barrel and the action moves rearward to extract and eject the spent shell and to recock the hammer, and finally pick up and chamber the next shell.
This action does give some feeling of recoil although it's very light. These shotguns however are somewhat fragile and prone to jams but are great fun to use
As with the previous entry, this is again from the Japanese brand Maruzen. Where these differ is while the M1100 is a semi-auto shotgun, the M870 is pump action!
Obviously being manually operated does make follow-up shots a little slower, however, it does eliminate many of the jamming issues that occur with the M1100.
The build quality, shells, etc all remain the same and several variants are available
Now, this entry is probably the one most readers will find most interesting. TM took what they had learned from their spring shotgun series (more on this later) and took the idea to new levels with their gas system.
The TM shotgun system is based around a very clever magazine system that utilizes magazines that actually look like shotgun shells. Each shell holds 30 rounds
To use this shotgun you take that shell and insert it into the chamber under the barrel. When you cock the shotgun it will load either 3 or 6 rounds from the shell into the chamber for firing.
As I alluded to above, you can select between 3 and 6 rounds to be fired each time which means each 30 round shell magazine will give you either 5 or 10 cycles depending on which mode you select. Whichever mode you select the BBs will get loaded into 3 barrels! each barrel has it's own hop rubber and best works with 0.25g BBs.
The gas is loaded via a removable gas tank and spare tanks and shells can be carried to enable you to engage targets for longer. This system certainly has a lot of benefits over the other available systems. It has hop-up so has decent range , it's gas so far easier to cock than spring options , it shoots multiple BBs in each shot with good spread and it retains its shell so nothing to lose, unlike the shell-ejecting options. They are also quite robust and yet not overly expensive.
I will keep this one brief as it's essentially the same as it's big brother . The breacher is basically the CQB variant of the regular M870 . It has a pistol grip instead of the full stock and shorter outer barrel. Interestingly the inner barrels are the same as the larger version so there is no loss in performance !
It does however have a much smaller gas tank which means you will get less shots between needing to top up or switch tanks.
So this entry is a great option for those that liked the two previous ones but want something a bit "cooler". The KSG shotgun is a bullpup design which means the action is behind the grip hand and trigger unlike conventionally laid out long arms.
This means the overall length of the shotgun is reduced , making this a very handy shotgun to use.
It uses the same system and shells as the other TM gas shotguns (which also share shells with TM spring shotguns) which is handy for those with other TM based shotguns. However there are less options for customising the KSG than there are for the M870 types.

This one is certainly one of the most realistic airsoft shotguns available.
The build quality is fantastic and everything is metal where it should be.
The APS system (MKIII) is a CO2 powered system where the shells are loaded with the gas and up to 6x6mm BBs which are then fired all in one go down a smooth bore barrel like the real thing. The spent shell is then ejected when the shooter pumps the action and a new shell is loaded ready to fire. Shells are fed from the tubular magazine under the barrel.
Obviously this being a shell ejector means that you do have the concern of losing shells but this is probably the best shotgun to use for airsoft 3 gun or practical shooting competitions.
I will not dwell too much on this one as I do not believe it is available anymore. However, it was a full steel airsoft shotgun based upon the long since discontinued Tanaka system.
It was a shell-fed, shell-ejecting system similar to the APS but not as effective.
Here's a shotgun that breaks with modern traditions and goes back to a simpler time. Double barrel shotguns have always captured the imagination and often allow you to think of yourself as a cowboy from the Old West. This break action airsoft shotgun features real wood for added realism and takes two shells. This is a fantastic option for not only players but for collectors as well. With a bit of weathering and distressing, this double barrel airsoft shotgun will look exceptionally lifelike!
So this entry is probably the newest product on the list. The VFC gas shotgun is a licensed replica of the Fabarms STF12 and it utilises the same shell and gas system as the TM gas shotguns.
This one is certainly a good option for those who want that gas system in a more modern layout.
The external build quality is very good and it replicates the cosmetic features of the original very well !
So this airsoft shotgun is an older product but still extremely relevant today. It utilizes the 30 round "shell" style magazine that Marui later used in the gas shotgun series. What does differ is that instead of gas, the older design was powered by a spring which is manually "cocked" when you operate the pump action. This does require some strength and especially on the version with no stock to brace against!
What these are good for is high reliability, very effective 3 BB shots out to very good range!

So these airsoft shotguns are 3 shot , spring shotguns that basically use the same shell system as the Marui and VFC products but at a far lower cost.
Probably the best option for those on a lower budget as they still offer good performance and the stylish design of the STF12 isn't anything to sniff at.
So the final entry on my list for best airsoft shotguns is another class defining product as it was the first electric powered airsoft shotgun.
The AA12 fires from either box or drum-type magazines and feeds 3 BBs per time much like the spring counterparts. Each of the 3 barrels has its own adjustable hop unit which allows the user to set the spread of the shots.
The AA12 is select fire meaning this is the only shotgun on this list with both semi-auto and automatic modes of firing!

Conclusion
In conclusion to this list I will remind you that "best" is usually very subjective. However I hope that you can use some of the points I have made to help you make a decision on what might be good for you.
Don't forget to check out all these products and many more at https://www.redwolfairsoft.com/airsoft-guns
Also, check our regular videos on new products on Youtube at
https://www.youtube.com/user/redwolfairsoft