The Most Expensive Airsoft Guns: 2022 Ultimate Guide | Redwolf Airsoft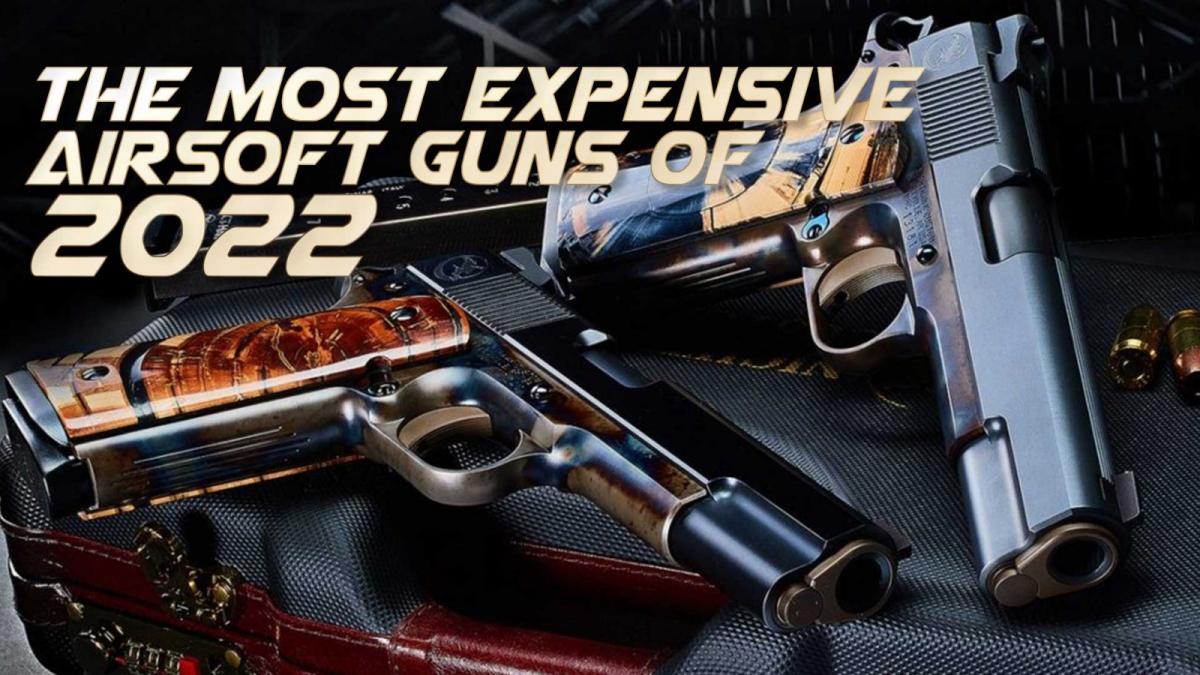 While it is certainly possible to purchase a high-quality and reliable airsoft gun without having to spend a fortune, there nonetheless exists a whole new level of high-end airsoft guns for those who demand the best and have the money to afford it.
In most cases, these really expensive airsoft guns offer features and functionalities that justify their high price tags, or simply because of their uniqueness and rarity. To help you decide whether or not these expensive airsoft guns are worth the investment, we'll take a look at the most expensive airsoft pistols and rifles on the market today and discuss what it is that sets these products apart from more affordable alternatives. Another takeaway is we will not include "one-offs" in our list, as these are highly customized builds that will not be reproduced. Finally, we will include expensive guns from their different segments such as entry-level or mid-tier, think about it as a "best value".
Price: $799.99
Probably one of the most iconic sniper rifles of the modern era, the PSG-1 has been a fixture of both pop and firearms culture since its inception. Being a purpose-built rifle as a response to the Munich Massacre in 1972, the H&K PSG-1 has been swiftly considered one of the most accurate, reliable, and beautifully made rifles of all time. Looking into our own airsoft community, the PSG-1 has also been a cornerstone. Being first brought to us by way of Tokyo Marui, that original electric airsoft version of the PSG-1 already boasted a hefty price tag due to its incredible build quality and life-like accuracy. This current version we have here to start off our list is the pinnacle of the airsoft version of this rifle. Much of the price that comes with this gun is in part due to it being a fully licensed product that boasts all the corresponding markings but what really hits home is its manufacturing process and mechanism. The PSG-1's gas system is made in such a way that ensures the rifle delivers amazing recoil with every trigger pull. To complement this, the gun also comes with a variety of steel parts to ensure its longevity. Finally, its craftsmanship is top-notch as it's crafted much in the same way the real steel version is made. The moment you pick this gun up, you feel as if you are holding a real PSG-1 in hand. It's no wonder, the PSG-1 is a worthy entry to start off our list of expensive airsoft guns!
Price: $1,359.99
Airsoft machine guns have always come with a premium price tag as they require more materials to make and since they are not as popular as some other models, they are usually made in lower quantities, all are reasons why even entry-level machine guns are more expensive than other entry-level airsoft guns. However, Tokyo Marui has taken the machine gun concept to the next level, or Generation if you may with the MK46 Mod 0. The MK46 is a special designation given to this particular LMG which is based on an M249. What makes this gun special is its electric recoil system, the likes unseen in other airsoft machine guns. Using a dedicated weight that moves back and forth as the gun is fired, offers recoil that is noticeably strong than any other electric recoil system found in electric airsoft guns. In addition to this, the MK46 also requires the user to operate it semi-realistically during reloads. Needing to do this makes using machine guns more fun compared to just pouring large amounts of BBs into its electric box mag and pulling the trigger! Also contributing to its price tag is its packaging. Tokyo Marui always pays close attention to how you receive their products and the MK46 Mod. 0 is probably the coolest one they did. It comes with a really outstanding carry case that is sure to be a great conversation starter and a head-turner.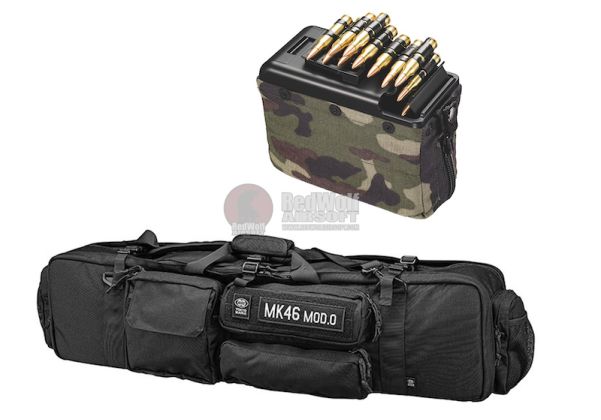 Price: $499.99
Coming in as the "best deal" on our list is the RWA Battle Arms Development 556-LW AEG. While this is not the first B.A.D. rifle nor is it the most expensive B.A.D. rifle, we certainly think it is deserving of a spot on our list because it is up there with some of the higher-end AEGs or electric airsoft guns in its respective category. Built from blueprints provided by Battle Arms Development, this is a 1:1 replication of the real steel AR15, famous throughout the firearms industry. Renowned for their attention to detail, cutting-edge design, and manufacturing process, B.A.D. makes some of the best accessories and firearms in the industry. This airsoft version is a direct reflection of this! The rifle is exceptionally well made and boasts both visually stunning and bespoke details throughout. Eye-catching yet practical features such as the fully licensed Fortis quick detachable Switch Rail and its telescoping VERT stock are just some of the many features that set this rifle apart from the competition! Internally, it's no slouch as well. Coming standard with great electronics supplied by GATE Electronics and pre-programmed with a "binary" firing mode, this is truly a feature-packed gun designed for every player. Marrying all these factors together is why we think this is the "best deal" on this list when looking at the price tag.
Price: $619.99
With the Krytac Kriss Vector on our list, many reading might think why have we chosen this gun instead of the gas version by KWA. The previous gas version checks in at just under $3,600, the KWA KRISS Vector GBB is one of the most expensive SMGs on the market today. When the gun was first designed, though, it wasn't meant to be so expensive and was launched at under $500. However, after a legal dispute with KRISS, KWA was forced to stop producing this model. Unfortunately, KWA still holds the patent for the design, though not the license, and hence cannot produce anymore. It has since become a rare and highly sought-after collector's item, and this is the reason for its enormous price. If you can find a used one that is well looked after, you might be able to get it for less. It surely makes for a good investment choice that is likely to keep its value. For this reason, we want to offer an alternative, the Limited Edition Vector. While it may not be gas-powered for that extra realism, it does, however, boast the latest Gen 2 design and extended handguard. Furthermore, you can still consistently find examples of this particular airsoft gun for sale, making it a great option for those looking on getting a KRISS Vector for themselves!
Price: $549.99
The SGR-12 doesn't have a real-world counterpart, however, it does have a counterpart of a different kind from a different world, the world of video games. The SGR-12 is closely patterned after the shotgun "Thor's Hammer" from the hit video game series Resident Evil or Biohazard as it is referred to outside the Western world. Resident Evil inspired guns or licensed guns have always been able to fetch high prices but they also have the ability to appreciate in value over time. With each successive game, these guns grow in rarity and value, making them almost like a stock on the stock market. So when you are looking at guns like this, you might have to deal with a potentially higher "buy-in" price but there are chances you will make a return on your "investment". What further puts this gun into the pricy category is not only its raw and beefy looks but in this case, it's going to be its system. The system used here is very similar to that seen in the AA-12, a tri-barrel full-auto electric shotgun system where you can adjust each barrel's hop up to the spread pattern YOU want. This ability ensures you as the shooter can dominate any engagement no matter in close quarters or at intermediate distances.
Price: $1,495.00
The M1919 is a legendary crew-served machine gun that is instantly recognizable to any history buff or fan of older firearms. RWA has taken an opportunity to replicate this icon and gave it the love it deserves with the incredible attention to detail paid to its construction. Much like the real steel version, it's full metal and exceptionally raw. The tripod gun stand is spot on and looks almost like it jumped out of the pages of a history book! To complete the look, it even came with an ammo can and dummy rounds that were mounted to the gun with a fabric chain. Internally, the gun is an electric airsoft gun or AEG, which allowed for constant full-auto firing and its drum mag ensured you could consistently deliver thousands of BBs downrange if you needed to do so! Perhaps one of the best, yet hidden, features of the gun seldomly talked about is the built-in shaking of the bullet belt. On the surface, it might sound like a gimmick but when you are paying upwards of $1,000 USD, you want every bit of realism with this gun. There's something about the rattling of the dummy rounds that will surely put a smile on your face.
Price: $1,899.00
The G&G GMG42 is a 1:1 replica of the MG42 machine gun used throughout WWII. However, it's a little more expensive than our previous machine gun from that era on our list, coming in at $1,899.00. This faithful replication of the German MG42 is made from steel and features dummy rounds for added realism, real wood and steel construction, a heavy, realistic weight, and a built-in bipod. Not limited to any particular number of pieces, the eye-popping price alone makes this gun a rarity to own. The GMG42 is also a great showpiece for those that love history. As we previously mentioned, this is a faithful replication of the gun used in WWII and that makes it ideal for those that have a passion for that era and can even work well in reenactments, film, or historical decorations.
Price: $1,198.00
This fully licensed CNC aluminum Nighthawk Custom handgun is meticulously crafted right down to the smallest details and is fully Marui system compatible albeit with some enhancements to make it work well with green gas. The Nighthawk Custom Agent 2 is the next evolution of collaboration between Nighthawk Custom, Agency Arms, Railscales, and Hillbilly 223 and combines fully licensed elements from all three of these renowned manufacturers. The collaboration between these companies not only made a pistol that is incredibly beautiful and purpose-built but offers a modern take on the legendary 1911 pistol. Furthermore, the special Cerakote finish applied to the pistol is exactly the same specification as the real steel AGENT 2. Finally, adding to its beautiful design, the RWA Nighthawk Custom Agent 2 also performs brilliantly and is capable of launching BBs at 300 FPS. Limited edition to 200 pieces worldwide means you are guaranteed to be part of an exclusive club of owners Joining this club will cost you just short of $1,200.
Price: $858.99
The DSR-1 is a fully licensed German bolt action sniper rifle that is uniquely designed to be a highly precise shooting machine! Its airsoft counterpart made by ARES also suits that bill. The rifle is made from high-quality CNC 6063 aluminum and is also a highly accurate rifle. The DSR-1 is deserving to be on our list even though there might be other more expensive airsoft snipers on the market, because of how truly unique it is. This was never designed to be a mass-market product and the care ARES put into making this rifle shows just that. The gas system ensures a highly realistic, lightweight bolt action which in turn propels the BB consistently towards your intended target.
Price: $1,698.00
The RWA Nighthawk Custom GRP is considered by many the most gorgeous, fully-licensed Nighthawk Custom handgun from RWA and features a hand-brushed stainless steel finish, a CNC steel inner frame, hand-polished components, and an unparalleled fit and finish. The stainless steel version of the GRP is built on the success of the original steel GRP which means its shooting feel, recoil, and how the pistol sits in your hand is by far and above the closest to the real thing you can get your hands on. The weighty metal slide and stiff recoil spring are driven back using Co2 which also lends to the loud shooting sound of the pistol. If you are looking for what is perhaps the most realistic airsoft pistol in the world, look no further - just be prepared to hand over $1,698 for the honor of owning this gorgeous handgun. It also comes in a beautiful case to show off this prized pistol. Limited quantities worldwide again guarantee its rarity.
What Goes Into the Cost of an Airsoft Gun?
There are a variety of factors that can impact the cost of an airsoft gun. Some airsoft guns such as LMGs are expensive because of their large size and the sheer amount of materials that are required to manufacture them. Other airsoft guns are priced high due to their rarity and collectible nature. Perhaps the most common reason why an airsoft gun might be more expensive than other models is the quality of its construction and components, or merely because of how complicated it is to make. While the most expensive airsoft guns will certainly perform well, you are typically paying for much more than just great performance when you purchase one of the guns from this list - you are paying for a mechanical work of art that is sure to attract attention everywhere you take it. For this reason, the guns on this list are certainly a joy to own if you can afford them.