12 Best Airsoft AK47 Rifles: 2022 Ultimate Guide | Redwolf Airsoft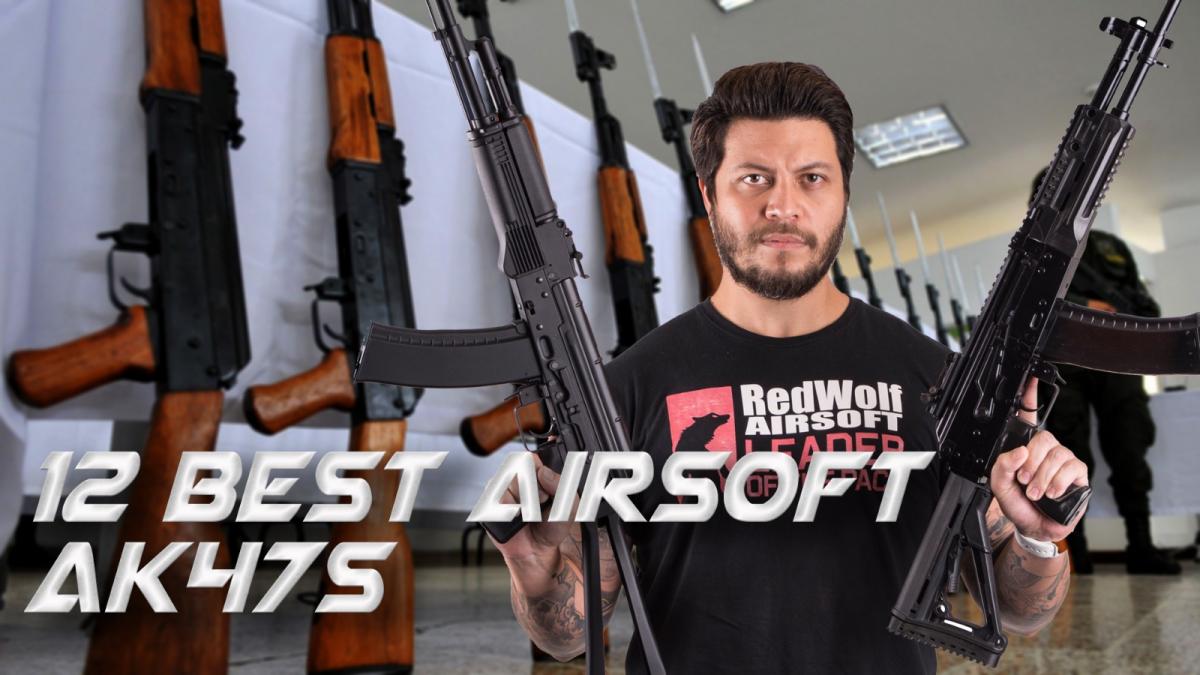 The AK, developed by Mikhail Kalashnikov, is probably the most prolific weapons platform in history. Seen and used in almost every corner of the world, the AK is cemented as not only an icon of weapons design but one of culture as well. In all forms of entertainment, you are bound to see the rifle show up no matter if you are watching an action movie or playing a video game. The AK seems to be here to stay now and for generations to come.
The airsoft AK shares a lot of the same fanbase as seen in the real steel world, used by many and loved by even more. With that in mind, there is a whole gamut of AKs out there coming from a menagerie of manufacturers. Everything from gas to electric airsoft guns, sometimes it's not easy finding the right one when searching in a sea of options. In this article, we aim to help you wade through the wide array of AK choices to serve you 12 of the best airsoft AKs.
Methodology: How We Picked the 12 Best Airsoft AKs
Seeing that we are comparing guns that are quite similar to each other, it's important we lay the ground rules in determining how we came to our conclusion on each of the rifles and where they rank.
Price - While not the end all be all, its important that the guns that we rank on our list are not overly expensive guns. That being said, we want to have a diverse list of prices.
Build Quality - The guns we choose should reflect well on what an AK should be. The guns should be robust, rugged, and willing to preform under most circumstances.
Upgrading Potential - The guns we features should have some aftermarket part support.
No One Offs - Nor will we be putting limited edition specials on our list. Only guns that are being produced in mass.

12 Best Airsoft AK Rifles
Hailing from the birthplace of the AK, Russia, the NPOAEG AK12 is a high-quality, robust, and well-made electric airsoft gun. During the time of its release, the real steel AK12 was also being considered as the replacement standard issue service rifle for the Russian military. Meaning, in the airsoft world, this was for a time the only AK12 you can get your hands on! Featuring a wide variety of steel parts, the gun was ready for action straight out of the box! While it was rough around the edges, it did personify the AK, though, probably its biggest downside was its price tag.
11. Beta Project AK
Being one of the first AK rifles that came with modern accessories such as picatinny railed gas tube and handguard, AR-style stock, and AR-style pistol grip, the Beta Project AK was the first truly out of the box modernized, tactical AK you could buy. It also came in a two-toned tan and black finish. During the time of its release, back in 2012, this was a big deal as, during those days, all of your AKs were either black or black with wood.
Probably the one AK on this list that appeals to the player that wants the most realism, the WE AK74 is the only gas airsoft rifle featured here that touts full bolt travel. For the sake of gas efficiency, many other brands limit the traveling distance of the bolt carrier when shot. While this does allow you to shoot more using only a single full charge of gas, it can at times come at the cost of realism, especially for those that might want to use an airsoft gun as a training platform. Even though the WE AK74's full travel will come at the detriment of its gas efficiency, it certainly makes it more fun to shoot!
The Real Sword Type 56 is an exceptionally well-made electric airsoft gun and was even produced in the same way real AKs were! The receivers are constructed from blued steel and accessories are real wood. Being an electric airsoft gun the Type 56 offers more flexibility to the player as it's more conducive to use year-round. However, the gun does come at a premium, these examples were not cheap at all.
The first and only bullpup on our list, the HTS-14 is a compact, head-turning AK that is sure to be a conversation starter. Based on the GHK platform, the HTS-14 is highly gas efficient and its compact size is great for CQB. Being so compact, there's not much space even for a handguard but it makes up for this with its great accuracy and unique design!

CYMA is widely considered the go-to choice for many players around the world when considering a budget, entry-level AK. However, don't let this moniker fool you into thinking it's a "basic" gun. The CYMA AK series of electric airsoft guns are great shooters out of the box and are ideal for players that love to modify their guns as they are based on Tokyo Marui spec. While their stock form is nothing to ride home about, they make up for this by offering steel receivers, accessories, and internals that are tried and tested!
For the longest time, if you were looking for electric airsoft AKs, E&L was the gold standard. E&L boasted guns that were exceptionally well made and highly realistic! Many of the guns featured real wood construction, high-quality stamping, and correct markings to boot, making them loved by even the most discerning of buyers. However, over the years they have wained slightly in popularity causing them to be hard to find and their internals do require some TLC.
The Tokyo Marui AK47 NGRS (Next Generation Recoil Shock) was a highly anticipated gun leading up to its release. The NGRS offered users that lived in countries with climates unsuitable for extensive gas usage more realism with its electric recoil system. While the gun doesn't kick as hard as a gas airsoft gun, it does offer some extra fun for players that value these things. In addition, it being a TM, this means it will enjoy fantastic performance and a wide array of aftermarket upgrade parts.
Players around the world were ecstatic when LCT released the PP-19-01 as many longed to own this 9mm style AK used by several different Russian police and military units. The PP-19 is a prime example of LCT's quality as its construction is solid, the details are all there, and above all, it performs very well out of the box. It does feature a top picatinny rail for the mount of optics and other accessories and folding stock to make it easier to transport. Probably the only knock against it would be that internally while robust it's quite basic.

This is Tokyo Marui first entry into the gas airsoft AK market and they entered with a huge splash! The Tokyo Marui AKM's internal mechanism is based on their critically acclaimed ZET system found also in their wildly popular M4 MWS. This means the AKM enjoys exceptional gas efficiency, accuracy, semi and full-auto performance, as well as upgrade parts from many third-party manufacturers. The only downsides to this gun, its wood bits are faux wood and the receiver sets are stamped with lines too clean. This level of precision while admirable does take away from the overall rugged AK aesthetic, making it feel a bit "cold".
In every way the GHK AKM gas airsoft rifle is probably the most accurate replica of the legendary AKM. At a glance, this airsoft rifle looks so robust and lifelike, you would easily mistake it for a real steel rifle, making it a popular choice of not only players but collectors alike. The recoil impulse is superb, the rate of fire is spot on, it's highly gas efficient, comes with real wood furniture, and enjoys a wide variety of upgrade parts to further its already impressive stats. While its hop-up unit can be quite finicky at times, it will not take away from the overall shootability and enjoyability of the gun.