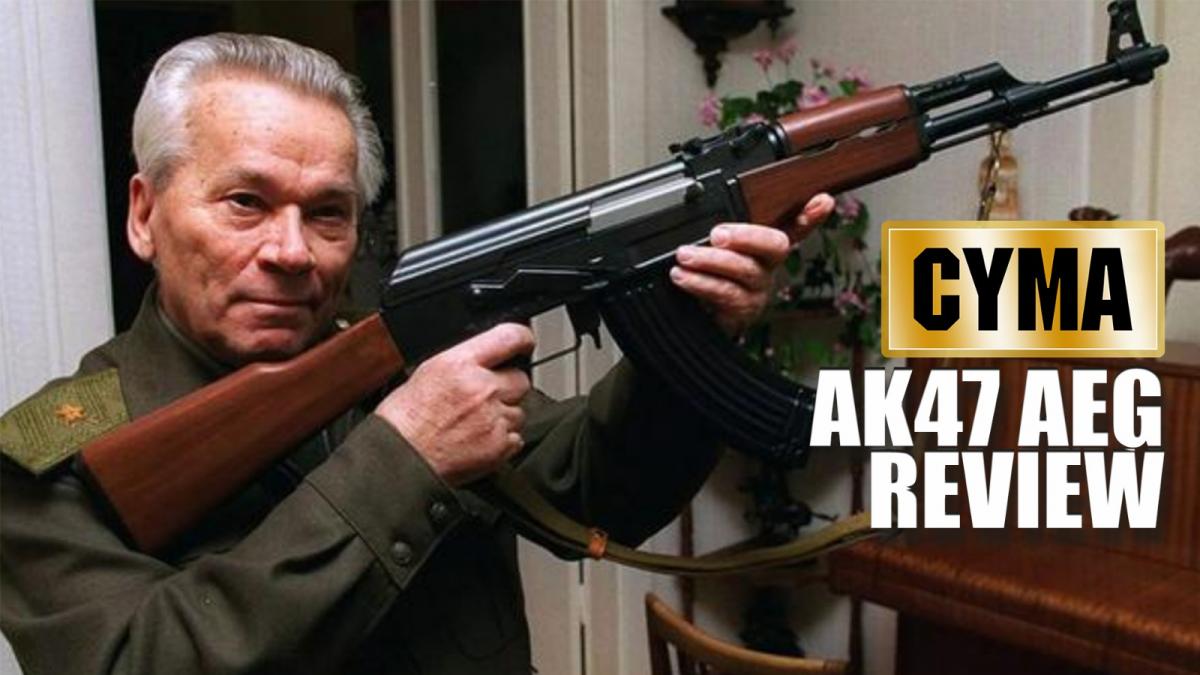 Since 1947, the AK47 has dominated battlefields across the globe, remaining one of the most reliable and robust rifle platforms in existence a full 75 years after its invention. Today, the AK47 is also an incredibly popular model for airsoft guns as well. While there are a wide range of airsoft rifles that replicate the iconic AK47 and its many variants, the CYMA AK47 AEG is undeniably one of the best. In this CYMA AK47 AEG review, we'll take a look at everything you need to know about one of the best airsoft AK47s available today, including the gun's key features and specs, a review of its performance, and the history of the real-steel firearm that this airsoft rifle replicates.
History of the AK47
The AK47 was created in 1947 by Russian weapons designer Mikhail Kalashnikov. In a quote discussing the origins of the weapon, Kalashnikov said, "I was in the hospital, and a soldier in the bed beside me asked: 'Why do our soldiers have only one rifle for two or three of our men, when the Germans have automatics?' So I designed one. I was a soldier, and I created a machine gun for a soldier. It was called an Avtomat Kalashnikova, the automatic weapon of Kalashnikov—AK—and it carried the year of its first manufacture, 1947."
Since its inception, the AK47 and the entire AK family of rifles have gone on to be the most commonly used rifles by formal militaries and militias alike the world over. While it's not possible to know for certain how many lives each model of firearm has claimed, it's a safe bet that the AK47 holds a solid lead thanks to the fact that it has been heavily involved in every major conflict since WWII. The AK47 remains so popular that many special forces soldiers are extensively trained on how to use AK47s even though they are never issued the weapon for the sole fact that if a solider is ever forced to pick up a weapon from a dead enemy, odds are it's going to be an AK47.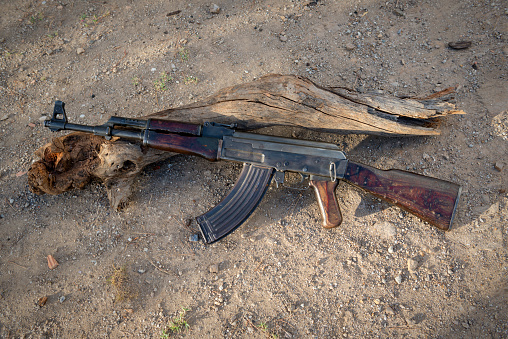 In some ways, the AK47 has changed a lot over the decades, with modern variants such as the AK74M that is currently issued to Russian soldiers coming chambered in a variety of different calibers and making the weapon much more modular than its original design. In other ways, the AK47 hasn't changed at all, with both the original AK47 and its entire family of variants still boasting the simplistic reliability that the weapon quickly became renowned for - and when you choose the right AK47 airsoft rifle, you can look forward to taking this same reliability with you into battle.
Of course, one of the biggest reasons why the AK47 has retained its popularity over all these years is the fact that the AK47 is so cheap and easy to produce. By the same token, the CYMA AK47 AEG is widely regarded as one of the best budget airsoft rifles available today. Priced near $150 depending on the specific variant that you choose, the CYMA AK47 offers more bang for your buck than just about any other airsoft rifle you will find.
CYMA AK47 AEG: Key Features and Specs
Just like the real-steel firearm that it is modeled after, the CYMA AK47 AEG is an airsoft rifle that comes available in a variety of different variants. From the classic wood-stocked AK47 to the modern and modular AK74, you'll have quite a few options to choose from when you decide to purchase a CYMA AK47 AEG.
Underneath all of this varying furniture, though, is the same high-quality internal mechanisms. The CYMA AK47 AEG comes equipped with a V3 gearbox that is powered by an 8.4V battery and is capable of sending BBs downrange at up to 330 FPS. For its price tag, the CYMA AK47 is by far one of the most accurate and reliable airsoft rifles you will find today.
The CYMA AK47 comes equipped with a 500 round high-capacity magazine that enables extended durations of fire without the need to stop and reload, and the rifle features a classic AK47 selector switch for switching between full-auto and semi-auto fire. In addition to the 500 round mag that comes with each CYMA AK47, the CYMA AK47 is also compatible with all other AK47 AEG magazines as well.
Aside from its either imitation wood or polymer furniture and its outer barrel, the entire rifle is made completely from metal. This gives the CYMA AK47 a highly-realistic look and feel and is a feature you don't commonly find on rifles that cost less than $200.
CYMA AK47 AEG Specs
FPS: 330
Magazine Capacity: 500 rounds
Battery Type: 8.4V
Hop-Up: Adjustable
Shooting Modes: Semi-auto, full-auto
Battery Plug: Small Tamiya
A Review of the CYMA AK47 AEG's Performance
Before we dive into our CYMA AK47 review, it is worth the reminder that CYMA AK47s are what you would consider "budget airsoft rifles". They offer a lot of bang for your buck and perform exceptionally well for their price tag, which is a big reason why the CYMA AK47 is by far one of the best-selling airsoft rifles on the market today. However, you still can't expect a rifle that costs less than $200 to perform at the same level as high-end rifles that cost four or even five times that much, and it's important to consider the value you're getting for your money when you analyze the CYMA AK47's performance.
With that said, there is certainly an awful lot to like about how the CYMA AK47 AEG performs on the airsoft field. During our testing, we had no issue maintaining reliably consistent shot patterns at ranges out to 75-100 feet. While the CYMA AK47's range and accuracy is certainly outpaced by rifles closer to the 400 FPS range, it performs quite admirably for its weight class and is more than capable of holding its own during mid-to-long-range engagements. However, an X-factor for the CYMA AK47 is its upgradability as it's speced the same way as Tokyo Marui based AK electric airsoft guns. Being speced this way means you can upgrade and it modify its internals to give you more power and performance beyond what its base form might be.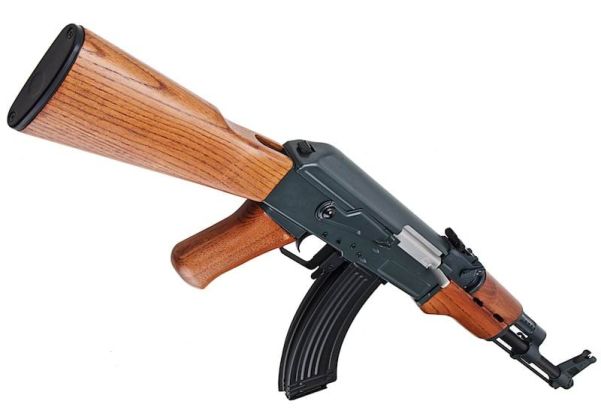 As for the CYMA AK47's durability, customer reviews reveal it to be a rifle that is adequately durable despite some minor issues. Many reviews mention having put thousands of rounds through a CYMA AK47 without any serious malfunctions. However, minor issues such as stocks that become wobbly over time and issues with the selector switch are sometimes brought up.
The final consideration that went into our CYMA AK47 review is how the gun looks and feels, and every variant of the CYMA AK47 that we've had the chance to try out has felt phenomenal in the hands and looked even better. The CYMA AK47 is a sturdy and hefty rifle made almost entirely out of metal aside from its either polymer or wood furniture and the gun's outer barrel. This combined with CYMA's commitment to producing AK47 rifles that look and feel just like the real thing right down to the smallest details results in a rifle that is much more impressive to behold than its price tag suggests it should be.
CYMA AK47 AEG: Pros and Cons
Lets take a look at the pros and cons of the CYMA AK47:
Pros
Full-metal construction
An incredibly affordable price
Great accuracy and shot consistency
Realistic look and feel that is true to the storied history of the AK47's design
Tokyo Marui Spec
Cons
The selector switch is sometimes prone to issues
Not as high FPS as many other airsoft rifles
The stock can come sometimes become wobbly after extended use
Final Thoughts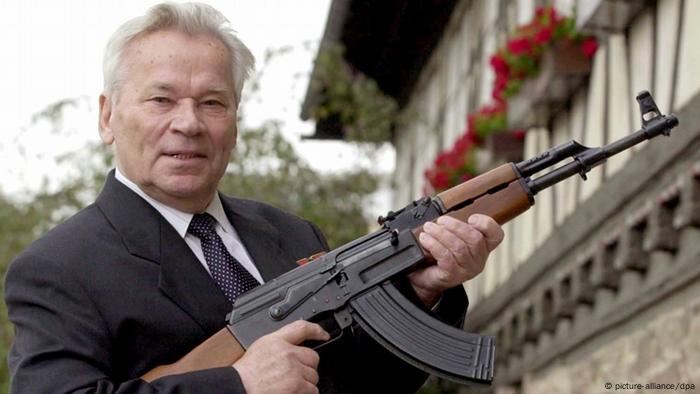 Much like its real-steal counterpart, the CYMA AK47 is one of the most popular airsoft rifles today thanks to the high degree of accuracy and reliability it offers for its incredibly low price. If you are looking for an accurate and reliable airsoft rifle that won't put a dent in the bank, much less break it, then it's hard to find a better rifle than the CYMA AK47. If you are interested in more AK, check out our article on the 12 Best Airsoft AKs or check out the video we did below.