Best DMRs: 2023 Ultimate Guide | Redwolf Airsoft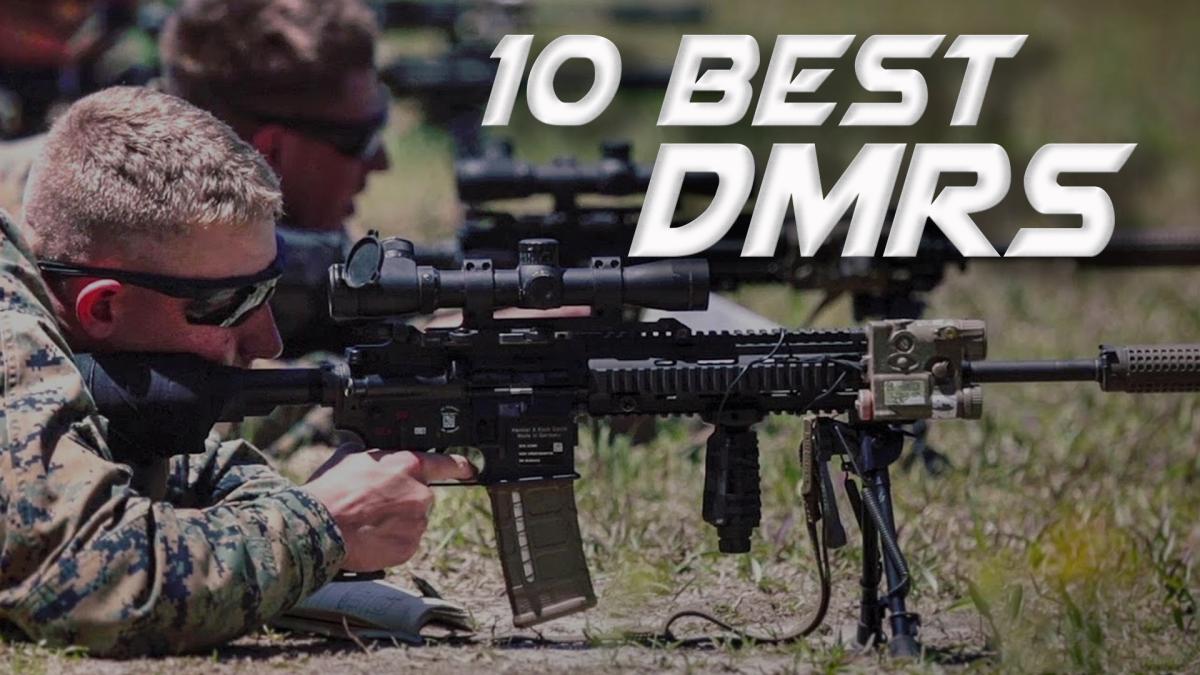 Bridging the gap between assault rifles and sniper rifles, designated marksmen rifles (DMRs) are perfect for mid-to-long range firefights where mobility and firepower are equally as important as accuracy and range. If you would like to see for yourself the benefits of this unique class of rifles, we at RedWolf Airsoft are here to help you find the best airsoft guns that can be designated DMR for your needs and budget. Below, we'll explore what it means for a rifle to be classified as a DMR before diving into our picks of the top ten airsoft DMR rifles on the market today.
What is a DMR Rifle?
The range and accuracy provided by sniper rifles make them great for picking off long-range targets. However, even the best airsoft snipers tend to be bulky and slow to fire, making them less than ideal for short and medium-range engagements where fast-firing and more easily maneuverable assault rifles usually win the day. While following a few airsoft sniper tips can help make up for these shortcomings, the fact still remains that sniper rifles are less than ideal for anything but long-range engagements.
Enter DMRs - a fusion between the assault rifle and sniper rifle categories that are designed to offer plenty of accuracy and range while still featuring a fast rate of fire and excellent mobility for more up-close-and-personal engagements. In the military, DMRs are used by designated marksmen in an infantry unit in order to provide the unit with the ability to take down faraway threats without the need for a sniper team. In airsoft, DMRs can fill this same role, allowing you to fight alongside teammates who are armed with assault rifles without slowing them down while at the same time providing your team with a little more punch at longer ranges. This makes DMRs some of the best airsoft infantry rifles for those who want a weapon that is adequate at all ranges.
HOW WE CHOse the BEST AIRSOFT DMRs
There are a number of important factors we considered when compiling our list of Best Airsoft DMR, these include:
FUN FACTOR – Airsoft is a hobby so airsoft guns must be able to generate joy. We look at recoil, sound, design, optional accessories, and overall awesomeness that make the gun interesting. Non-shooting models can also be fun, like a beautiful revolver with realistic ammo that you can load into a rotating cylinder. We rate each of our picks on how much pleasure you can derive from ownership.
REALISM – What makes Airsoft guns attractive for so many is that they replicate real guns. While many manufacturers try their best to recreate the details and feel of a real gun, some succeed while others fail horribly and end up with something more akin to a toy. We rate how real each of our top picks feels and looks.
PERFORMANCE – Power measured in feet-per-second (FPS), range and accuracy are the key metrics we use to determine the best airsoft gun. From there, we also prioritize airsoft guns with an adjustable hop-up and high-quality buckings to ensure that they give the consistency and accuracy you need. All FPS ratings are universally based on 0.2 gram BBs.
BUILD QUALITY – We look for good quality construction, materials and refinement not only in the external components but also internally. The fit tolerances, discernable wobbles and rattles, smoothness of operation, durability of components, etc are all considered.
VALUE – Affordable airsoft guns that rank highly in all the above categories are prioritized over more expensive airsoft guns that offer the same, as "bang for your buck" is an important consideration for most airsoft players. These criteria rates if you are getting more for your money compared to similar guns in the same class, meaning is it a good deal. For more information on how to determine the value of an airsoft gun, check out this article on what goes into the cost of an airsoft gun.
COLLECTABILITY – Sometimes an Airsoft gun stands out simply because it is unique either because it's not produced by anyone else or holds enough of a cultural or collectable value to make you want to have a piece of history regardless of its utility. This criteria in particular rates whether the gun is a must-have for collectors. Some rare or limited edition Airsoft guns even appreciate in value in the secondary market and we rate their investment value where applicable.
Top DMRs for 2023
Using the qualifications listed above as well as a wide range of other criteria such as price, aesthetics, and reliability, we've compiled a list of the top airsoft DMRs available in 2023. If you are looking for the best airsoft DMR that your money can buy, any one of these ten high-quality rifles are exceptional products to consider.
Loud and massive blowback recoil that embarrasses most blowback rifles, with eye-watering power out of the box. It's so loud that your ears may ring if you're aiming with your cheek to the stock. The VFC G28 GBBR, fully licensed by Umarex, is a full metal licensed replica this time in GBB form, stretching to just under a meter in length and weighing in at 5kgs, this absolute unit of a weapon is not known for its lightweight and mobility. If you plan to be out in the field all day, think twice about carrying this beast out. Thankfully at 440 FPS the G28's lack of mobility is negated by its ability to reach out to your intended target as a fully capable DMR. Featuring a quad rail system, collapsible stock, its own foregrip, Harris bipod and scope rings for a magnified scope and red dot sight, the G28 has almost everything you would need for a DMR setup right from the get-go and is ideal for any aspiring squad marksman.
The SR25/M110 is a semi-automatic sniper system that is currently heavily utilized as a DMR by modern US infantry units. The ARES SR25-M110K, meanwhile, is the perfect airsoft replica of this tried-and-true DMR. The ARES SR25-M110K comes equipped with a MOSFET system for exceptional accuracy and range in addition to impressive features such as an ARES Electronic Gearbox Programmer for easily adjusting the way your rifle performs and a built-in SR-25 for securely mounting any optic.
The CYMA Metal M14 combines the iconic M14 platform with its equally as iconic chassis system for a truly futuristic, modular rifle which happens to be one of the most unique and eye-catching entries on our list. The rifle in this form is called an EBR or Enhanced Battle Rifle because its chassis system adds much needed modern features such as a pistol grip, adjustable stock, and picatinny rails to the legacy M14. Along with its impressive aesthetics, this DMR also offers a surprisingly lightweight, full-metal construction, excellent accuracy and range, and a highly satisfying and realistic sound when the gun's bolt is racked.
The Umarex H&K G3A3 GBBR is a rifle that is a 1:1 replica of the H&K G3A3 that has been used extensively by NATO forces as a battle rifle/DMR. Along with its faithful design, other impressive features of this rifle include a blowback action with a satisfying recoil impulse, a high-quality full-metal construction, and high FPS that gives this rifle excellent performance at long ranges. The G3A3 in its gas blowback form as listed here is also our more realistic replica not only in dimensions but also in operation. VFC went to great lengths to hide the more "airsoft" aspects of the rifle, making it ideal for collectors as well!
Modeled as a 1:1 replica of the Colt MK12 that was used extensively as a DMR by the US Navy during the recent Global War on Terror, the VFC Colt MK12 MOD 1 Fixed Stock AEG is a full-licensed product that offers a sturdy fixed stock, a full-metal construction, and great long-range accuracy. If you are looking for a well-rounded DMR that won't break the bank then you are sure to find a lot to like about this offering from VFC. This intermediate rifle was most famously used in the movie Lone Survivor by Mark Wahlberg playing Marcus Luttrell.
The ARES M4 X-Class Model 15 AEG is another rifle that is much closer to an assault rifle than it is a sniper rifle. However, this rifle's excellent range and accuracy enable it to fill the role of a DMR quite nicely. Other impressive features of the ARES M4 X-Class Model 15 AEG include ambidextrous controls, a full-metal construction, a slim, lightweight design, and a programmable EFCS gearbox for adjusting the rifle's performance.
The G&G TR16 MBR 308SR is their take on an ultimate DMR airsoft rifle. The rifle not only features modern externals such as a slimline and top-rail-lightened handguard, a 90 degree fire selector, ambidextrous controls, and a lockable, adjustable stock, it also boasts a range of advanced electronics to boot.

The eletronics of the TR16 MBR 308SR starts with the MOSFET which now comes standard in many AEGs and anyone familiar to G&G knows their guns comes with them standard. Two more key features of the gun is that the TR16 MBR 308SR's magazines have a follower which will stop the rifle from firing after you run out of BBs, adding to more realism. Now saving the best for last is the brand NEW G2 Gearbox. Their G2 gear box is a notable upgrade over the previous with an emphasis on durability and efficiency.
The Umarex H&K 417 features a highly lightweight and compact design that makes it especially well-suited for short to mid-range engagements as well as exceptional accuracy for taking down threats at long range as well. If you are looking for a DMR that is closer to a traditional assault rifle in terms of looks and performance than it is a sniper rifle then this high-quality rifle is a great option to consider.
The FN SCAR is one of the most recognizable battle rifles in existence, and the Cybergun FN SCAR-H gas airsoft rifle is a perfect replica of the iconic FN SCAR we all know and love. In addition to its realistic and detailed construction, this rifle also offers a blowback action for a strong recoil impulse, high FPS for excellent range and accuracy, and fully ambidextrous controls.
The VFC FAL (LAR) Standard Type I GBB is a faithful replica of the FN FAL, also known as the Right Arm of the Free World and it is also the first ever gas blowback FAL style rifle, not to mention that the FAL is also quite rare as an AEG. The VFC LAR is a replica of the metric version of the FAL which features meters as measurement in the sighting system instead of yards which the inch pattern L1A1 that Britain and Commonwealth countries adopted. This rifle is very similar to that of the early Belgium made FALs (Model 50.00). The gun has a very realistic and robust built, being made out of metal with some steel parts which includes the outer barrel, bolt carrier, carry handle. Yes, this baby has a carry handle!