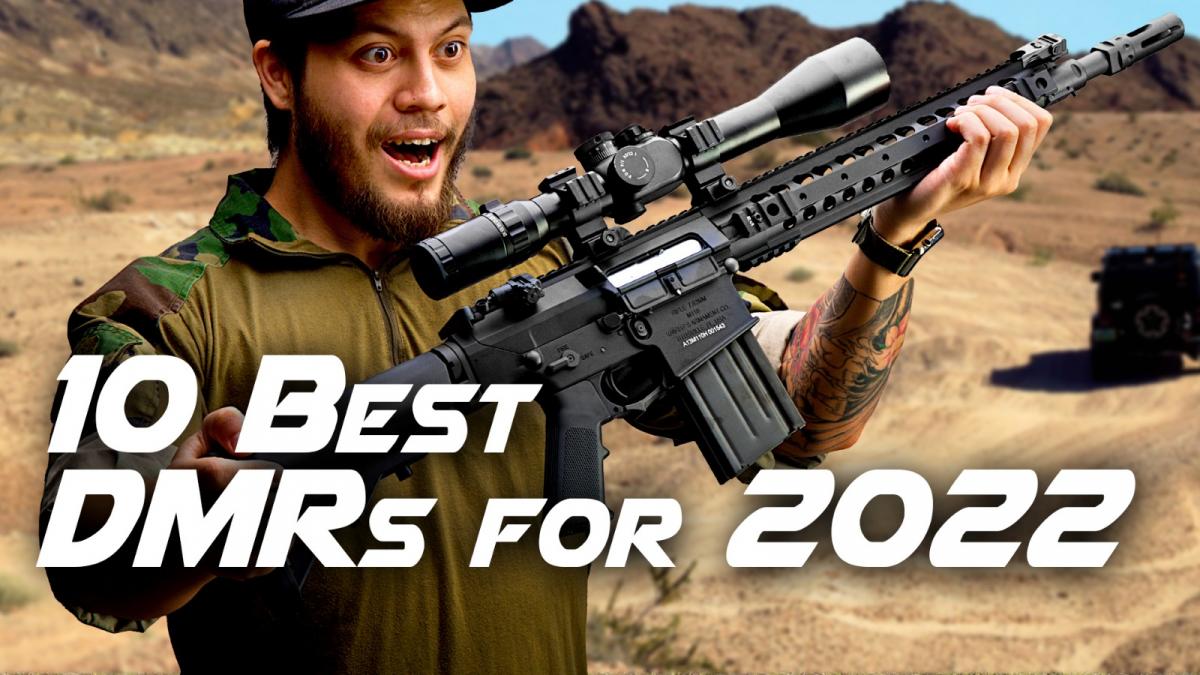 Bridging the gap between assault rifles and sniper rifles, designated marksmen rifles (DMRs) are perfect for mid-to-long range firefights where mobility and firepower are equally as important as accuracy and range. If you would like to see for yourself the benefits of this unique class of rifles, we at RedWolf Airsoft are here to help you find the best airsoft guns that can be designated DMR for your needs and budget. Below, we'll explore what it means for a rifle to be classified as a DMR before diving into our picks of the top ten airsoft DMR rifles on the market today.
What is a DMR Rifle?
The range and accuracy provided by sniper rifles make them great for picking off long-range targets. However, even the best airsoft snipers tend to be bulky and slow to fire, making them less than ideal for short and medium-range engagements where fast-firing and more easily maneuverable assault rifles usually win the day. While following a few airsoft sniper tips can help make up for these shortcomings, the fact still remains that sniper rifles are less than ideal for anything but long-range engagements.
Enter DMRs - a fusion between the assault rifle and sniper rifle categories that are designed to offer plenty of accuracy and range while still featuring a fast rate of fire and excellent mobility for more up-close-and-personal engagements. In the military, DMRs are used by designated marksmen in an infantry unit in order to provide the unit with the ability to take down faraway threats without the need for a sniper team. In airsoft, DMRs can fill this same role, allowing you to fight alongside teammates who are armed with assault rifles without slowing them down while at the same time providing your team with a little more punch at longer ranges. This makes DMRs some of the best airsoft infantry rifles for those who want a weapon that is adequate at all ranges.
What Goes Into a Great DMR?
There are several factors to consider when choosing the best airsoft DMR for your needs, including:
Range and Accuracy - While you can't expect a DMR to perform quite as well at long ranges as a sniper rifle, it's still certainly important for a great DMR to exhibit a good deal of long-range accuracy. Choosing an airsoft DMR with a high-quality barrel and hop-up will give you the ability to outgun assault rifle users at longer ranges.
Mobility - One of the biggest advantages of a DMR compared to sniper rifles is the fact that they are much lighter and more mobile, making it easier for you to keep up with teammates who are using highly maneuverable guns such as assault rifles and SMGs. This makes it important to choose a DMR that is as lightweight and maneuverable as possible.
Rate of Fire - Most DMRs are semi-automatic, with many offering the ability to switch to full-auto as well. This makes DMRs a functional weapon for close-quarter combat, whereas a slow-firing, bolt action sniper is going to put you at a severe disadvantage during short to mid-range firefights.
Top DMRs for 2022
Using the qualifications listed above as well as a wide range of other criteria such as price, aesthetics, and reliability, we've compiled a list of the top airsoft DMRs available in 2022. If you are looking for the best airsoft DMR that your money can buy, any one of these ten high-quality rifles are exceptional products to consider.
Price: $329.99
FPS: 380
Model: M14
When most people think of DMRs, the Springfield M14 is often the first rifle to come to mind. The M14 saw its height of use as a DMR during the Vietnam War and was famously used by Randy Shughart during the Battle of Mogadishu that was brought to the big screen in the film Black Hawk Down. In addition to capturing the M14's iconic design, the G&G GR14 also offers exceptional accuracy, a lightweight construction, and a 470 rd high-capacity magazine, giving it a well-earned spot on our list of the best airsoft DMRs for 2022.
Pros
Classic M14 Design
High-Capacity 470rds Magazine
Semi / Full-Auto Functionality
Lightweight
Cons
Plastic Construction
Not as Modular as AR / M4 Patterned DMRs
Price: $593.99
FPS: 400
Model: AR / M4 Series
The SR25/M110 is a semi-automatic sniper system that is currently heavily utilized as a DMR by modern US infantry units. The ARES SR25-M110K, meanwhile, is the perfect airsoft replica of this tried-and-true DMR. The ARES SR25-M110K comes equipped with a MOSFET system for exceptional accuracy and range in addition to impressive features such as an ARES Electronic Gearbox Programmer for easily adjusting the way your rifle performs and a built-in SR-25 for securely mounting any optic.
Pros
The Ability to Customize the Rifle's Performance via its ARES Electric Gearbox Programmer
High-Quality Aluminum Alloy Construction
Adjustable Hop-Up
Cons
A Little Pricy
No Full-Auto Capabilities
Price: $259.99
FPS: 370
Model: M14
The CYMA Metal M14 combines the iconic M14 platform with its equally as iconic chassis system for a truly futuristic, modular rifle which happens to be one of the most unique and eye-catching entries on our list. The rifle in this form is called an EBR or Enhanced Battle Rifle because its chassis system adds much needed modern features such as a pistol grip, adjustable stock, and picatinny rails to the legacy M14. Along with its impressive aesthetics, this DMR also offers a surprisingly lightweight, full-metal construction, excellent accuracy and range, and a highly satisfying and realistic sound when the gun's bolt is racked.
Pros
Highly Affordable
Full-Metal Construction
Lightweight and Maneuverable
Full-Auto Capabilities
Cons
The Stock and Pistol Grip are Somewhat Prone to Wobbling
Louder than most AEGs
Price: $529.99
FPS: 400
Model: G3
The Umarex H&K G3A3 GBBR is a rifle that is a 1:1 replica of the H&K G3A3 that has been used extensively by NATO forces as a battle rifle/DMR. Along with its faithful design, other impressive features of this rifle include a blowback action with a satisfying recoil impulse, a high-quality full-metal construction, and high FPS that gives this rifle excellent performance at long ranges. The G3A3 in its gas blowback form as listed here is also our more realistic replica not only in dimensions but also in operation. VFC went to great lengths to hide the more "airsoft" aspects of the rifle, making it ideal for collectors as well!
Pros
Realistic Recoil Impulse
High FPS
Full-Metal Construction
Cons
A Little Pricy
Not as Lightweight as Other DMRs on our List
Only Holds 20 Rounds in its Magazine
Price: $394.99
FPS: 350
Model: AR / M4 Series
Modeled as a 1:1 replica of the Colt MK12 that was used extensively as a DMR by the US Navy during the recent Global War on Terror, the VFC Colt MK12 MOD 1 Fixed Stock AEG is a full-licensed product that offers a sturdy fixed stock, a full-metal construction, and great long-range accuracy. If you are looking for a well-rounded DMR that won't break the bank then you are sure to find a lot to like about this offering from VFC. This intermediate rifle was most famously used in the movie Lone Survivor by Mark Wahlberg playing Marcus Luttrell.
Pros
Attractively Priced
Full-Metal Construction
Fully Licensed by Colt
Lightweight and Maneuverable
Cons
Lower FPS than Other DMRs on our List
Price: $399.99
FPS: 380
Model: AR / M4 Series
The ARES M4 X-Class Model 15 AEG is another rifle that is much closer to an assault rifle than it is a sniper rifle. However, this rifle's excellent range and accuracy enable it to fill the role of a DMR quite nicely. Other impressive features of the ARES M4 X-Class Model 15 AEG include ambidextrous controls, a full-metal construction, a slim, lightweight design, and a programmable EFCS gearbox for adjusting the rifle's performance.
Pros
Full-Metal Construction
High-Quality Programmable EFCS Gearbox
Ambidextrous Controls
Cons
Not Quite as Accurate at Long Ranges as Longer-Barreled DMRs
Price: $629.99
FPS: 380
Model: 551 / 552 / 553 / 556
Modeled after the SIG 551 still in use today by the Swiss army, the GHK 551 Tactical GBBR offers a combination of firepower, maneuverability, and accuracy that make it ideally suited for DMR roles. This rifle is also one of the only rifles on our list to offer semi-auto, full-auto, and three-round burst fire.
Pros
Full-Metal Construction
The Ability to Switch Between Semi-Auto, Full-Auto, and Burst Fire
Cons
A Little Pricy
Heavier than Most DMRs on our List
Price: $440.99
FPS: 370
Model: AR / M4 Series
The Umarex H&K 417 features a highly lightweight and compact design that makes it especially well-suited for short to mid-range engagements as well as exceptional accuracy for taking down threats at long range as well. If you are looking for a DMR that is closer to a traditional assault rifle in terms of looks and performance than it is a sniper rifle then this high-quality rifle is a great option to consider.
Pros
Full-Metal Construction
Adjustable Hop-Up
Realistic Fake Rounds in a See-Through Removable Magazine
Lightweight and Highly Maneuverable
Cons
Not Quite as Accurate at Long Ranges as Longer-Barreled DMRs
Price: $389.99
FPS: 390
Model: SCAR
The FN SCAR is one of the most recognizable battle rifles in existence, and the Cybergun FN SCAR-H gas airsoft rifle is a perfect replica of the iconic FN SCAR we all know and love. In addition to its realistic and detailed construction, this rifle also offers a blowback action for a strong recoil impulse, high FPS for excellent range and accuracy, and fully ambidextrous controls.
Pros
Full-Metal Construction
Strong Recoil Impulse
Ambidextrous Controls
Cons
One of the Heaviest DMRs on our List
Only Holds 24 Rounds in its Magazine
Price: $621.99
FPS: 400
Model: FN FAL
While the FN FAL has been replaced by most militaries around the world, there was a time when the FN FAL was the most commonly-used battle rifle on the planet. Now, airsoft players are able to enjoy everything that made the FN FAL so popular with this gorgeous wood furniture edition replica. The ARES L1A1 SLR is the British variant of the iconic FAL and has been in service during conflicts such as the Falklands War of 1982 where the British fought the Argentines. This electric airsoft gun is certainly one of the most eye-catching rifles on our list, and its high FPS and quality construction also makes it a force to be reckoned with on the airsoft field at almost any range.
Pros
Gorgeous Design that is a Faithful Replica of the FN FAL
High FPS
Full-Metal and Real-Wood Construction
Cons
A Little Pricy
No Full-Auto Capability