What is Airsoft?
Here at Redwolf Airsoft, we have been supplying players, collectors, and enthusiasts around the world with airsoft guns for over 20 years. During this time, one question has been a constant "what are good airsoft guns for beginners?" Being in a hobby that has a learning curve, it is our duty as leaders to provide world-class information. Subsequently, we aim to answer this question and lay out our best airsoft guns for beginners.
How Do You Play Airsoft?
To start, let's understand what airsoft is and how is it played. Airsoft is an action sport that uses replica firearms or airsoft guns to engage targets or an opponent. That is to say, airsoft allows you to live out your fantasy of being a soldier or competitive shooter without using real firearms. To sum it up, some say it's glorified "LARP-ing" (Live Action Role Play) while others consider it a sport!
Most Popular Types of Airsoft Guns
No matter what you consider airsoft to be, our airsoft gun is going to be its heart and soul. Therefore, let's start by diving into some of the most popular types of airsoft guns. Firstly, let's begin with gun type. You can break down the different types into airsoft rifles, airsoft snipers, airsoft shotguns, and airsoft pistols. Secondly, you can break them down into their different platforms such as electric (AEG), Gas, or HPA (High Pressured Air). Depending on your interest, your choices and play style will revolve around these airsoft guns. Finally, this being a airsoft gun beginners guide, we will recommend what is best for anyone starting!
Airsoft Rifles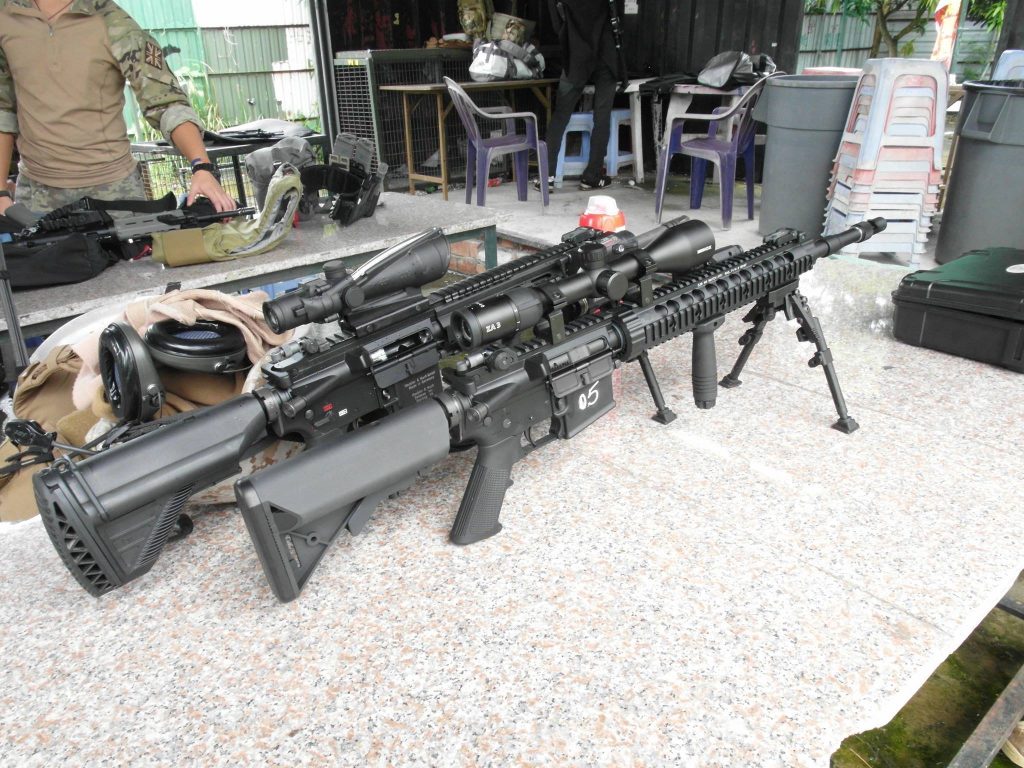 The most popular and widely used category of airsoft guns is the rifle. Most importantly, for beginners, these highly capable airsoft guns can serve more than one purpose. Airsoft rifles can operate using all of the previously mentioned power sources but we will only focus on AEGs.
Electric Airsoft Guns (AEGs)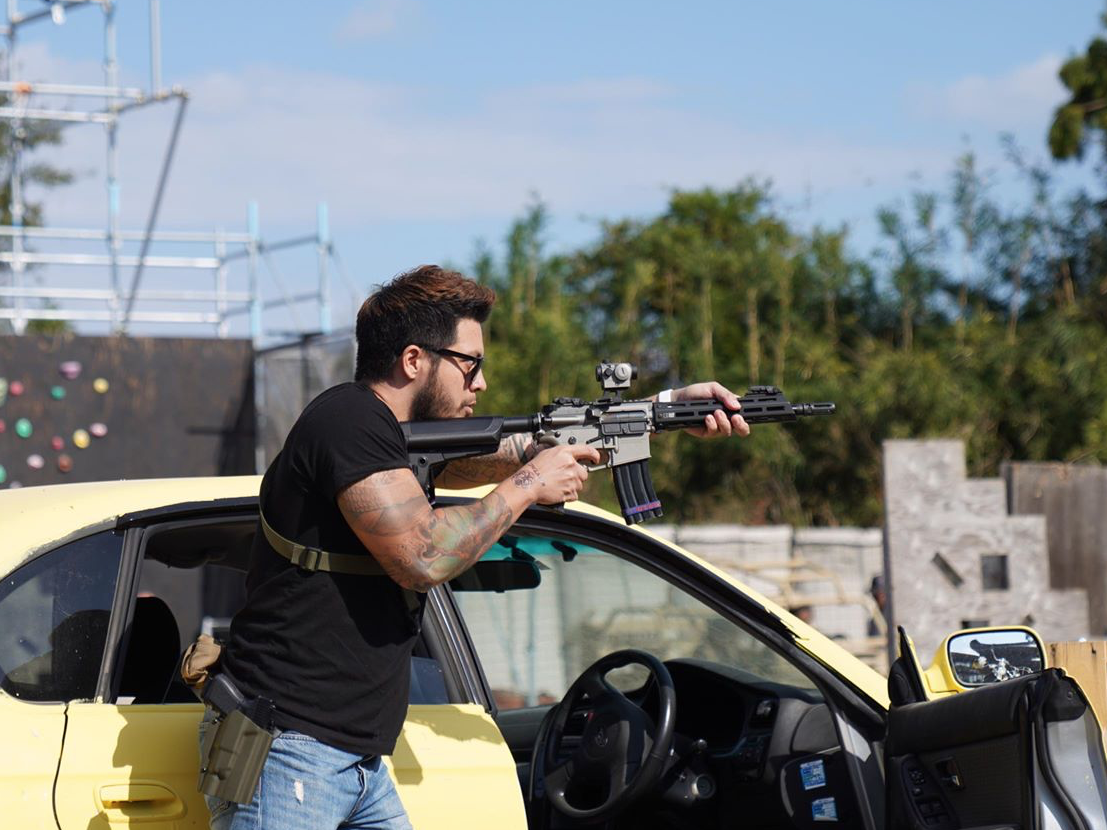 To clarify, there are many great airsoft guns for beginners when considering a starter gun. However, AEGs are usually the most straightforward and highly available option. To summarize what AEGs are, they are electric powered airsoft guns that shoot BBs by using a motor and piston system. These are also easier to maintain, repair, and operate than others. The key to finding the ideal beginner airsoft gun starts with preference. Most importantly you need to find an airsoft rifle that you enjoy and find attractive. Though there can be other contributing factors like different brands, it's always easier to stick with something you like! Thereafter, you can start looking at other features such as upgradability, ability to mount accessories, and performance. We have written a blog about 20 Best Airsoft Brands, in this blog we broke down the different brands using a tiered system.
AMOEBA
I would like to highlight two of the twenty brands that can be considered best for beginners. Starting with AMOEBA, probably the top choice for beginner airsoft electric rifles. Certainly, you would imagine "affordable" and "high performance" could not co-exist, however, AMOEBA made it happen. The latest "Mutant" series of electric airsoft guns not only look great, but they also boast exceptional internal electronics and modularity. Finishing with lightweight polymer, the cost of these will not break the bank, making them an ideal choice for beginners! Furthermore, AMOEBA has a huge array of first-party upgrade parts. This takes away any worry about compatibility!
Pros
Lightweight
Modular
Budget-Friendly
High-Quality Electronics
Cons
Polymer Body
Smaller Battery Compartment
G&G
G&G is a long-time brand with lots of choices, ideal for beginners. Known for their high-quality polymer lineup and performance, these are great guns! G&G electric airsoft guns are packed with industry leading electronics that also give them a competitive edge. Most importantly, their ARP-9 electric airsoft gun is a go-to shooter for those that love shooting fast! Recently, G&G has even crafted guns with speed in mind. Their SSG-1 is a uniquely designed electric airsoft gun ideal for the speed demon in all of us!
Pros
Industry Leading Electronics
Highly Sensitive Trigger
Budget-Friendly
Ultra Lightweight
Cons
Polymer Body
At Times Unrealistic Designs
ICS
ICS has always been a very forward thinking brand. Constantly finding ways to innovate and improve, they can be a great option for beginners. In addition, ICS offers a wide range of electric airsoft guns that come in different styles. Meaning, there will be something for you no matter what type of gun you prefer!
Pros
Wide Variety of Choices
Easy to Operate
Budget-Friendly
Durable
Cons
Proprietary Parts
At Times Unrealistic Designs
A&K
A&K has been purveyors of budget electric airsoft guns for many years. They have brought many different styles to beginners and tuners alike! However, A&K is best known their fantastic budget machine guns. Often times we can get bored with rifles such as M4s or AKs, A&K offers a great line up of light machine guns (LMGs). This offers any beginner an alternative not just in regards to weapon style, but also play style!
Pros
Great Line Up of LMGs
Easy to Operate
Budget-Friendly
Durable
Cons
Heavy Weight
Rather Basic Designs
Airsoft Snipers
Very often running and gunning might not be for everyone. Sometimes we like to take our time to stalk our targets. You might be the type of player that enjoys the "long game". The airsoft sniper might be the best choice for you! For many years, it's always been a good rule of thumb to not jump headfirst into sniping. The reason being, in times past, sniping had a much steeper learning curve. No matter if it is learning how to snipe or setting up your gun, sniping has never been an "easy" task. However, with the proliferation of entry-level, high-quality airsoft snipers, sniping has been easier than ever! These suggested brands are highly recommended.
AMOEBA STRIKER Series
After making some of the best electric airsoft rifles for beginners, airsoft snipers were next. The AMOEBA STRIKER series of airsoft sniper rifles are best in class for beginners. Due to their out of the box performance, low cost, and good looks, they took the world by storm. In the same vein as their electric airsoft rifles, their STRIKER series has a vast amount of first-party parts. The STRIKER series comes in four different styles. The different styles cater to all kinds of players that can choose specific lengths and features. Above all, the AMOEBA STRIKER shoots at a relatively high base FPS out of the box. Combined with its lightweight, solid construction, the STRIKER is a sure-shot beginner's choice!
Pros
High-Quality Polymer Construction
High Out of the Box FPS
Various Sizes and Versions
Highly Modular
Cons
No Real Steel Counter Part
Hard to Increase FPS
Tokyo Marui VSR-10
Similar yet different to the AMOEBA STRIKER, the Tokyo Marui VSR-10 series can be a good entry point for beginners. First, looking at the price, they are very similar. Secondly, they are both lightweight options. Finally, they are also highly upgradeable. However, where the VSR-10 will differ is it's out of the box capability. Even though it's limited to 1 joule (300FPS) of base power, the rifle is almost "over-engineered". Starting with its cylinder. The VSR-10 has been industry-leading for decades in terms of air volume. Results are a very stable and consistent shooting experience. Not to mention, with an already high base air volume, all you need for a slight increase of power is a spring swap! Moreover, the air seal of the VSR-10 is superb. This allows for a very minimal amount of wasted air when your rifle is sending BBs downrange!
Pros
Large Air Volume
Extremely Stable FPS
Lightweight
Highly Upgradable
Cons
Low Base FPS
Thin Materials
Airsoft Shotguns
Even though they might not be the most practical, airsoft shotguns bring a lot of fun to the game. For example, you can look and feel like the terminator racking your shotgun after every shot, but each shot might not be very powerful. With that said, their spread shots can be effective in indoor environments! Check out this video for more airsoft shotguns.
BO Manufacturer FABARM STF12
The BO Manufacturer FABARM STF12 is a wonderfully tactically looking shotgun. To start, it's easy to operate and features enough rail space for a wide array of accessories. In addition, it a very straightforward and easy to operate airsoft shotgun. Continuing this vein, its system is based on the tried and tested Tokyo Marui system which means it can share the same shells! In other words, it can perform similarly as well, being able to deliver a consistent tri-shot every time you pull the trigger. These airsoft shotguns come in a variety of lengths and color combinations making them ideal for mixing and matching!
Pros
Tactical Design
Tri-Shot Shooting
Lightweight
Modular
Cons
Low Base FPS
Thin Materials
Tokyo Marui SPAS 12
Easily the most recognizable airsoft shotgun, the SPAS 12, due to its iconic shape! Most notably, for its appearance in the 1993 original Jurassic Park movie! The SPAS 12 was the first of its kind when it was launched making it the grandfather of many airsoft shotguns. In addition to its good looks, its shotgun shells were revolutionary for its time, they held up to 30 rounds per shell! In terms of performance, they are ideal for close quarters as their spread is fairly tight. Even though it's predominantly made from polymer, it's lightweight and easy to operate, making it great for beginners!
Pros
Classic, Iconic Design
Tri-Shot Shooting
Lightweight
Modular
Cons
Low Base FPS
Thin Materials
Airsoft Pistols
Let's be frank, there's something about pistols that's cool! No matter if you are using them as a sidearm or you fancy yourself like John Wick, we can all agree pistols are great! Therefore, it's easy to see why so many beginners love to find out what great pistol options there are. While on the surface this might be an easy task, there are some considerations we want to take. For starters, what style appeals to you as a player? Then, what kind of playstyle do you prefer? Finally, is there a decent amount of accessories to support your pistol like lights, lasers, holsters, parts, etc.
Tokyo Marui Hi-Capa 5.1
Probably considered the benchmark to which all others are compared, the Tokyo Marui Hi-Capa 5.1 is a solid airsoft pistol for beginners or veterans alike. For instance, its gas efficiency and FPS consistency has the lowest variation. That is to say, the lower the variation, the more stable your airsoft pistol preforms. In addition, its out of the box performance is top tier. Which means, its cycling is snappy and trigger is extremely crisp! Finally, its incredibly vast array of upgrade parts is unparalleled. It goes without saying, the Hi-Capa is the usual airsoft pistol of choice for competition shooters and players alike.
Pros
Lightning Fast Cycling
Clean, Crisp Trigger
Stable FPS
Highly Gas Efficient
Highly Upgradable
Cons
ABS Plastic Construction
No True Real Steel Counter Part
Umarex Glock 17 Series
On the other side of the spectrum, we have the Glock series of airsoft pistols. Glock is a renowned brand in the real steel world for being a weapon of choice for many military and police agencies worldwide. This is also true in airsoft with many players. Most importantly, much like its real steel counterpart, the Umarex Glocks are very robust and reliable. Therefore, their Glock 17 series of airsoft pistols are ideal for any beginner. Adding to this, the Glock 17 series enjoys a large catalog of accessories such as tactical lights, holsters, and upgrade parts. Being the more "tactical" option compared to the Hi-Capa, this does not mean it is any less capable. These airsoft pistols come with a metal slide and strong recoil impulse, giving you a real sense of realism! Wrapping it up, the Umarex Glock 17s feature the most realistic airsoft Glock trigger available!
Pros
Most Realistic Airsoft Pistol Trigger
Strong Felt Recoil
Stable FPS
Highly Gas Efficient
Readily Available Accessories
Cons
Fewer Upgrade Parts
Lower Customization Options
RWA Nighthawk Custom 1911 Co2 Pistols
Much like the afore mentioned Hi-Capa, 1911s are reliable pistols. The RWA line up of Nighthawk Custom 1911s take this to yet another level not only due to reliability but it features fully licensed markings, Co2 power, and fantastic recoil impulses! In the same vein, these pistols also work with other accessories such as lights, holsters, lasers, etc. While there are high end versions of NHC pistols the entry level ones have been loved by many around the world!
Pros
Fully Licensed Product
Strong Felt Recoil
Stable FPS
Co2 Powered
Highly Budget Friend
Cons
Fewer Upgrade Parts
Lower Customization Options
AEP / Electric Airsoft Pistol Series
While we have been talking about gas pistols a lot, there is a subsection of pistols that often gets over looked. AEPs or electric airsoft pistols are a group of guns that function great in countries that require lower FPS or if its too cold for effective gas usage. They usually take common AA batteries and some can even be upgraded with better internals for better performance! Finally, AEPs are a great budget option for beginners as they also work with many of the same accessories we have previously mentioned such as holsters, lights, and lasers!
Pros
Stable FPS
Stable Performance
AA Battery Compatibility
Highly Budget Friend
Cons
Fewer Upgrade Parts
Low Base Power
What's Best For YOU?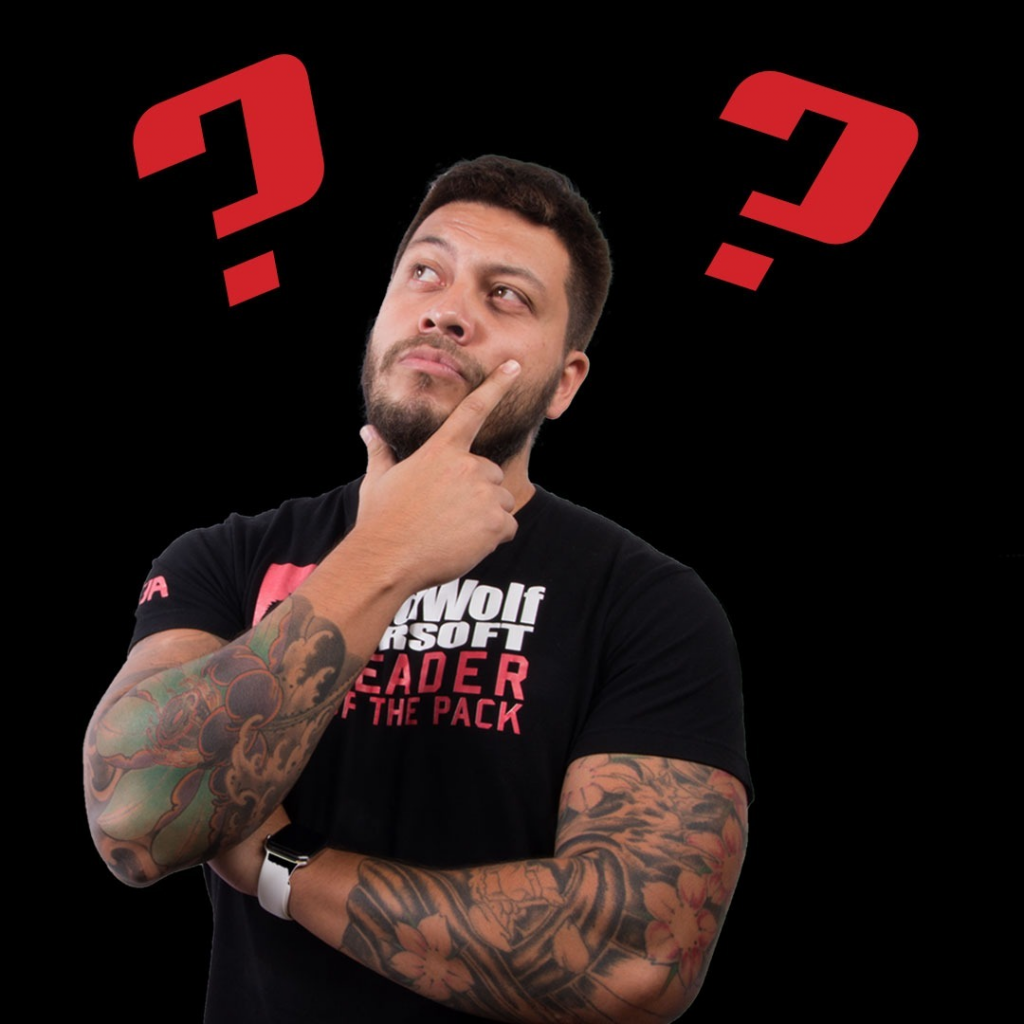 After laying out several highly recommended choices for any beginner, never forget to choose something you love. There is a wide variety of top airsoft brands to choose from and different styles of play. In conclusion, find out what suits you best before "pulling the trigger" on something that might make you second guess. After all, shooting airsoft guns are fun, and finding something to start you on your airsoft journey should be just as fun!