Best Airsoft Gear & Accessories: A Definitive List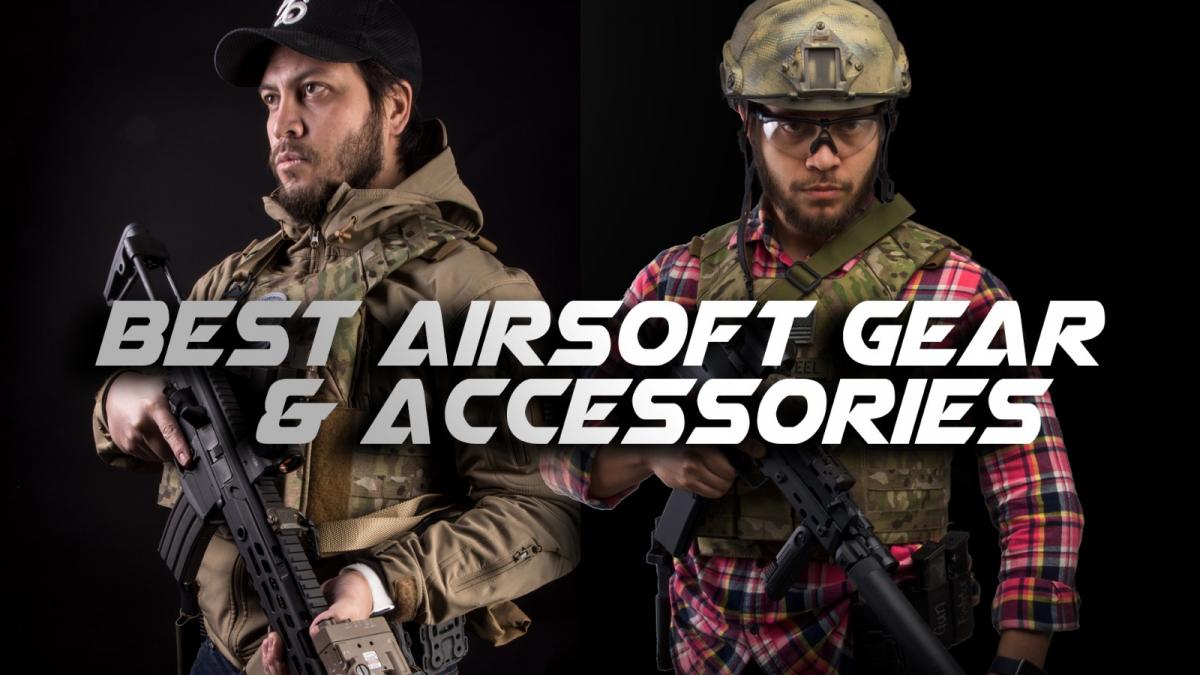 While plenty of attention is given to airsoft guns, it's just as important to have essential airsoft gear in order to maximize your experience. In this article, we'll cover our list of the best airsoft gear and best airsoft attachments that you can use to both ensure your safety and optimize your performance.
What is the Importance of Airsoft Gear?
Real soldiers carry a lot more gear into battle than just their rifles. By the same token, it is important for airsoft players to be equipped with the right gear as well. Much of airsoft gear is designed to ensure player safety, but there is plenty of gear that can make you more effective on the airsoft battleground as well.
Redwolf's Picks for the Best Gear for Your Loadout
Price: $18.99
Eye protection is a must-have for all airsoft players. With these lightweight and helmet-mountable goggles, you can keep your eyes fully protected and look great in the process. While they will not fog up as bad initially, they will easily gather condensation in countries that have hotter or more humid climates. Being full seal, they do not have the best airflow but do ensure an exceptionally high degree of protection. If you are interested in more airsoft masks and goggles, we have written an extensive article on the 8 Best Airsoft Masks for a deeper dive.
Pros
Full Seal Eye Protection
Lightweight yet Durable Construction
Helmet Mountable
Cons
More Expensive than Ordinary Safety Glasses
Doesn't Include the Same Level of Anti-Fog Technology Found on some Safety Goggles
Price: $123.99
Head protection isn't a requirement to play airsoft, but a good helmet is still a nice accessory to have. In addition to providing more of a MilSim look to your airsoft attire, this high-quality helmet also includes M-Lok compatible attachment points for lights and ear defenders in addition to the mount base on the front for mounting cameras and/or night vision equipment. A helmet can also provide some level of bump protection as well as keeping those painful headshots at bay.
Pros
Extremely Ergonomic and Comfortable
M-LOK Compatible Attachment Points for Attaching Grear such as Communications Headsets, Goggles, Eyewear, and Respirators
Cons
A Little Pricier than some other Airsoft Helmet Options
Price: $199.99
For MilSim airsoft players that are serious about creating a realistic loadout, this high-quality plate carrier is an excellent piece of gear to consider. It is designed using military-grade materials and hardware for maximum realism while at the same time being a surprisingly comfortable piece of gear to wear. Its molle webbing allows for the attachment of most pouches for easy carrying of other equipment such as magazines, first aid packs, or general admin pouches.
Pros
Military-Grade Construction
Lightweight and Comfortable
Cons
Price: $19.99
If you need a convenient place to carry your extra handgun magazines then this high-quality pistol pouch is the perfect solution. The Esstac KYWI is unique as it has a very small footprint and features a combination of both robust nylon and kydex molded plastic inserts for better retention and quick draw! This pistol pouch includes molle panels on the back that allow it to easily attach to most plate carriers or any other piece of gear that includes mole attachment points. Some also include molle on the front for stacking other molle compatible attachments to it.
Pros
Designed Specifically for Double Stack Magazine
Able to Attach to any Piece of Gear with molle Attachment Points
Cons
Not Large Enough to Store some Extended Mags or Rifle Magazines
Price: $29.99
The best thing about these safety goggles aside from their slim and lightweight design is their high-quality, dual-lens construction that comes complete with exceptional anti-fog technology. Keeping your goggles fog-free on the battlefield can be a powerful advantage, and these goggles are ideally designed for optimum visual clarity. For many of the players that are more MilSim inclined, you will be pleased to know that these goggles are used by some special police forces or SWAT teams around the world.
Pros
Great Anti-Fog Functionality
Slim, Lightweight, and Comfortable Design
Cons
More Expensive than Ordinary Safety Glasses
Not as Much Coverage as Larger Safety Goggles
Price: $28.99
Every good sidearm needs to be paired with a good holster. With this universal pistol holster, you can carry almost any sidearm with ease rather than having to worry about matching your pistol to a specific holster based on its model. An added benefit of this universal holster is that due to its adjustability, you can leave your tactical light or suppressor on your pistol while it's stowed away.
Pros
Works with Standard Molle Webbing
High-Quality Nylon Construction
Able to Accommodate Almost any Standard-Sized Airsoft Pistol
Cons
May not offer as Secure Storage as a Holster Designed Specifically for your Model of Pistol
Price: $29.99
A good pair of gloves serve a number of important functions, from keeping your hands warm, to protecting them from blisters, to providing extra grip in wet or muddy conditions. These high-quality gloves offer all of these benefits while still being lightweight enough to enable complete dexterity. Gloves can also provide some protection against painful hits to cold fingertips on a winter's morning! A secret bonus to these gloves is that you can still operate your smartphone while they are on! And, its top material is breathable, making it fast drying when wet!
Pros
Highly Adjustable Design Means that you are able to Adjust the Holster to your Optimum Draw Angle
A Built-In Locking Mechanism for Rock-Solid Retention
Cons
Only able to accommodate Hi-Capa Series and 1911 Series Pistols
Price: $31.99
Designed to fit both Hi-Capa Series and 1911 Series pistols, this rugged and durable holster features a locking mechanism for secure retention. If you want a holster that is guaranteed to keep your pistol secured in place, you can't go wrong with this quality piece of gear. In addition, the Laylax CQC line of holsters is compatible with a wide range of mounting options for you to swap to. If you don't want your pistol mounted to your hip, you can choose a mounting plate that extends lower, making this a very modular holster option!
Pros
Highly Adjustable Design means that you are able to adjust the holster to your optimum draw angle
A Built-In Locking Mechanism for Rock-Solid Retention
Cons
Only Able to Accommodate Hi-Capa Series and 1911 Series Pistols
Price: $149.99
If you are going to carry a lot of gear out onto the airsoft field, you need a convenient place to store it. This high-quality assault pack features a wide range of compartments as well as a unique expandable gusset system that enables the pack to form an almost flat profile when compressed to 600 cubic inches when completely expanded. You can opt to mount this directly to your molle-equipped plate carrier or use it as a standalone backpack.
Pros
The Ability to Compress the Pack Down to an Almost Flat Profile
High-Quality, Durable Construction
A Multitude of Padded Compartment
Cons
More Expensive than Most Traditional Backpacks
Honorable Mention
Crye Precision (by ZShot) Modular Rigger's Belt (MRB)
The modular rigger's belt is a great option for MilSim players as it offers more space to carry equipment or other necessities. The best part about this belt is that it can be preset and deployed quickly. While this sounds great and eliminates unnecessary setup times, it might not be an absolute necessity for every player. Some might simply prefer a robust nylon belt or a simple rigger's belt.
Price: $199.99
One of the most comfortable, eye-catching, and technologically advanced full face mask/goggle systems on the market today, the Dye Precision i5 is able to protect the user's entire face while also providing automated audio alerts and reports via a wireless air-sync connection in order to keep you ahead of the competition. It's incredibly comfortable and its locking system is easy to operate and stays on your head nicely. Its foam inserts ensure impact resistance and minimal feeling when shot at. Finally, it's extremely well ventilated and can be great to wear during in or outdoor games even in countries that are hot and humid!
Pros
An Aggressive and Eye-Catching Design
Full Face Protection
Anti-Fog Thermal Lenses
Wireless Air-Sync Connection for Automated Audio Alerts
Cons
One of the More Expensive Face Mask / Goggle Systems on the Market
Can Detract from the Suspension of Disbelief, Especially in Milsim Style Events