Best Airsoft M4 Rifles: 2023 Ultimate Guide | Redwolf Airsoft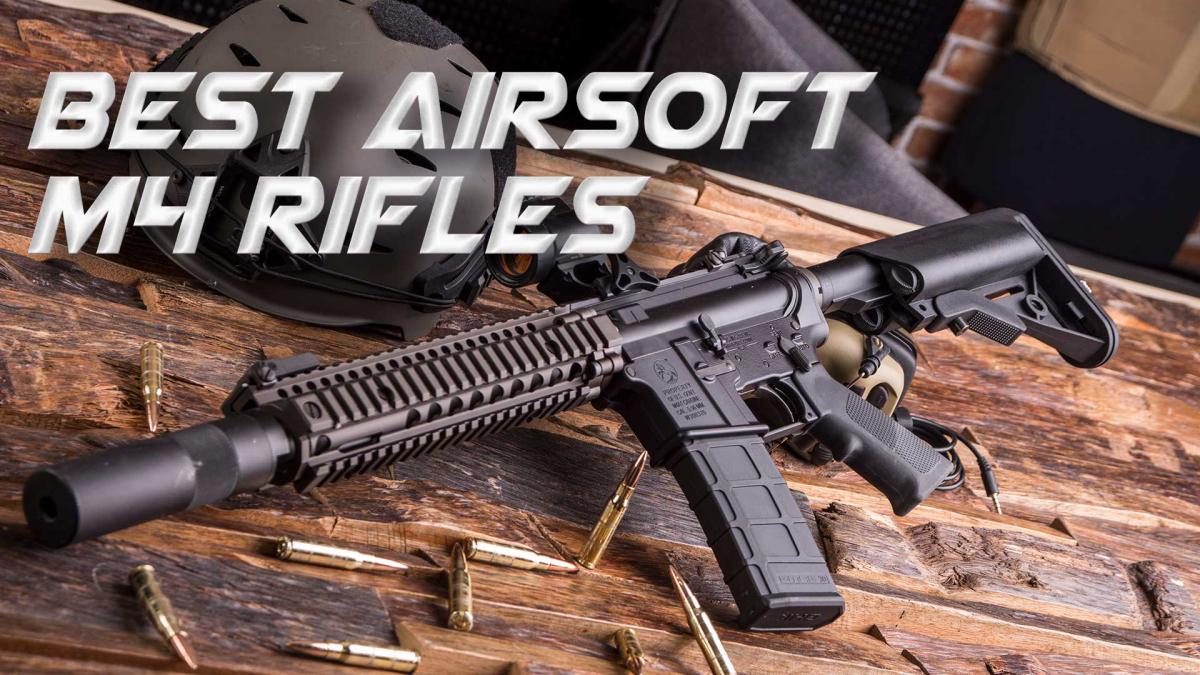 It comes as no surprise that the airsoft M4 is easily the most popular type of airsoft gun out there. Being modeled after the M4 Carbine which is itself a variant of the classic AR platform, the 'Black Rifle' is an iconic American rifle both in terms of military service but the sheer quantity of civilian models available, making it not only a highly adaptable and ergonomic rifle, but one with great cultural significance and popularity. This significance carries onto airsoft as well, with countless models of airsoft M4 carbines populating the entire breadth of brands, model configurations and methods of propulsion ranging from AEG airsoft M4s to realistic airsoft M4s that use gas. Alongside the AR 15 airsoft gun, airsoft M4s come in a stunning variety of models and prices and in this blog we've come up with a selection of the best airsoft M4 and best airsoft AR rifles for you to choose from.
---
---
HOW WE CHOOSE THE BEST AIRSOFT GUN
There are a number of important factors we considered when compiling our list of Best Airsoft M4s, these include:
FUN FACTOR – Airsoft is a hobby so airsoft guns must be able to generate joy. We look at recoil, sound, design, optional accessories, and overall awesomeness that make the gun interesting. Non-shooting models can also be fun, like a beautiful revolver with realistic ammo that you can load into a rotating cylinder. We rate each of our picks on how much pleasure you can derive from ownership.
REALISM – What makes Airsoft guns attractive for so many is that they replicate real guns. While many manufacturers try their best to recreate the details and feel of a real gun, some succeed while others fail horribly and end up with something more akin to a toy. We rate how real each of our top picks feels and looks.
PERFORMANCE – Power measured in feet-per-second (FPS), range and accuracy are the key metrics we use to determine the best airsoft gun. From there, we also prioritize airsoft guns with an adjustable hop-up and high-quality buckings to ensure that they give the consistency and accuracy you need. All FPS ratings are universally based on 0.2 gram BBs.
BUILD QUALITY – We look for good quality construction, materials and refinement not only in the external components but also internally. The fit tolerances, discernable wobbles and rattles, smoothness of operation, durability of components, etc are all considered.
VALUE – Affordably priced airsoft guns that rank highly in all the above categories are prioritized over more expensive airsoft guns that offer the same, as "bang for your buck" is an important consideration for most airsoft players. This criteria rates if you are getting more for your money compared to similar guns in the same class, meaning is it a good deal. For more information on how to determine the value of an airsoft gun, check out this article on what goes into the cost of an airsoft gun.
COLLECTABILITY – Sometimes an Airsoft gun stands out simply because it is unique either because it's not produced by anyone else or holds enough of a cultural or collectable value to make you want to have a piece of history regardless of its utility. This criteria rates whether the gun is a must-have for collectors. Some rare or limited edition Airsoft guns even appreciate in value in the secondary market and we rate their investment value where applicable.
Good quality materials with good fit and finish. GHK guns are pricey but offer great quality. This is also the only gas blowback AR 15 that works with CO2.
The GHK M4 GBBR is the most realistic airsoft M4 gas blowback rifle for many years counting and still stands supreme with authentic field-stripping and attention to the smallest details. Though VFC is closing the gap in recent years and Marui's MWS might have a slight edge in cold weather use. GHK's ability to use both green gas and CO2 magazines still puts it a step above the rest for use in places with distinct seasons and large temperature differences. Has very strong recoil and lots of accessories for upgrades.
With an eye-catching design with superior attention to detail and offering a feature-packed electronic trigger control unit that offers a binary mode for ultra-fast CQB semi-auto shooting. The RWA BAD LWA 556 AEG is easily one of the lead contenders for best airsoft M4 out there. It also features a special airsoft M4 stock design to accommodate Titan Lithium-Ion batteries. The BAD AEG is not cheap and comes in either standard length or the SBR compact version, but if you want an AR 15 airsoft gun that is a bit edgier with an incredibly fast binary trigger for CQB game sites, this should be on your list.
High-performance AEGs with the best that VFC has to offer. While not technically an accurate replica of a real AR 15 variant, the gun is designed beautifully with billet style receivers and even sports a silver Samurai motif on the lower receiver giving it a modern and sleek look. Internally, the Samurai Edge features the latest Version 2.1 ECS and trigger unit that is programmable o add burst mode to the standard safe, semi, and auto. The gun is also fully ambidextrous. This is essentially VFC's showcase of its superior AEG abilities for people looking for an alternative to Krytac AEGs.
If you are looking for an all-around great AEG airsoft M4 that won't break the bank, you'd be hard-pressed to find one better than the Umarex HK416A5. This rifle features tried and tested VFC AEG internals and a solid, sturdy construction that is truly built to last. The flexibility of the platform ensures you can run your favorite H&K rifle in colder weather conditions without having to worry about some of the downsides of a gas operating system. In addition, the internals are the tried and proven internals found in other VFC AEGs. The gun features a MOSFET like all modern AEGs and parts are compatible with other standard version 2 parts.
The M733 is probably a rifle that is instantly recognizable my many movie buffs and firearms enthusiasts. The rifle is the precursor to the rifle that we now know today as the M4. However, its biggest claim to fame is its prominent featuring in the hit movie HEAT starring Robert De Niro and a variant being used by Delta Force in Black Hawk Down. The M733 is an excellently made rifle and comes with strong, snappy recoil with an ideal retro feel straight from the 80s and 90s, while it isn't technically an M4, its certainly one of the best airsoft AR rifles out there.
---
---
Whilst not strictly an airsoft M4, the MCX is touted as an evolution of the AR-15 platform. Used by many special operations forces around the world, the MCX is highly modular, compact, and uses modern technologies designed to keep the weapon system usable far into the future. The airsoft version manufactured by SIG SAUER employs robust internals and dutifully replicates all details of its real steel counterpart!