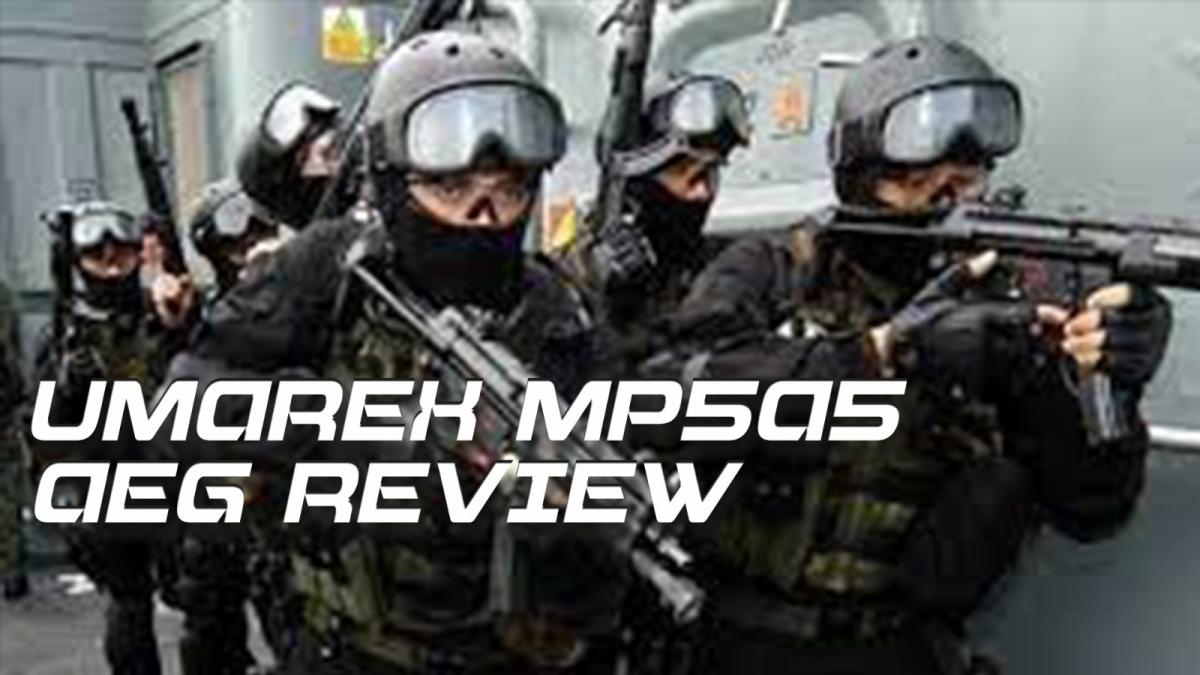 As one of the most iconic firearms in the world today, it only makes sense that the MP5 would serve as the model for some of the best airsoft guns available as well. While there are plenty of excellent airsoft MP5s to choose from, the Umarex MP5 A5 AEG exists in a league of its own. To help you decide if the Umarex MP5 A5 AEG is the right choice for you, we'll take a look at everything you need to know about this high-quality electric airsoft gun, including its features and specs, a review of its performance, and the history of the real-steel firearm that it was modeled after.
History of the MP5
In 1964, encouraged by the success of its G3 automatic rifle, Heckler & Koch decided to develop an SMG (Sub-Machine Gun) modeled after the G3's design that would be chambered in the 9×19mm Parabellum (9mm) pistol cartridge. This new SMG was first named the HK54 but would later go on to be rebranded as the MP5.
The first major adoption of the MP5 was by the German Federal Police in 1966. From there, the MP5 went on to be used by a wide range of military, police, and paramilitary forces and was a common weapon choice for Green Berets conducting missions during the Vietnam War. Throughout the 1970s, though, the MP5 was still largely overshadowed in popularity by the Israeli uzi. It wasn't until Operation Nimrod in 1980 that the MP5 truly reached iconic status.
During Operation Nimrod, a British special forces regiment of the SAS stormed the Iranian Embassy in London after it was taken over by terrorists. Armed with MP5s, SAS soldiers managed to kill five terrorists and save all of the hostages inside the embassy. Since this operation captured the attention of the world and was broadcasted on live TV, the MP5 experienced a major boom in popularity following Operation Nimrod.
Culturally the MP5 has always been a huge hit. Featuring in so many of the action movies we have come to love throughout the 80's and 90's, it was the movie Die Hard staring Bruce Willis that propelled the MP5 into superstardom! This is not to mention the slew of video games that featured this SMG, such Call of Duty or classics like Rainbow Six.
Today, as a result of advancements in body armor, the MP5 has some stiff competition coming from other SMGs such as the FN P90, H&K's other SMG the MP7, or the latest and greatest from SIG the MPX. Some of these SMGs use rounds that are capable for armor penetration and some are designed to modernize the SMG platform. However, the MP5 nonetheless still remains one of the most recognizable, used, and storied weapons in firearms history.
Umarex MP5 A5 AEG: Key Features and Specs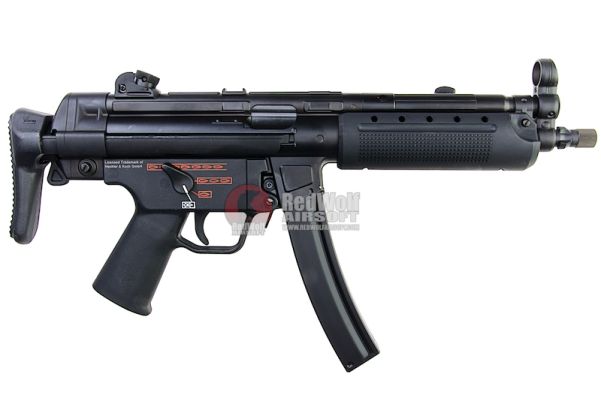 The Umarex MP5 A5 AEG is a fully-licensed product of Heckler & Koch that comes complete with official Heckler & Koch trademarks that, along with the gun's fantastic attention to detail, make the Umarex MP5 A5 AEG a perfect replication of the iconic SMG that it is based upon. Completing this gun's dedication to realism is a full-metal upper receiver that gives the gun a lifelike weight and feel. Another added benefit of fully licensed products are accurate dimensions. This means this airsoft gun can work with many accessories such as handguards or accessories rails designed for the real steel version! This adds so much more realism for the the die hard fan and avid collector!
In addition to being an airsoft SMG that looks and feels just like the real thing, the Umarex MP5 A5 AEG offers a number of impressive features that are sure to give you a competitive edge in your next airsoft engagement. For one, the Umarex MP5 A5 AEG is capable of sending BBs downrange at up to 380 FPS. This is a lot of power for even an airsoft rifle, and it's certainly a lot of power for an SMG. The Umarex MP5 A5 AEG's high FPS means that it is capable of reaching longer ranges while still maintaining its accuracy, making this SMG a weapon that is surprisingly adept at intermediate combat in addition to being a spectacular option for close-quarter engagements as well.
Helping further boost the Umarex MP5 A5 AEG's accuracy and reliability is VFC's tried and tested gearbox and inline MOSFET. These high-quality components ensure that the Umarex MP5 A5 AEG is a gun that will continue functioning flawlessly many years after it is first taken out of the box.
Like all great airsoft SMGs, the Umarex MP5 A5 AEG is capable of firing in both semi-auto and full-auto and comes equipped with the classic MP5 selector switch for switching between the two. And with a magazine capacity of 200 rounds, you'll be able to send quite a few BBs downrange with this SMG before you are forced to reload.
The final spec worth mentioning is the fact that the Umarex MP5 A5 AEG weighs in at six pounds. While this is a little heavier than some airsoft SMGs, that's the tradeoff with full-metal guns. With that said, the Umarex MP5 A5 AEG is still plenty light and maneuverable enough to make it suited for those fast-paced, close-quarter battles where maneuverability can be vital.
Umarex MP5 A5 AEG Specs
Weight: 6 pounds
Overall Length: 26 inches
Outer Barrel Length: 14.5 inches
Inner Barrel Length: 8.3 inches
Inner Barrel Diameter: 6.05 mm
Barrel Thread: 14 mm CCW
Fire Modes: Safe, semi-auto, and full-auto
Magazine Capacity: 200 rounds
A Review of the Umarex MP5 A5 AEG's Performance
Having spent hours of time with the Umarex MP5 A5 AEG, we at RedWolf Airsoft can confidently say that the Umarex MP5 A5 AEG is an airsoft SMG that lives up to both its legacy and its price tag.
In ideal conditions, the Umarex MP5 A5 AEG is capable of achieving an effective range near a hundred meters. For targets within this range, we had no issues consistently getting BBs to hit a human-sized target in semi-auto.
The Umarex MP5 A5 AEG maintains its accuracy in full-auto as well with a fair amount of spread, and the gun's responsive, high-quality trigger makes it easy to control how many rounds you send downrange when firing in full-auto - from short, controlled bursts to full-on spray-and-pray.
As for the Umarex MP5 A5 AEG's reliability, there were no obvious issues to speak of even after thousands of rounds of torture testing. Mag after mag of full-auto fire, the Umarex MP5 A5 AEG continued to consistently put rounds downrange without any malfunctions.
According to customer reviews of the Umarex MP5 A5 AEG, the gun's weight does become a little noticeable but only to the degree that some Umarex MP5 A5 AEG owners have commented that the gun isn't as lightweight as some of their other SMGs. At six pounds, the Umarex MP5 A5 AEG has a little bit of heft to it, but not so much that it's going to be a hindrance during fast-paced battles.
Overall, almost all of our staff who have used the Umarex MP5 A5 AEG and almost every customer who has written a Umarex MP5 review has had glowing things to say about this SMG's performance. If you are looking for an airsoft SMG that offers both exceptional realism and high-end performance then the Umarex MP5 A5 AEG is certainly a worthwhile option to consider.
Umarex MP5 A5 AEG: Pros and Cons
After reading through our detail review, here are some quick pros and cons to the Umarex MP5 A5 AEG:
Pros
High-quality Avalon gearbox and inline MOSFET that provides the Umarex MP5 A5 AEG with exceptional reliability and shot consistency
High-capacity 200-round magazine
Rated at 380 FPS, the Umarex MP5 A5 AEG is one of the most powerful SMGs on the market today
Realistic and detailed construction that is true to the real MP5's design right down to the official H&K trademarks and iconic H&K ring sights
Cons
Somewhat bulkier than other SMGs
Priced north of $400, the Umarex MP5 A5 AEG is a little more expensive than many airsoft SMGs
Final Thoughts
Few guns are more immediately recognizable than the MP5. Having earned its reputation in operations across the globe, the MP5 is a weapon that has permanently etched its name into weapons history - and the Umarex MP5 A5 AEG is an airsoft SMG that perfectly replicates this iconic firearm in addition to offering the type of high-level performance that airsoft players have come to expect from Umarex guns.
If you are looking for a gun that replicates the MP5 right down to the smallest details as well as a gun that you are sure to have blast using at your next airsoft event, then we can assure you that you won't regret purchasing the Umarex MP5 A5 AEG.
To see more high-quality airsoft pistols and SMGs that are worth considering as well, be sure to check out the rest of our online store. If you are interested in learning more about airsoft pistols, check out our article on some of the best pistols.