Best Airsoft Pistols: 2023 Ultimate Guide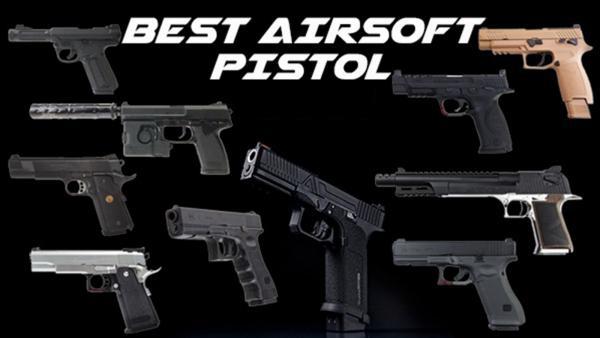 Since the emergence of airsoft as a hobby in Japan during the early 70s, airsoft guns have gone through numerous transformations both in types of models produced, their power source and materials used, yet some models continue to be in production for years if not decades due to their stellar performance, endless upgradeability and timeless design.
In this blog we take an updated look at some of the Best Airsoft Pistols available today - in our 2023 guide. Now keep in mind that these are not the top pistols released this year, but rather a list of all the best pistols that you can buy right now. While there have been plenty other stellar pistols out there in the past, many are no longer in production and will not be included in this list. So, sit back, relax and check out our top 16 picks for Best Airsoft Pistol today for all players, beginner to advance.
Methodology: How We Determined the Best Pistols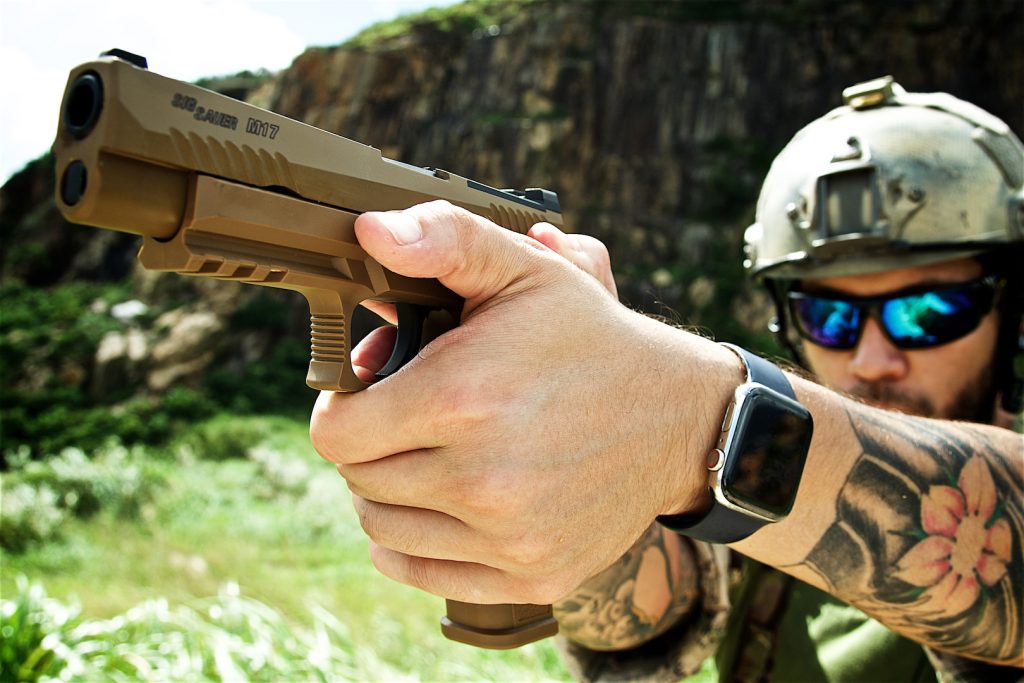 Best Airsoft Pistols
Power: 330 FPS
Model: Hi-Capa
The Army Armament TTi Combat Master is a fully licensed pistol that is patterned after the famous pistol used in the movie "John Wick". This pistol is a faithful reproduction and offers a satisfying shooting experience. Being designed around speed and competition shooting, the control surfaces are enlarged for faster access and even have ambidextrous safeties.
The gun boasts excellent ergonomics and handling, and it all starts with the high-quality stippling done to the grip itself. Unlike many other pistols that might come with a "stippled" looking that is molded, this one feel rough and grippy, making it very "sticky" to your hand in all conditions. The gun also has a relatively "long" line of sight, making target acquisition much faster and easier.
Power: 300 FPS
Model: HK45
The Umarex HK45T is the tactical version of the original HK45; this gun is fully licensed by Umarex as well as H&K. The HK45 has a 16mm CW threaded barrel similar to the one found on its real steel counterpart, this allows for mounting of suppressors and tracer units to the gun. The gun also has a picatinny accessory rail dust cover for mounting of lasers and lights.
The gun has full ambidextrous controls; the magazine release, slide release as well as the safety can all be actuated on both sides. The safety of the gun also functions as a decocker, so you could decock your pistol as well.
Power: 300 FPS
Model: 92F M9 93R
The KSC heavy weight M93R is a high quality and full auto capable pistol like what you saw in the classic Sci-Fi movie "Robo Cop" as his main weapon.
The "heavy weight" version, as mentioned is heavy weight and does feel noticeably heavier than the previous Auto 9 and its rate of fire feels much more realistic. The shooting impulse is solid and feels very consistent, which is different from the previous Auto 9 auto pistol. The extra weight does reduce a little bit of the felt recoil, but it is still a loud and fun gun to shoot none the less.
Power: 300 FPS
Model: 92F M9 93R
The Tokyo Marui Biohazard Albert W. model 01P Umbrella Corporation GBB pistol is modeled after the same pistol used by the character Albert Wesker from the popular Biohazard/Resident Evil video games series. The pistol is a modified M9 style pistol featuring the villainous Umbrella Corporation logo, giving this pistol a degree of collectability that sets it apart from your average airsoft replica. The Biohazard Albert W. model 01P is also a full functioning airsoft gun as you can still take it out to games if you so desire.

Adding to the immersion factor, you will find that there is Umbrella Corporation literature in the box. Along with many of the previous Biohazard/Resident Evil guns, this one is also highly collectible.
Power: 340 FPS
Model: Desert Eagle
The Cybergun Desert Eagle by WE is undoubtedly one of the biggest and one of the hardest kicking handguns on the airsoft market today. In addition to being full metal, this Desert Eagle airsoft gun is fully licensed by Cybergun so you can expect it to have all the correct IMI and Magnum Research markings making it the most aesthetically realistic Desert Eagle airsoft gun in existence.
Being one of the hardest kicking Green gas pistols in airsoft, it is naturally not designed for small hands as its strong recoil spring means that the slide locks back into place with a very loud and solid slap with an attractive blowback sound being music to your ears.
Most importantly however is the sheer breadth of models available with the Cybergun Desert Eagle coming in a variety of makes and colors ranging from silver, black, gold, two tone and even special edition custom Deadpool versions. Ultimately the Cybergun Desert Eagle is easily one of the most gratifying pistols to shoot in airsoft to this day.
Power: 300 FPS
Model: CZ75
The ASG CZ Shadow 2 is the highly anticipated follow up to the renowned CZ Shadow 1 (SP-01) and is a culmination of gunsmithing know-how and competition pedigree, all of which is apparent in the ergonomics and shooting experience of the pistol.

The airsoft version is an extremely faithful replica of the real steel version. The weight is extremely close to the real gun and all the ergonomics translate perfectly. The weight of the gun softens the recoil impulse of the pistol which in turn can help with added accuracy during rapid shooting. The new slide profile adds more surface area for manipulation and the more aggressive slide serrations offer a better purchase for your hand.
Power: 340 FPS
Model: P09
With its origins in the legendary CZ 75, the P09 is the latest step in an ongoing evolution that stretches back to 1975. Not only does the KJ Works P-09 'Duty' look amazing, the feel of it from the materials and the way it shoots is just as brilliant. Featuring a polymer frame with a metallic slide and an accessory rail for all your needs, the grip also has comfortable texture to handle the substantial recoil from its snappy report. You can also expect all the correct markings to be there as this P09 is fully licensed by ASG.

The P09 cycles very smoothly and clocks in at around 340 fps due to the relative light weight of the slide, so we recommend this CO2 version be used only for outdoor skirmishes. The P09 also comes in a gas version, but the magazines are neither compatible with the CO2 or the previous CZ-75 so it is recommended to double check
Power: 300 FPS
Model: Hi-Capa
The Novritsch SSP1 is the first pistol released by renowned airsoft sniper Novritsch, built from a proven Hi-Capa design and featuring an all-metal construction with a CNC aluminum slide for rapid shooting, the SSP-1 is a solid evolution of a dependable design with the performance to match.
Serrations on the back and front of the slide make for easier racking while also giving it an aggressive appearance and the SSP-1 also features an accessory rail and an 11mm internal CW thread to mount numerous accessories with an extended beavertail, thumb safety and slide release making it quite comfortable to shoot.
Furthermore, thanks to its solid all-metal construction, the SSP-1 is a pistol that can take both gas and CO2 right out of the box, giving you an option to run this pistol in different climates.
Power: 300 FPS
Model: Hi-Capa
Widely considered to be one of, if not the best Tokyo Marui guns and the go-to benchmark for all airsoft gas pistols on the market today, the Tokyo Marui Hi-Capa 5.1 GBB pistol is the go-to choice of Action Air (Airsoft IPSC) shooters thanks to its fast cycling, exceptional FPS stability, and near-perfect internal gas system construction. The Hi-Capa is by far one of the best pistols on the market to this day even though it's not new. In addition to all of this, the Hi-Capa has access to the widest selection of airsoft upgrade parts out of any gun on the market, making it a truly great pistol.
Power: 300 FPS
Model: Ruger Mark IV
Based off the popular Ruger MK4 22LR pistol, this unique-looking handgun features fiber-optic sights, an adjustable hop-up and exceptional performance across a variety of tests and conditions. Action Army not only released a great pistol but along with it, they released a whole ecosystem of products that allowed you to customize it how you want. This in turn inspired many other manufacturers to do the same, making the AAP-01 a pistol with numerous possibilities. However, perhaps the most interesting thing about this model, though, is the fact that it is one of the few airsoft pistols on the market today that includes a selector switch that allows you to seamlessly switch between semi-auto and full-auto fire. Best of all, the Action Army AAP-01 Assassin Pistol costs less than $100 to own, making it one of the most affordable entries on our list.
Power: 345 FPS
Model: G Series
The Glock 17 Gen 5 is the latest generation bringing several small improvements over the previous versions to make this the best so far. As for the airsoft version, the pistol has great recoil and one of the best pistol triggers in the market today. If you are looking for an affordable yet high-quality Glock replica, you cannot go wrong with the Umarex Glock 17 Gen 5 since it is the most popular Airsoft pistol in its class. This attractively priced handgun also features a metal slide, licensed Glock markings and shoots at a competitive 345 FPS. If you are looking for something a notch up, then consider the Umarex Glock 17 GEN 3 Gas Airsoft Pistol with a steel slide made by GHK also on this list.
Power: 330 FPS
Model: MK23
The SOCOM MK23 was designed with input from Special Forces operators and was considered one of the earliest modern special operator pistols. It packed many cutting-edge designs and technologies of the times and was extremely accurate. Though it was never adopted fully by the military, it gained something of a cult following after prominently featuring in the hit video game Metal Gear Solid.
This exceptional offering from Tokyo Marui features an included silencer and flashlight/simulated laser attachment in addition to offering high FPS and plenty of value for its cost. While some may be turned off by its lack of recoil, the lack of blowback makes the MK23 nearly silent when shooting, an ideal choice for snipers or players that enjoy sneaking around the field.
Power: 300 FPS
Model: G Series
If you are looking for a custom Glock airsoft pistol, you cannot do better than the RWA Agency Arms EXA. A combination of two top-tier firearm licenses, Agency Arms and Lone Wolf Manufacturing, the RWA Agency Arms EXA Gas Pistol is a stunning handgun that features multi-magazine compatibility, a stippled frame for optimum grip, an ambidextrous magazine release button, fiber optic front sight, integrated low profile magazine well, and excellent performance across a variety of environments and conditions. It also fits Glock accessories including holsters and lighting options. The RWA Agency Arms EXA was nominated as Best Pistol of 2021 by the Players Choice Awards.
Power: 300 FPS
Model: P320 M17/M18
The SIG AIR P320 M17 is a full 1:1 replica of the P320 M17 which is also the current service pistol used by the U.S. military. Its tan coloring and snappy recoil are great attributes for players that want something different from a modern pistol and its grip angle offers a great purchase on the gun.
Additionally, the P320 M17 is compatible with both Co2 and green gas magazines, making it an excellent choice for those who can't decide between a Co2 or green gas pistol.
Power: 300 FPS
Model: G Series
A crop above pedestrian models, this steel slide Umarex Gen 3 Glock from GHK is widely considered the best airsoft Glock that money can buy. The gun features some "firsts" for airsoft, including over-molding, a realistic 5 lb trigger pull and a blowback cylinder that is molded into the slide itself, producing a greater but realistic recoil impulse. Combined with the heavy trigger, the strong blowback of the Umarex Gen 3 Glock from GHK delivers a very realistic shooting experience, although it may pose challenges for newer shooters. In addition to accurate trademarks, the dimensions of this airsoft gun are exactly the same as the real Glock allowing it to fit real Glock holsters and equip accessories like flashlights and lasers, making it the perfect training weapon.
Power: 240 FPS
Model: 1911
The Colt 1911 is one of the most recognizable pistols of all time; a classic American icon spanning over a century of use from WWI all the way through present day and has since evolved into many different variations to include modern ergonomics. The M45 MEU has been the standard-issue sidearm for the USMC Force Recon since 1985 and the Tokyo Marui MEU should be staple for any serious player's loadout.
Featuring an attractive design, impressive performance, and quality Novak sights, this pistol certainly offers a lot of value considering its sub-$200 price. In the same vein, the internals are just as well done as the externals, and the Tokyo Marui 1911 platform enjoys a large library of aftermarket upgrade parts to increase power and accuracy.