PMC Load Out Guide for Airsoft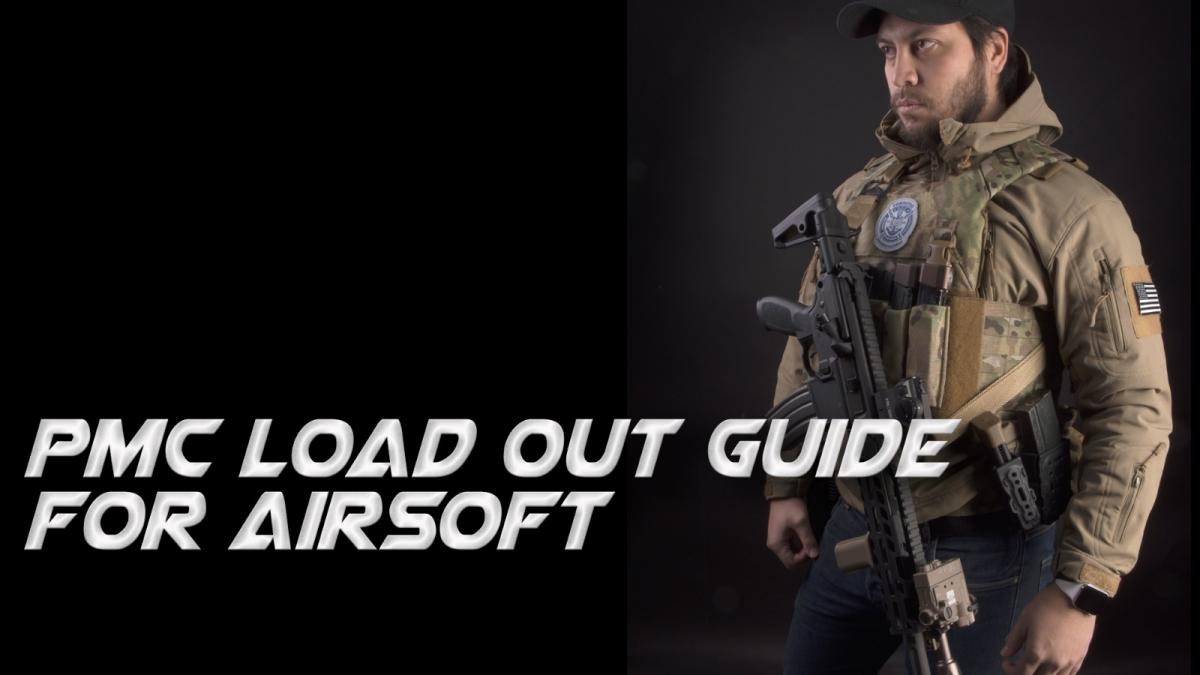 Creating realistic load-outs and outfits is half the fun of airsoft. Some days, though, you may feel like hitting the field in attire that is a little more casual than a full military uniform. The good news is that there is a way to tone back your airsoft clothing/loadout while still maintaining a level of realism: creating a PMC loadout.
PMC stands for "Private Military Contractor", and these citizen soldiers have been involved in military operations across the globe ever since the early 1990s. Since PMCs are employed by private companies rather than Uncle Sam (the government - this case the U.S. government), there are far fewer restrictions regarding the clothing and gear that they are allowed to take into the field. This means that you'll have a lot more variety to choose from when creating a PMC loadout for airsoft.
With that said, you'll still want to pay attention to a few key details if you want your loadout to be recognizable as a PMC loadout. To help you create a PMC outfit and PMC airsoft loadout that will complete your private military contractor look while at the same time giving you a competitive edge whenever possible, we'll take a look at some of the best clothing and gear available today for putting together an airsoft PMC loadout.
What Goes Into a PMC Loadout?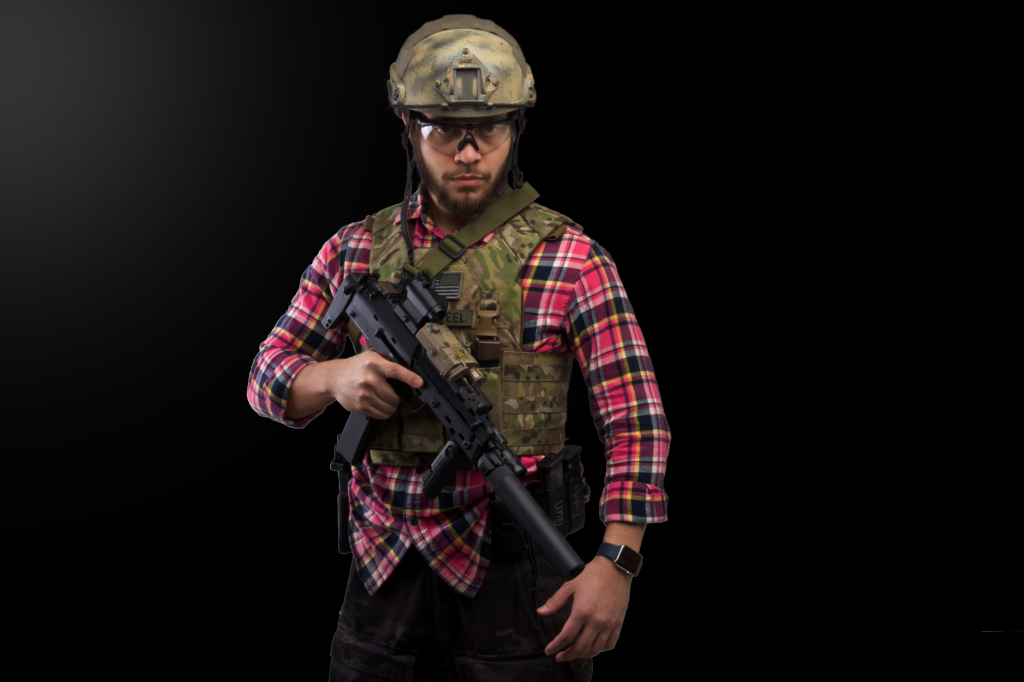 If you want to actually look like a private military contractor and not some average Joe off the streets armed with an assault rifle then small details matter. For starters, private military contractors almost never wear Multicam or any other modern camouflage pattern. The reason for this is that PMCs want to remain distinguishable from actual military units, especially ones that they might be contracted to work with.
Instead of camouflaged uniforms, PMCs typically wear solid colors that match the color of the terrain where they are operating or patterned shirts like flannel. Solid black is also a common color choice for PMC attire, as is any combination of black and solid colors matching the terrain. As for the specific solid colors often worn by PMCs, coyote brown, tan, black, and olive green are all common choices.
Aside from avoiding camouflage patterns, though, the sky is really the limit when it comes to assembling the right gear and clothing for a PMC loadout. This provides a lot of room for variety and mixing and matching on the days when you don't feel like limiting yourself to standard military attire and is the biggest reason why PMC loadouts are so popular among many airsoft players.
Clothing for a PMC Loadout
If you would like to create a PMC outfit, choosing the right clothing is a great place to begin. Let's start with the pants you'll need for a PMC loadout. Many private contractors choose to wear blue jeans during their missions, and this is certainly an option for an airsoft PMC loadout as well. However, blue jeans tend to stick out quite a bit; while stealth isn't always a concern for actual PMCs, it is a necessity for most airsoft players, meaning that blue jeans might not be the best choice from a tactical perspective. Instead, we recommend the OPS Stretchy Stealth Warrior Pants in Shadow Grey. These combat pants feature a lightweight, stretchy material that offers maximum mobility and comfort. They also feature a solid, dark grey color that is easily distinguishable from Multicam military pants while at the same time providing more camouflage than brightly-colored blue jeans.
Next, you'll need to choose a shirt. Once again, the sky is the limit, and you can really wear any solid-colored shirt you'd like when creating a PMC outfit. If you are looking for an option to get you started, the OPS Power Stretch Combat Fleece is a great piece of clothing to consider. This fleece comes in a coyote brown color that makes it quite similar to the shirts typically worn by private military contractors. It also features plenty of pockets and zippers for storing your magazines and extra gear if choose not to wear a combat belt or chest rig. The only thing to keep in mind with the OPS Power Stretch Combat Fleece is that it is a thicker shirt designed for cold weather. If you live in a warmer climate or you are putting together a summer loadout, you may want to choose a shirt that is a little lighter and more breathable.
If you want to wear face protection to avoid the unpleasant experience of having a BB hit you in the bare face, the Laylax (Battle Style) Aeroflex Face Guard is a great choice. In addition to protecting your face, this solid black face guard is also sure to make your PMC outfit much more intimidating - and intimidation is often something that real PMCs strive for in their clothing choices. The best part about his mask is that theres a pocket for you to insert extra mesh protection to protect your nose and mouth!
Next, you'll want to purchase a good pair of gloves. Gloves are especially important if you are playing in colder weather, but they are nice for protecting your hands from blisters even when the weather isn't all that cold. They're also great for completing your private military contractor look. With that said, we recommend the PIG Full Dexterity Tactical Gloves. PIG is known for producing exceptional quality airsoft gloves, and these specific gloves feature a black and coyote brown color pattern that makes them ideal for a PMC loadout. As an added bonus, you can still operate your smartphone while still wearing these gloves.
Finally, you'll need a good hat - both to complete your PMC outfit and to keep the sun out of your eyes while you're aiming. We recommend the Ronin Tactics Team Ronin Hat. While this hat does feature some camo, it's woodland camo as opposed to Multicam or another modern camo pattern and thus still right at home in a private military contractor loadout.
All of these clothing items are perfectly suited for a PMC outfit. For even more options to choose from, though, be sure to browse through more airsoft clothing recommendations.
Tactical Gear for PMC Loadout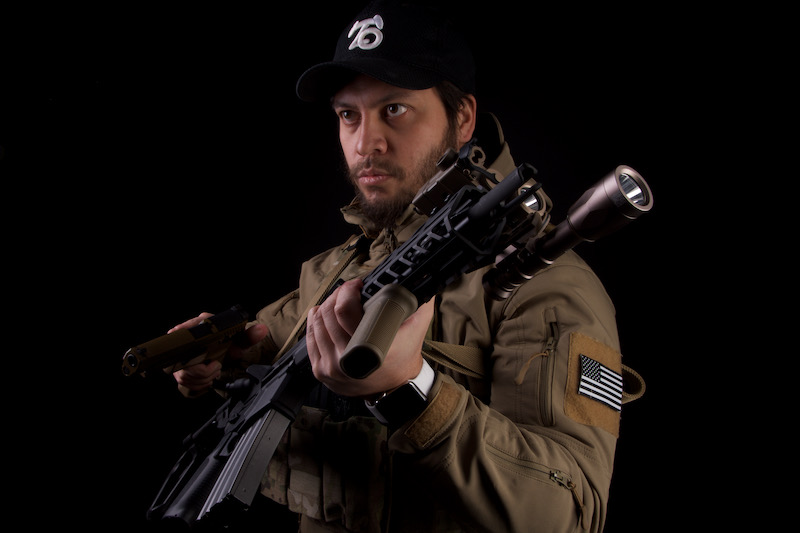 When it comes to selecting gear for a PMC loadout, avoiding modern camo patterns isn't quite as important as it is when choosing clothing - and many private contractors will indeed utilize camouflaged gear as long as the rest of their outfit is easily distinguishable from that of an actual military outfit. This means that there really is no limit to the gear you can take into the field when you're going for a PMC look.
However, one thing you will certainly need is good eye protection. The Pyramex I-Force Slim Safety Goggles are a great choice to consider, as these goggles feature a solid black color scheme in addition to high-quality anti-fog lenses.
A plate carrier can be a nice addition to have as well - both for storing your extra gear and providing an extra layer of protection for your torso. If you would like to purchase a plate carrier that will be right at home in either an airsoft military loadout or a PMC loadout then you can't go wrong with the OPS Rapid Responder Armor Plate Carrier.
A good holster is a must if you plan to carry a sidearm, and the GK Tactical 63DO Holster is one of the best holsters on the market today. Just keep in mind the fact that this holster is designed specifically for G17/G18 airsoft pistols; if you carry a different model sidearm then you will need to choose a holster that is designed to fit your gun. Of course, utilizing a holster also requires you to wear a quality belt, and the OPS D-Ring Cobra Warrior Belt is a great choice for PMC loadouts and military loadouts alike.
The final piece of gear you will want to consider purchasing is a rifle sling. Carrying around a rifle all day without the use of a sling can quickly become tiresome, and you are sure to appreciate the extra degree of comfort and mobility that a good sling offers. With that said, the WoSport MS3 Double Point Sling is a great product that will fit almost any airsoft rifle.
Conclusion
Just remember that the beauty of an airsoft PMC loadout is the fact that you can really mix and match just about any gear you want while still maintaining a realistic look. While all of the products we've listed are great choices for PMC gear, feel free to check out more airsoft gear recommendations and more airsoft loadout recommendations as well.