8 Best Airsoft Masks: 2022 Ultimate Guide | Redwolf Airsoft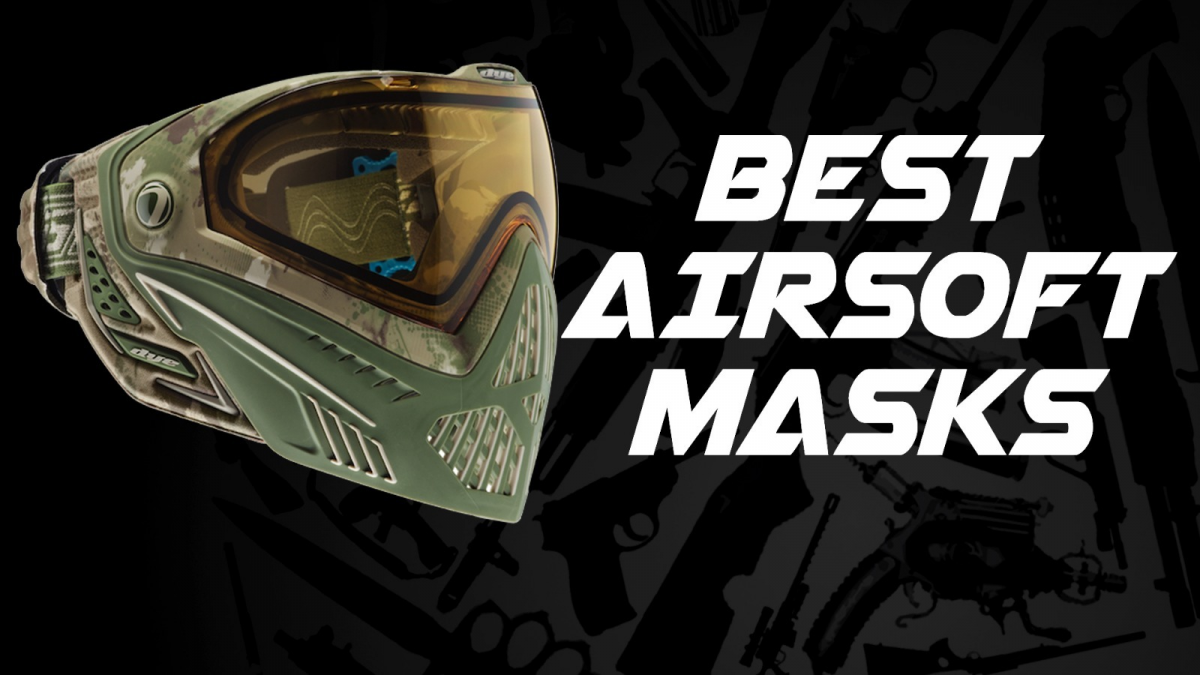 Much like other action sports, it is important to consider personal protection when we play airsoft. What part of our body needs better protection when we play than our eyes and face? As we run around shooting BBs, there will always be a potential risk of injury (because sometimes airsoft can hurt) whether directly or indirectly every time we pull the trigger. This means when we play airsoft, one of the most important pieces of gear is the mask. There is no "one size fits all" solution to what can be considered the "best" mask. However, there are different options for different players and situations!
What Makes a Good Airsoft Mask
A good airsoft mask should provide at the very least a basic amount of protection to the wearer's face. Ideally, they should be made from high-quality nylon, plastic/polymer, or lightweight metal mesh. These materials when used or even used together combine for some of the more popular and often seen airsoft facemasks. Other than materials, comfort and retention play a big part in how "good" your mask can be. An example of this can be certain airsoft full face masks. These have good protection, use robust materials, and are comfortable to wear. Not to mention it stays on your head comfortably by using adjustable straps. These are some of the reasons why the full face mask is one of the best airsoft masks.
Materials
As previously mentioned, some of the materials are important. The ones to look out for are nylon, plastic/polymer, and metal mesh. The reasons for using these materials are threefold: weight reduction, protection, and ventilation. Though you may see these materials used by themselves on certain products you will be far more likely to see a combination of these materials used together. Airsoft half masks are usually mesh and nylon. Full-faced masks can be made from plastic or polymer. Some might come with eye protection!
Eye Protection
As we briefly touched upon earlier, it's important that we protect both our face and our eyes and in the previous paragraph, we have established that some facemasks come with eye protection. Probably the most important organ on our face, our eyes deserve the best and in such when looking for eye protection we consider a few factors. Firstly, clarity is crucial. In order to be aware of potential harm, you must be able to see potential harm. Secondly, materials. We cannot stress enough the importance of high-quality materials when it comes to airsoft goggles. High-impact resistant acrylic is usually the best option for this as it is able to absorb a high amount of force directed at it and not shatter. Finally, design. Some eye protection comes standard with an insert that can you clip to the inside of the goggle or glasses which offers full seal. This means you will be protected from shattering BBs, stray debris, or other foreign objects flying into your eyes.
Straps
While this can be something of a preference, there are many practical applications to having adjustable straps for your eye protection. Starting with the obvious, having straps help to better secure your eye protection to your head when wearing them, especially when you are using more glasses style eye protection. This allows for better retention when quickly moving your head around and prevents dropping. This only applies to more glasses-style eye protection as goggles already feature straps.
Styles
As we alluded to earlier, there are indeed different styles of eye protection. While the glasses style of eye protection is more "stylish" if you are looking for optimal protection, the goggle style would be a better choice. Goggles already provide full seal and offer a high degree of impact resistance. Their wide bungee straps ensure that they can wrap around many different head sizes and even helmets! Many of the goggles have upper and lower vents for better air circulation and foam inserts around the face area for comfort. There are different airsoft facemask styles as well and as we have previously touched upon!
Our Picks for Best Masks of 2022
Before we get into our picks here are some of the criteria for being on this list. The masks are judged on personal experience, overall reviews, and testing. These masks include full face airsoft masks, half facemasks, and even masks designed to work with head protection! Other factors are points we mentioned earlier. These are materials, comfort, ventilation, weight, etc. We have eight picks in total, ranging from best all-rounder, best for snipers, best half mask, and many more!
#1

Best All Around Pick

-

Dye i4 / i5
Starting strong at number one is the best all-around pick. This honor goes to the Dye Precision both the i4 and i5 series. Originally designed for paintball, these masks have made the crossover into airsoft with wild popularity! Primarily made from lightweight, flexible, yet highly robust plastic or polymer the mask provides ideal impact resistance and protects the user's full face! Its retention design is unique and fits snuggly to the wearer's head. For an airsoft full facemask, Dye Masks are remarkably lightweight and though they might look bulky, they are not cumbersome! As an additional benefit, they also come with eye protection. The foam around the lens offers a full seal. The lens itself is highly impact-resistant because it was designed to withstand the higher forces from paintball!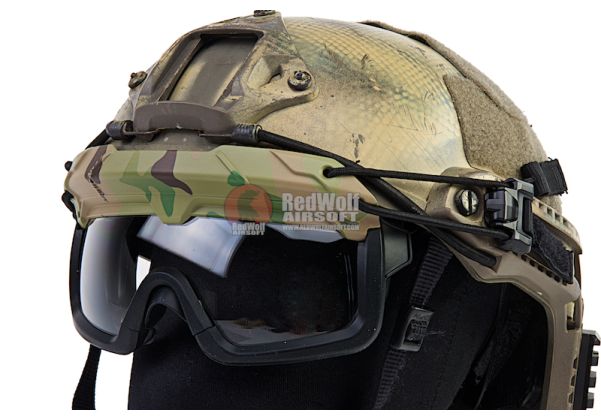 We talked about clarity when considering eye protection and for the player that doesn't want full face protection, this SF QD goggle set is probably going to be the best option for you! The goggles being helmet mountable makes them very versatile and the fit is exceptional. Being QD means they can be quickly attached and detached to your helmet as well. But probably their best feature is their anti-fog ability. We have a video about them, comparing them to different eye protection and seeing that they are able to keep clarity makes them score very high in this category! Their durability is also an understatement!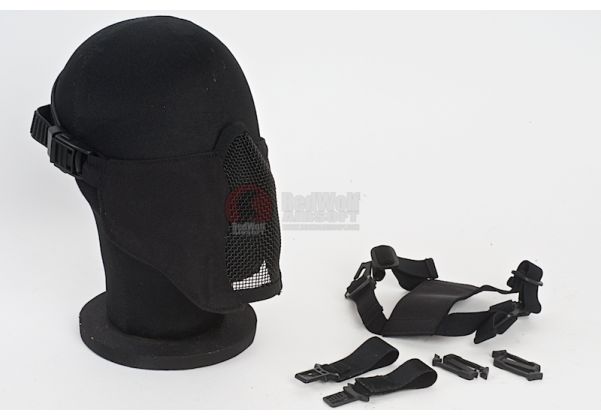 This third mask on the list is ideal for the airsoft sniper. When we think about clear aiming we usually think about the scope or what eye protection we are wearing but seldom do we think about the proper cheeking of our rifle. When we are operating behind a scope with magnification, we deal with something called "eye-relief". This refers to the distance between the eye and the scope. For us to be able to get a good view through the scope, it's absolutely crucial for us to have a good alignment between our eye and the scope itself. The TMC PDW soft side 2.0 mesh mask solves a problem often seen on other mesh masks. The sides are soft padding wrapped in nylon. This provides good protection, the ability to cheek and align your rifle scope with your eye, and comfort. Not to mention the hard mesh that protects your nose and mouth.
The Laylax Battle Style Aeroflex Face Guard is probably one of the most modular airsoft masks you can find right now on the market. This easy to use mask is soft and has different pockets for you to fit different plastic guards offering great protection while allowing you to still cheek your rifle!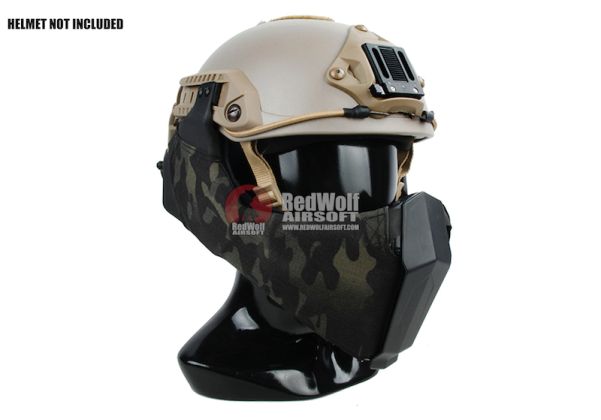 The TMC Mandible is probably one of the most unique airsoft facemasks available. Being helmet-mounted, made from hardened polymer, and wrapped in tough nylon, the mandible is one of the most robust airsoft masks you can buy. However, where the mask shines the most is its breathability. The reason for this is partly due to the fact that upon mounting, there is a distance between the wearer's face and the inside of the mask. This offers better airflow and can be used in all conditions. The hardened polymer shell that wraps around the mask allows for high impact resistance especially in CQB situations and it works with a wide variety of eye protection like the SF QD goggle.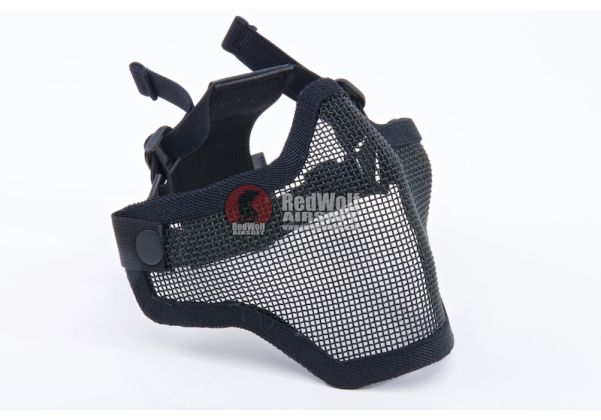 The half-face mask is probably the most popular if not actually the most popular airsoft facemask. The reasons for its popularity is easy to see, as it offers great protection, it's highly breathable due to its usage of mesh, and it's very comfortable to use with other pieces of protective gear such as helmets and eye protection. The TMC V1 takes this to another level by utilizing steel mesh for added protection. The rear straps are also extremely comfortable as its surfaces are wide and flat. The nylon used to hold everything together is robust but not irritating to use on bare skin. Its only area in which it can be lacking is it doesn't come with eye protection like the Dye Masks. But that was never the original intention.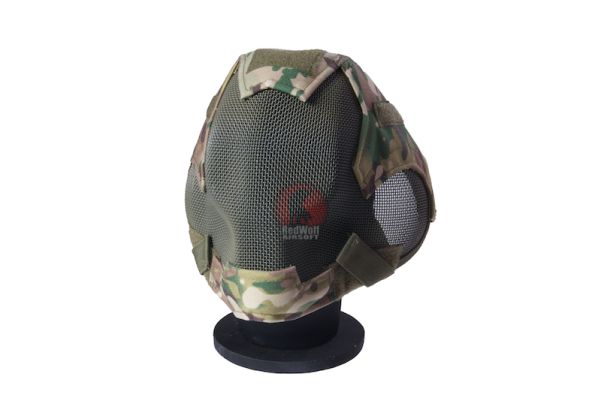 Some players love the security offered by a mask that can protect your whole head. Though this airsoft mask isn't the most popular, it's something recommended especially for younger players or concerned parents. The full head IM style mesh airsoft mask is able to protect the player's whole head including the ears. The main structure of the mask is made using mesh making it breathable. Secondly, the mask features robust nylon fabric which adds to the durability. One of the added benefits of having a mask like this is the ability to keep the ears safe. Usually, many masks do not wrap around the ears and can leave them exposed, but not with this one!
The final mask on our list is the SPT mesh airsoft mask. The mask while is considered a mesh mask, it features some flexible polymer shielding on the sides, giving it added protection. The mask is also mountable to helmets making it extremely comfortable and easy to use. The SPT airsoft mesh mask has another great attribute, it looks great! The styling of the mask is shaped like a Spartan helmet and works great with futuristic load outs or cosplay!
To Mask or Not to Mask
At the end of the day, the goal we set out to achieve with this post is to not only talk about the importance of airsoft masks but to highlight the many different types that can best suit you as a player. Often times we are confronted with questions like "what are the best airsoft masks" or "do I need a mask for airsoft"? The simple answer is there's no "one size fits all" solution for everyone, each player has their own set of needs and desires. And while there are certainly masks such as the Dye Masks that can come close to being near perfect, some might prefer the option of choosing their own eye protection or love the increased ventilation of using mesh masks. However, to answer the latter part of the question: do I need a mask for airsoft? We would absolutely recommend it as it truly does form an essential part of our gear setup!