Best Airsoft Hi Capa: 2023 ULTIMATE GUIDE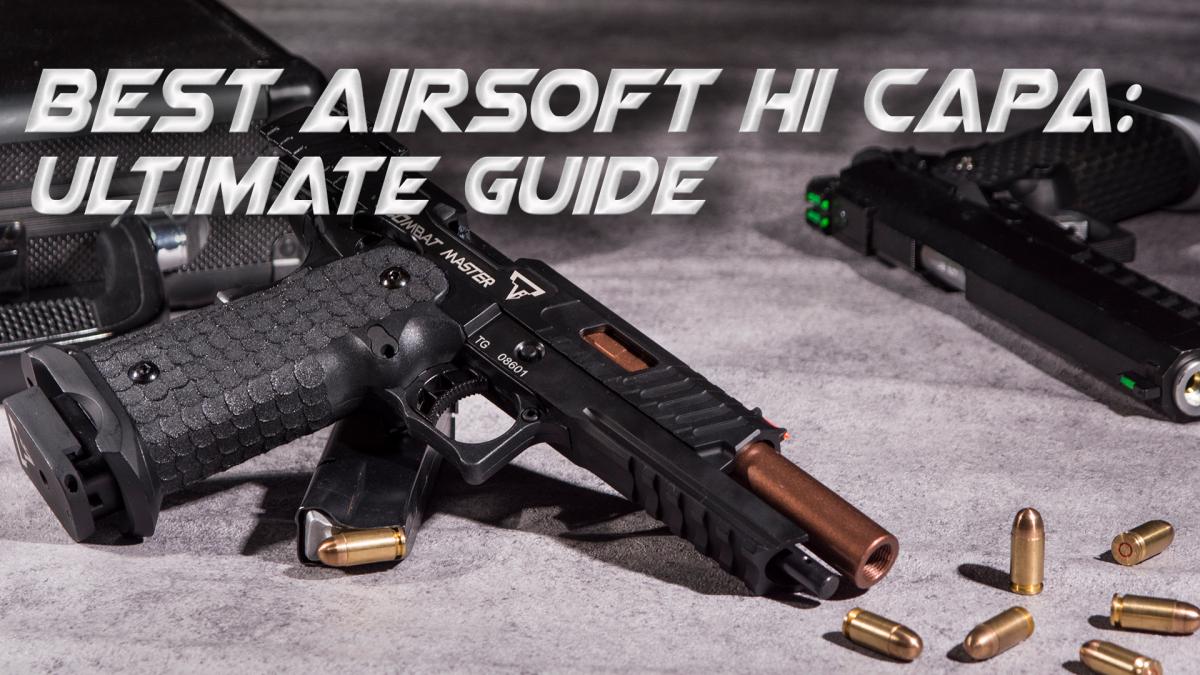 What to Know about Hicapa Airsoft Pistols
The Colt M1911 is easily one of, if not the most iconic handguns made in the past two centuries, first issued in 1911 and serving as the US Armed Forces' standard sidearm for an astonishing 74 years. However towards the latter half of the 20th century the single stacked 1911 with its limited seven round magazine started to find itself overshadowed by a plethora of newer double stacked pistols that could hold almost double the number of rounds leading to several companies like Springfield and Nighthawk Custom to offer double stacked versions known colloquially as 2011s.
In airsoft however the double stacked 2011s are nicknamed 'Hi Capas' after the legendary Tokyo Marui Hi Capa series of pistols, the 'hi capa' ostensibly standing for high capacity in reference to their magazine size. Airsoft hicapas hold a significant performance advantage over airsoft 1911s in that their larger double stacked style magazines hold a significantly greater volume of gas than the former making hicapas less likely to run out of gas ingame before the bbs are expended. These performance boosts have made hicapas easily some of the most popular airsoft pistols on the market today and without much further ado, here are our top picks for Airsoft Hi Capas
HOW WE CHOOSE THE BEST AIRSOFT GUN
There are a number of important factors we considered when compiling our list of Best Airsoft Hicapas, these include:
FUN FACTOR– Airsoft is a hobby so airsoft guns must be able to generate joy. We look at recoil, sound, design, optional accessories, and overall awesomeness that make the gun interesting. Non-shooting models can also be fun, like a beautiful revolver with realistic ammo that you can load into a rotating cylinder. We rate each of our picks on how much pleasure you can derive from ownership.
REALISM – What makes Airsoft guns attractive for so many is that they replicate real guns. While many manufacturers try their best to recreate the details and feel of a real gun, some succeed while others fail horribly and end up with something more akin to a toy. We rate how real each of our top picks feels and looks.
PERFORMANCE – Power measured in feet-per-second (FPS), range and accuracy are the key metrics we use to determine the best airsoft gun. From there, we also prioritize airsoft guns with an adjustable hop-up and high-quality buckings to ensure that they give the consistency and accuracy you need. All FPS ratings are universally based on 0.2 gram BBs.
BUILD QUALITY – We look for good quality construction, materials and refinement not only in the external components but also internally. The fit tolerances, discernable wobbles and rattles, smoothness of operation, durability of components, etc are all considered.
VALUE – Affordably priced airsoft guns that rank highly in all the above categories are prioritized over more expensive airsoft guns that offer the same, as "bang for your buck" is an important consideration for most airsoft players. This criteria rates if you are getting more for your money compared to similar guns in the same class, meaning is it a good deal. For more information on how to determine the value of an airsoft gun, check out this article on what goes into the cost of an airsoft gun.
COLLECTABILITY – Sometimes an Airsoft gun stands out simply because it is unique either because it's not produced by anyone else or holds enough of a cultural or collectable value to make you want to have a piece of history regardless of its utility. This criteria in particular rates whether the gun is a must-have for collectors. Some rare or limited edition Airsoft guns even appreciate in value in the secondary market and we rate their investment value where applicable.
---
Star Ranking
Best performing and category-defining all-around airsoft pistol that all other brands aspire to beat, making it a staple for anyone's armory if you can overlook the plastic slide. Good cold-weather performance thanks to its light plastic slide, making the Tokyo Marui Hi Capa 5.1 an all-season performer. Don't be fooled by the plastic construction which is required by Japanese law. We find the plastic slide and grip to be very high quality, and the primary components are all housed within the metal mid-frame. While based on the real double stack 2011, the Hi Capa 5.1 is actually a fictional model.
However, there are numerous metal upgrade slide options and grips can turn this into something much more realistic. People who choose the Tokyo Marui Hi Capa 5.1 take the approach of starting with a very good engine and then customizing the external parts around it to end up with an amazing pistol. Numerous options to upgrade by exploring the huge aftermarket parts market that can make this the perfect pistol for IPCS competition or skirmishing. If upgrading parts seems like too much trouble, then consider its more dressed up sibling, the Tokyo Marui Hi Capa 5.1 Gold Match.
Star Ranking
The Novritsch SSP1 is the first pistol released by renowned airsoft sniper Novritsch, built from a proven Hi-Capa design and featuring an all-metal construction with a CNC aluminum slide for rapid shooting, the SSP-1 is a solid evolution of a dependable design with the performance to match. Manufactured for Novritsch by KJ Works, the SSP-1 represents a tuned upgrade from KJ's own factory offerings with Novritsch's extensive gaming know-how. Serrations on the back and front of the slide make for easier racking while also giving it an aggressive appearance and the SSP-1 also features an accessory rail and an 11mm internal CW thread to mount numerous accessories with an extended beavertail, thumb safety and slide release making it quite comfortable to shoot. Overall it's an ideal and good performing starter gun for new players who don't have the experience or time to fuss with upgrades or tuning.
Star Ranking
The Army Armament TTi Combat Master is a fully licensed pistol that is patterned after the famous pistol used in the movie "John Wick". This pistol is a faithful reproduction and offers a satisfying shooting experience. Being designed around speed and competition shooting, the control surfaces are enlarged for faster access and even have ambidextrous safeties.
The gun boasts excellent ergonomics and handling, and it all starts with the high-quality stippling done to the grip itself. Unlike many other pistols that might come with a "stippled" looking that is molded, this one feel rough and grippy, making it very "sticky" to your hand in all conditions. The gun also has a relatively "long" line of sight, making target acquisition much faster and easier.
Star Ranking
The STI DVC 3-GUN is specifically designed to meet the needs of todays 3-gun enthusiast while keeping true to the DVC heritage of Accuracy, Power and Speed - Diligenta, Vis, Celeritas. Shoot flatter. Shoot longer between reloads. Consider the performance critical handgun portion of your 3-gun arsenal duly covered.

The airsoft version from EMG is a highly faithful replication of the famed pistol from STI. The cycling action is fast and snappy and breaks well. As a gun designed to be a run gun from the ground up, it almost drives the shooter to go faster and coupled with high gas efficiency, the gun is well designed for IPSC and 3 Gun.
Star Ranking
The G&G GPM1911CP is G&G's foray into the Hi-Capa style pistols and on the surface, the pistol has all the trappings of the modern Hi-Capa. Featuring heavy weight reduction to the slide, the GPM1911CP has several weight saving cutouts and serrations for faster recoil and easier manipulation. The sights are easy to read for quick target acquisition and the tactical rail allows for the mounting of different lights or lasers.
Internally, the pistol features G&G's gas system that has been proven to be fairly gas efficient, improves recoil impulse, and ensures a lower cool down making this an efficient and skirmishable pistol.
Star Ranking
AW Custom strives to provide Airsofters with high quality guns that come directly from the factory already pre upgraded to perform to their maximum potential instead of simply change the finish of the gun and label it as custom. As such, the AW HX20 has been modified with enhanced features that truly improve the comfort, performance and efficiency of the gun as well as cosmetic upgrades that are not generally seen in an out of the box gun. Custom finishes, improved grips, sights and ergonomic modifications as well as improved performance and gas efficiency are hallmarks of the dedication AW Custom puts into providing their clients with the highest quality Airsoft products possible
Star Ranking
KJW's KP series of hicapas are well known for being affordable and reliable workhorses with solid full metal exteriors, giving them an authentic weight and feel but still having a competitive level of performance that makes them excellent secondaries especially in adverse outdoor environments.
Internally the pistol is designed to handle prolonged use under green gas and CO2 which gives you very satisfying recoil impulse and snappy cycling as well as a well earned reputation for reliability that ensures your pistol will continue functioning for years to come.
Star Ranking
EMG has extended their collaboration with the Salient Arms and is proud to release the Salient Arms x EMG DS 2011 collaboration Airsoft Training pistol. Manufactured with an eye to detail the EMG SAI DS 2011 is CNC machined from aluminum alloy and features all of the trademarks of a Salient Arms pistol, incuding: a titanium nitride style barrel, competition style sights with fiber optic front insert, ambidextrous safety and, of course, stamped Salient Arms International rollmarks.

Utilizing the Tokyo Marui Hi-Capa gas system, the Salient Arms / EMG DS pistol can be upgraded from a wide pool of available parts and components, ensuring easy repair and maintenance and years of reliable service.