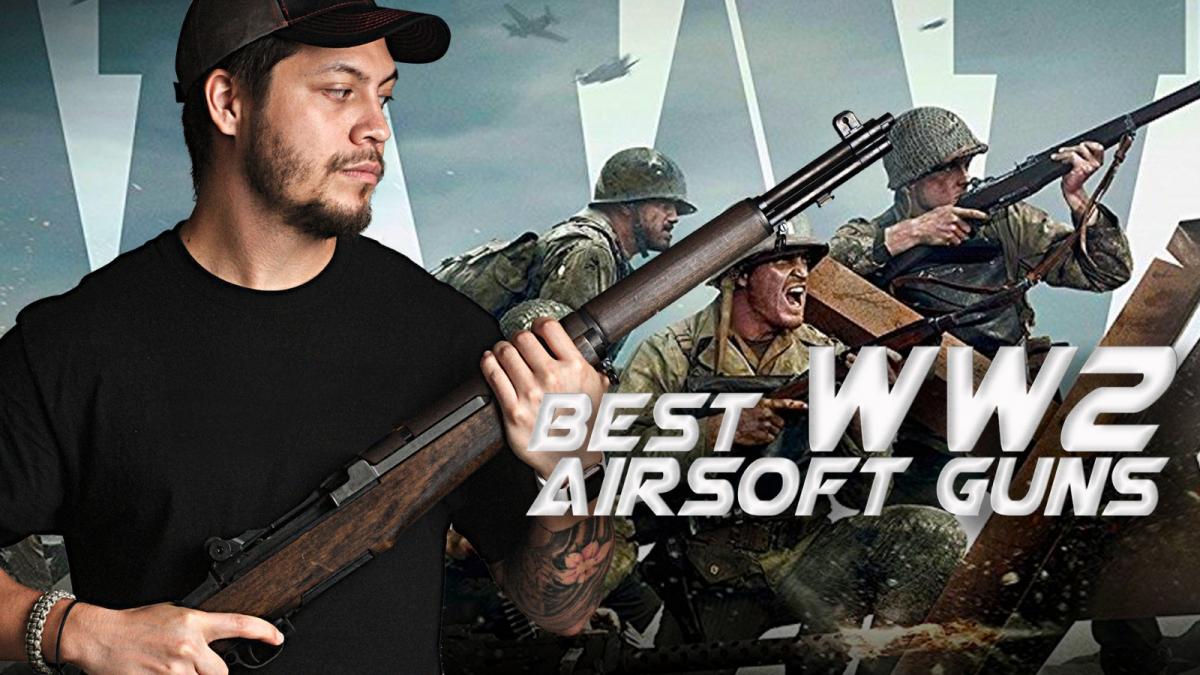 The Second World War is by far the most iconic and captivating period of modern military history and a period of history that is often reenacted on airsoft fields across the country. To participate in an event that replicates a WW2 battle, though, you need guns and equipment that are true to the era.
Thankfully, there are a number of different high-quality airsoft guns that are designed to perfectly replicate the firearms used by axis and allied forces during WW2. To help you choose a high-quality and true-to-the-era firearm for your next WW2 airsoft event, we'll take a look at the types of guns that dominated this fascinating era and offer a list of the best WW2 airsoft guns on the market today.
Types of Guns Used in WW2
WW2 began in 1939 — a period of time when the technological revolution was just starting to begin. Nations across the world had made a number of technological advances since the previous world war, and these advances showed up on the battlefield in the form of devastating new weapons.
Fully automatic firearms that were compact enough to be deployed by a single soldier such as the Browning BAR and the Thompson submachine gun were issued for the first time to US soldiers in addition to the semi-auto M1 Garand that served as the primary battle rifle for US forces. For German soldiers, the MP40 was the submachine gun of choice, while the bolt action Kar98k was their army's standard battle rifle.
Of course, there was a wide range of other firearms used by the various nations that deployed forces in WW2 such as the Arisaka Type 99 bolt action rifle used by Japanese forces and the Lee-Enfield bolt action rifle used by British forces in addition to a number of other rifles, LMGs, and submachine guns used throughout the war.
Best WW2 Airsoft Replicas
The WW2 airsoft gun scene is relatively broad and does feature a wide variety of products from different platforms. Ranging all the way from electric to bolt action, from green gas to Co2 powered, these airsoft guns come in all shapes and sizes, making this group of airsoft guns incredibly diverse. With all that said, here is our list of the best airsoft guns from that era.
Price: $364.99
FPS: 390
Modeled after the Sten MK2 submachine gun used throughout WW2 by British forces, this eye-catching airsoft replica features steel construction, realistic recoil, and open-bolt full-auto fire.
The Sten was highly successful among insurgencies and resistance groups due to its simplicity and ease of use. The gun was also easy to produce in large numbers thus allowing for it to see extensive action in WW2 and notably the Korean War.
This airsoft version from Northeast is an incredibly faithful replica of the STEN. Its full auto shooting experience is exceptional and the weight in makes you feel like you are holding a piece of history in your hands.
Pros
1:1 Replica of the Sten MK2 British Submachine Gun
Steel Construction
Satisfying Recoil
Open-Bolt Full-Auto Firing
Cons
Only Compatible with Northeast Sten GBB Magazines
Some Players May Find the Sten's Design a Little Unwieldy
Price: $789.99
FPS: 300
One of the most eye-catching WW2 airsoft guns on the market today, the Marushin M1 Garand features a hyper-realistic design complete with a walnut stock that is sure to turn heads in addition to a magazine that ejects from the gun when it is empty just like a real M1 Garand magazine.
Few guns from that era can be as iconic as the M1 Garand. This particular version was the "tanker" as it featured a shorter overall length as it served with tank crews.
Aside from the aforementioned key points about this beautiful airsoft rifle, you will also find some modern airsoft amenities like an adjustable hop-up.
Pros
Gorgeous Walnut Stock
Realistic Ejecting Magazine
Cons
Pricey for a Semi-Auto Rifle
A Little Bulky
Price: $1,199.00
FPS: 270
Modeled after the iconic Mosin-Nagant bolt action rifle used by Soviet forces during WW2, this stunning battle rifle features incredible attention to detail — right down to the included ABS Socket bayonet.
Probably the oldest represented entry on our list the Mosin-Nagant was created as a direct result of the devastating loss the Russians had at the hands of the Ottoman Turks during the Russo-Ottoman of 1877-1878. During this war, the Turks were armed with Springfield repeating rifles that inflicted incredible casualties upon the then-Russian Empire.
The Mosin-Nagant was a joint rifle that was a combination of two different submitted guns. One was submitted by Sergei Ivanovich Mosin and a second by Léon Nagant. After finding the best of both submitted rifles, it was combined into one, creating the Mosin-Nagant.
Pros
Beautiful Design that Perfectly Replicates the Mosin-Nagant Battle Rifle
Cons
Somewhat Low FPF
A Price Tag North of a Thousand Dollars
Price: $364
FPS: 430
Modeled after the M1 Carbine used by US forces, the King Arms M1 Carbine is one of the more affordable WW2 airsoft guns in addition to being one of the better-performing options thanks to its high FPS. If you are looking for a lightweight, powerful, and affordable rifle that is true to the WW2 era then this beautiful replica is an exceptional option to consider.
The M1 Carbine was widely used by paratroopers as it was not as heavy and bulky as the M1 Garand.
Though the stock of the King Arms M1 is not real wood, it is highly realistic and already has a slightly distressed look about it.
Pros
High FPS
Affordable Price
Attractive, Realistic Design
Cons
Features a Synthetic Stock that is Designed to look like Wood as Opposed to a Real Wood Stock
Price: $229.99
FPS: 380
Of all the WW2 airsoft guns on the market, few are more iconic than models that replicate the infamous MP40 submachine gun used by German forces. This Umarex Legends MP40 perfectly mimics the MP40s design in addition to offering great performance and a highly affordable price.
The battle-worn distressing on the MP40 makes the gun look absolutely fantastic and can work well as even a display piece. An additional benefit that this gun brings to the table is that it is ideal for reenactors or filmmakers as it is very well made and highly accurate.
Pros
Affordable Price
High FPS and High Rate of Fire
Hyper-Realistic Design Complete with Battle-Worn Finish
Cons
Only Holds 40 Rounds in the Magazine
Features a few Plastic Components
Price: $2,399.00
FPS: 330
Modeled after the MG42 machine gun that wreaked havoc on allied forces throughout WW2, this highly realistic replica features an all-metal construction, a strong and satisfying recoil impulse, and a built-in bipod. While it's certainly one of the more expensive WW2 airsoft guns, the Shoei Maschinen Gewehr 42 is also sure to be the prize of any collection.
Probably most notable as one of the machine guns used against the allies during their storming of Normandy, this machine gun is one of the most well-made weapon systems of its time and still has an effect on many of the machine gun designs of today. Things like its interchangeable barrel and high cyclic rate are all aspects that have influenced the modern machine guns we know today. Making the MG42 a weapon system ahead of its time!
Pros
Realistic Recoil
Realistic Design and Feel
A High-Capacity Drum Magazine
Cons
Heavy and Cumbersome
A Price Tag North of Two Thousand Dollars
Price: 1098.83
FPS: 350
Modeled after the Browning M1919 used by US forces, this monster of an airsoft machine gun features a 5,000 round ammo crate box magazine complete with dummy rounds that feed into the gun for a highly realistic experience.
Iconically used by allied forces around the world the M1919 was a crucial part of the war effort. Having seen combat in all theaters of war the M1919 was not only a machine gun used in the battlefields of Europe but was also used across the grueling fights in the Pacific.
Pros
Realistic Construction and Operation
Provides the Perfect Rate of Fire for Long-Duration Cover Fire
A 5,000 Round Ammo Crate Box Magazine
Cons
Heavy and Cumbersome
A Price Tag North of a Thousand Dollars
3.

Rock ZB26 Steel AEG

(Limited Edition)
Price: $500.00
FPS: 300
The ZB vz. 26 is a unique machine gun made by Czechoslovakia in the 1920s and went into production during WW2 and saw extensive action. Being a considerably portable machine gun it was easily embedded with many ground troops and bolstered the ability of the fighting capabilities of smaller units. The ZB vz. 26 also influenced other machine guns such as the British Bren Light Machine Gun and the Japanese Type 96 Light Machine Gun.
The airsoft counterpart from Rock is a faithful replication of the real steel version. Being made from real wood and steel, the gun feels very realistic. An added bonus is the price, being highly affordable, any collector would be hard-pressed to pass this gun up!
Pros
Highly Affordable for an LMG
Full Steel Design
Cons
The Gun's Steel Components are Somewhat Prone to Rusting and Need to be Oiled Regularly
May Require some Minor Hobbyist Turning
Price: $449.99
FPS: 440
The G&G G980 is a high-performing bolt-action rifle perfect for long-range WW2 engagements. While the design of the G&G G980 may not be as detailed as more expensive WW2 airsoft guns, this rifle still offers an eye-catching construction as well as great performance thanks to its high FPS.
This rifle is great for distressing giving it a battle-worn look. It also comes with two magazines making it a capable rifle for gaming.
Pros
More Affordable than Most WW2 Bolt Action Rifles
High FPS
Cons
A Design that Falls a Little Behind in Terms of Aesthetics Compared to More Expensive Airsoft WW2 Bolt Action Rifles
Only Capable of Holding Nine BBs in its Magazine
Honorable Mention:

RWA MG34
Price: $1,480.00
FPS: 360
As machine guns go, this is about as iconic as a weapon can get from the early 20th century. Produced in 1934 the MG34 was a recoil-operated, air-cooled machine gun used by the Germans during this period. In many aspects, this machine gun represented a shift in small arms tactics as it was highly capable and was easily manned by a single soldier, and was widely considered the world's first general-purpose machine gun.
The RWA MG34 is a faithful replica of this iconic German machine gun and is constructed from CNC aluminum and features a real wood stock. Though it was not the most affordable airsoft machine gun on it was a limited run of 500 pieces worldwide!
Pros
Faithful Replication of the Historic German MG34
Wood and Aluminum Construction
Meticulous Attention to Detail
Cons
Limited to only 500 World Wide
Price Tag North of a Thousand Dollars
Honorable Mentions:

G&G MG42
Price: $449.99
FPS: 440
The MG42 is a highly significant machine gun as it was billed as the replacement for the more expensive and harder to produce MG34. Being highly reliable, the MG42 was extensively used by the German forces during WW2 and was even given the infamous nickname "Hitler's Buzzsaw". However, after the German defeat, this gun went on to serve as an inspiration and lent many aspects to later machine guns such as the Swiss MG 51, French AA 52, and American M60 to name a few.
G&G made an absolutely amazing reproduction of this gun but it was also extremely heavy and expensive. Though the gunshot and performed well, it was not widely produced making it considerably harder to come by compared to some other entries to this list.
Pros
Faithful Replication
High Rate of Fire
Dummy Rounds for Added Realism
Cons
Very Heavy
Price Tag North of a Thousand Dollars
Price: $426.75
FPS: 280
Modeled after one of the many Lee-Enfield variant bolt action rifles used by British forces throughout the second world war, this stunning airsoft rifle features a hyper-realistic real wood and steel construction, adjustable sights, and a finish that is easy to modify for distressing.
The No. 4 was first put through trials in the 1930s and it was heavier than the original MK1. This version from RWA as previously mentioned does feature real wood construction and steel parts. But the biggest draw this gun has is its ability to hide its more airsoft aspects. Everything is made in such a way that neatly conceals things like its hop-up adjustment point. This lends itself nicely to collectors, reenactors, and players alike that want a practical yet accurate representation of this iconic British rifle!
Pros
Constructed out of Real Wood and Steel
Adjustable Sights
Easy to Distress and Gun's Finish for Increased Realism
Cons