12 Best Airsoft Tactical Vests: 2022 Ultimate Guide | Redwolf Airsoft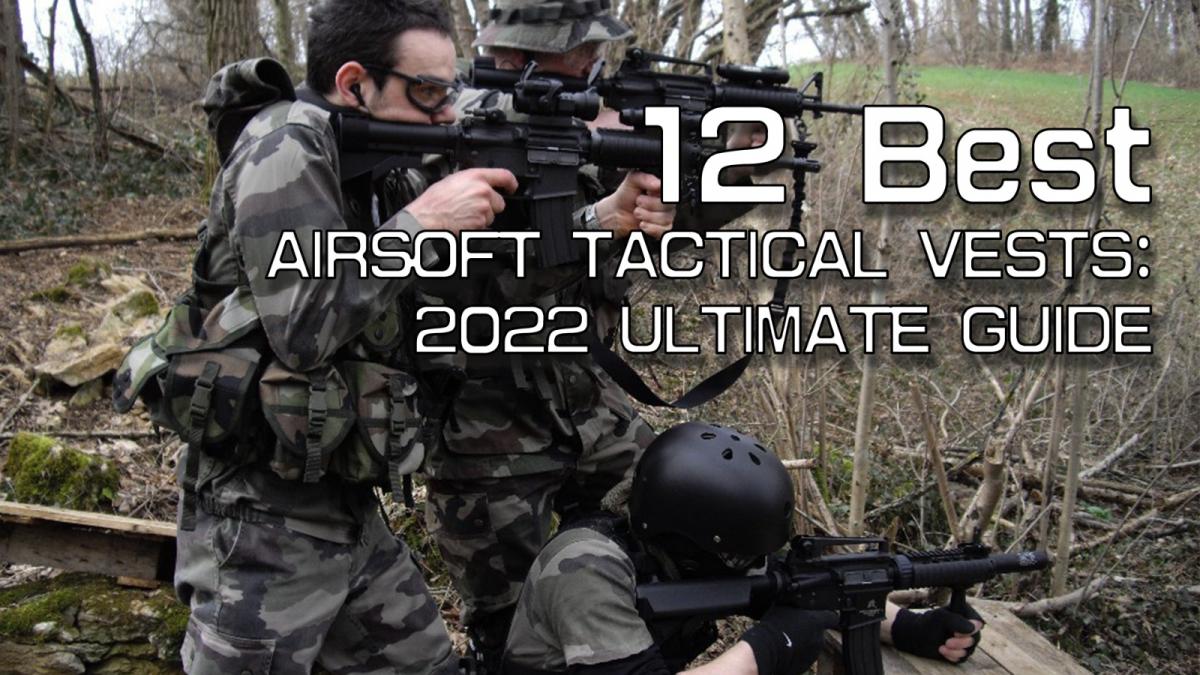 For many airsofters, we always want to look cool and make that fantasy come true by wearing what soldiers, law enforcement, or special forces on the field utilize. Whilst looking cool, they provide protection and transport for your equipment. The term tactical vests is a commonly misused term, there is plate carrier, chest rig, and vests. Nowadays there are a plethora of tactical vests on the market, which can make one bewildered. Fear not as RedWolf offers all kinds of vests ranging from a wide variety of price points to suit everyone. We shall dive in on what defines their price, and find out what are the 12 best airsoft tactical vests of 2022.
What To Look for in an Airsoft Tactical Vest?
Every vest is different as everyone has their requirements. Is it able to carry a lot? Does it have to be light? Does it feature many functions? Many tactical vests are priced based on materials used, features, and brand. There are three types of vests each with their unique design suited for different purposes.
Tactical Vest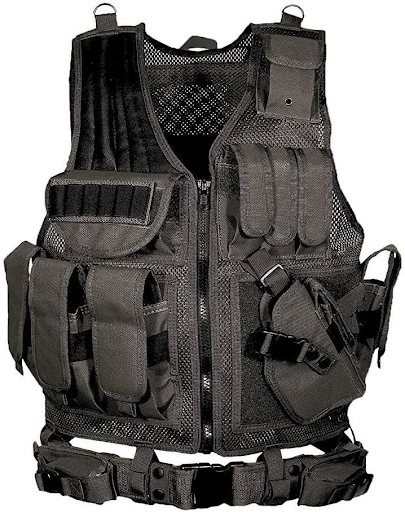 We want to look for in a tactical vest are color, padding, construction material, mounting system, adjustability, and ease of use. Who wants a vest that requires three-man to set up! A quality vest should be able to carry extra batteries, scopes, magazines, and other bits and bobs that may come in handy. Be on the lookout for zippers or velcros, as it'll provide a secure way to keep the pouches closed and intact.
The vest type more commonly used as it's more affordable than a plate carrier as well as ease of use. They usually come with pouches, so you don't have to buy any. Doesn't have much protection compared to plate carriers!
Plate Carrier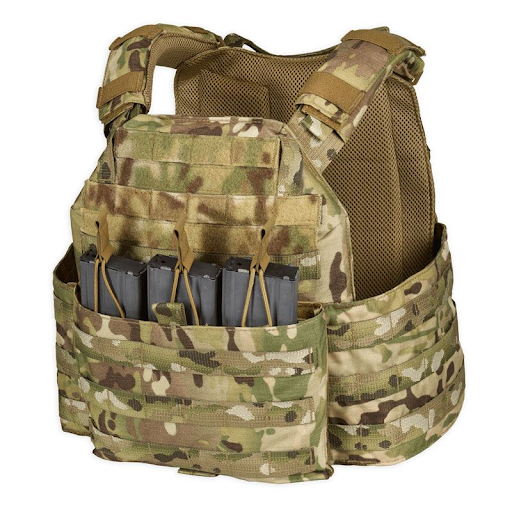 This type known as a plate carrier. Plate carriers can be fitted with a protective plate in the front and back, that is where the name comes from. Plate carriers carry ballistic rated plates that cover the vital organs of the wearer and the stronger the plate rating, usually, the heavier the plate. Rest assured airsoft dummy plates won't be as heavy as the bulletproof plates. Some may feature MOLLE webbing, which allows one to install pouches wherever they want. The only downside to these types is they can be expensive and heavy!
Chest Rig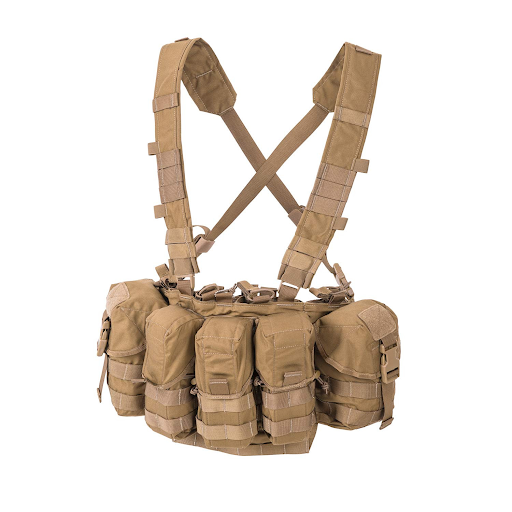 The chest rig can almost be a hybrid between a traditional tactical vest and a plate carrier. They do not offer as much protection as a plate carrier but have more molle webbing space and flexibility than a traditional tactical vest. For these reasons, chest rigs are ideal for snipers as it can be worn over ghillie suits and very light.
So Many Choices
Many brands manufacture airsoft tactical vests, but you may wonder why would the brand affect the price so much? The technology patent, R&D on a new system, and licensing all affect the price. Let's go through a few brands you may want to look out for!
The entry-level brand that most will know about is Milspex. It's a very affordable brand, gets the job done, but will not last long if you use it often. Functionality not well thought out, but ideal for beginners or as a test to get a feel of it. As they say, you get what you pay for!
For those looking for something a little bit better in the mid-tier range then you should consider LBX Tactical or Pantac. Well thought out functionality and design, with a lot of space to carry many spare mags and other types of equipment you need. Though this brand's line of tactical vests can be bulky. I have one of these myself and can tell you that it's very easy to put on or remove with a zipper.
The Gucci of tactical vests, Haley Strategic or Crye Precision these will cost you an arm and leg you've been warned! They are usually very adaptable to many plate carrier platforms, developed by former military means they are super robust. They can change between a chest rig and a front panel for a carrier which provides superior modularity.
Things You May Want to Carry in Your Tactical Vest?
After deciding what to look for in an airsoft tactical vest you have to also consider what things may you want to carry? It all depends on the role you're playing, the type of game, and the duration of each game. For example, if you know you may be under heavy fire in a CQB situation then a plate carrier with BB's and extra magazines make sense! The possibilities are endless, ranging from magazines, BB's, BB Loader, batteries, sights, secondary guns, green gas, water, CO2 capsules, tools, or even snacks!
12 Best Airsoft Tactical Vests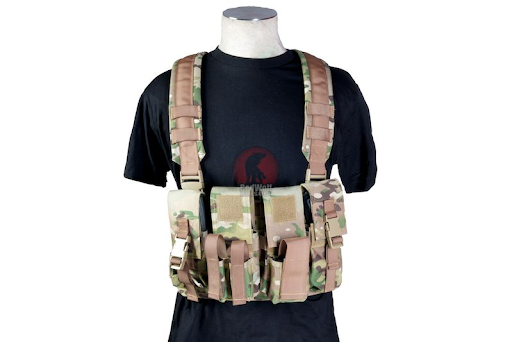 The MILSPEX SF Chest Vest is lightweight airsoft vest that provides load-bearing rigging with integrated pouches, though what we do like about this vest is that it's super affordable and the pouches are huge! It's big enough to hold AK mags or even two M4 mags. Though keep in mind these kinds of rigs do not offer as much coverage as full vests, since its essentially a chest rig.
Pros
Affordable
Lightweight
Four big pouches
Cons
Basic materials designed for beginners
Lack of protection
Featuring heavy-duty nylon mesh construction the MILSPEX Phoenix provides maximum breathability. The HSV vest is rugged and flexible to carry a large assortment of accessories. Its innovative designed pouch can comfortably carry large magazines as well as holster a mid-size pistol firmly against your body. Designed for the US sized torsos and is fully adjustable to fit you snugly. It can be adjusted up to 6" for length, and an additional 32" for girth. It's a very handy piece of gear whilst offering a bit of protection at a great price!
Pros
Ease of use
Affordable
Plenty of pouches
Interior pocket for hydration system
Cons
Basic nylon mesh material is heavy and appropriate for beginners
Zero modularity
Lack of MOLLE
This lightweight and rugged combat vest was designed for use by the US Delta Forces. It is integrally designed to accommodate a camelbak hydration system on the back with guide loops to help route the drinking hose up to the front for the operator. What's great about this vest is that it's perfect for outdoor skirmishes in the heat as it features a mesh inner-skeleton (with hidden zipper pouches) that helps to increase ventilation making this vest a comfortable and versatile choice.
Pros
420 Denier nylon liner for durability and water resistance
Easy to use
Plenty of storage space included
Cons
Lack of modularity
Can be heavy when fully loaded
Based on the FAPC design, the panels are SAPI plate-shaped which means they can support dummy SAPI plates inside. What we particularly like is the five rows of PALS webbing on the front panel and six rows on the rear which gives it great modularity. This means we can put all the MOLLE pouches we want and it also provides some decent protection. There's also a 6" x 2" patch of loop velcro at the top of the front panel for ID or flag patches. The height can be adjusted while the vest is being worn which is a nice feature as some plate carriers don't allow you to adjust it whilst being worn. Speaking of protection the rack also provides extra protection to the sides. Depending on your preferred loadout for the day, the rack can be installed and removed with ease.
Pros
Modular storage space
Easy to adjust and use
Affordable
Great protection
Heavy-duty, abrasion, and water-resistant
Cons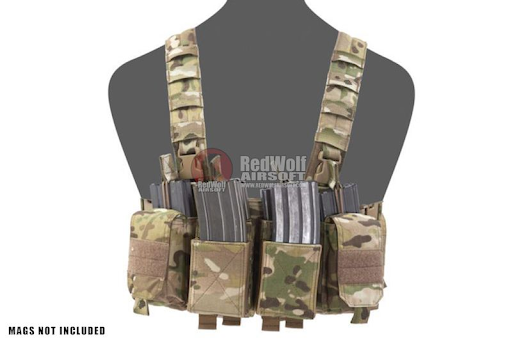 Designed to work as a compact Chest Rig in stand-alone configuration or in conjunction with Warrior's new Recon Plate Carrier System (RPC). The front section comes as standard with Warriors Double Elastic Low Profile Mag pouches these are attached with MOLLE and can be easily changed out for any of Warriors full range of pouches such as the double pistol mag pouch. The padded shoulder straps are comfortable and quite easy to adjust which makes it a joy to use! Whilst it doesn't offer much protection it does offer huge storage space.
Pros
Lightweight
Ease of use
Big storage space
Mil-spec fiber high resistance to acid, abrasion, and fire
Cons
Ghost Gear a brand under the Laylax umbrella is the ultimate field sustainment vest. It can be hard to find the right fitting vest for the ladies as most of them are designed for men. This is perfect for you ladies out there that want to get into skirmishes whilst wearing something that fits, comfortable yet tactical. With enough magazine pouches to keep you in the game all day long, having to go back for supplies is not something you will need to do. Equipped with MOLLE webbing all around this vest is highly modular and ready to take on any mission.
Pros
Petite sized designed for females
Lightweight
Plenty of storage space
Modular
Adjustable straps
Cons
May not be suitable for all females
Lack of camo/color styles
The well-known Video Game Company – CAPCOM brings a fantastic product for all the Biohazard / Resident Evil RE:2 fans in collaboration with Blowback Co Ltd, Japan. This armor vest is worn by Leon S. Kennedy, the well-known character as a police officer of R.P.D. Department in the famous video game Resident Evil RE:2. Though it lacks modularity or storage space, it does provide a good amount of protection and makes you look super awesome! If you're into role-playing and a fan of the resident evil series then by all means go for it, as you'll not be disappointed by all the details to attention.
Pros
A lifesize replica of Leon Kennedy armor vest
Official and licensed product
Collector's item
Easy to use
Adjustable straps
Cons
No storage space
Expensive
This Lock and Load Chest Rig from LBX Tactical keeps all your gear and tools in easy reach whenever you need them. It's one of our favorite chest rigs as it provides a plethora of pouches included with adjustable straps. What we like is how easy it is to use and how big the pouches are, the Hook and Loop closures throughout the rig allow you to attach the addons you need, and the padded shoulder straps ensure a comfortable fit for long periods of use. It makes you feel safe knowing that your gear will not just fall out of the pouches once they are securely velcroed in. This deserves to be in the 12 Best Airsoft Tactical Vests of 2020.
Pros
Rugged and durable construction materials
Plenty of storage space
Lightweight
Easy to access gear
Adjustable straps
Cons
Doesn't offer much protection
Not very modular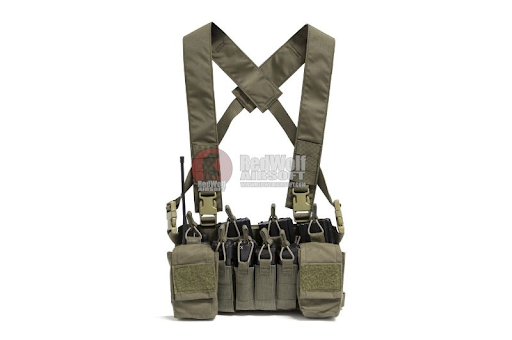 This is the king of chest rigs as it has it all, but it does come at a steep price of USD 199. Chest rig x has been redesigned to improve comfort, storage capabilities, and work seamlessly with D3CR accessories. This means it can be installed as a stand-alone system onto a plate carrier or as a quick release system by removing the X harness. We love how they designed this chest rig as it is super versatile. When used on an armor platform with a quick-release system, such as SwiftClips, it can be attached or stowed in seconds, giving the end-user the versatility to transition from low vis to high vis or vice versa.
Pros
Superior modularity
Durable
Easy to adjust and use
Plenty of storage 
Lightweight
Cons
This plate carrier is very simple to use, what we like is the rapid open buckle as you can feel it can guarantee a firm hold, but also the possibility of an immediate opening in case of emergency. It's got MOLLE everywhere, even both sides of the cummerbund so you can attach as many pouches you want! Most of the straps can be adjusted, with tons of padding so it's comfortable to wear all day long. Though if you don't need to carry too much, the padding on the shoulder can be removed to make it more lightweight. This is probably the lightest plate carrier we used only weighing in at 1kg. What makes this piece unique to others is that you can use any dummy plates you want as the interior can be adjusted.
Pros
Double-side MOLLE platform cummerbund
Highly modular
Strong protection
Adjustable plate pocket
Cons
No pouches included
Expensive
When it comes to the best tactical airsoft vests, the list wouldn't be complete without the Crye Precision JPC 2.0. It's lightweight and minimal armor vest is designed for maximum mobility, weight savings, and packability. When we say lightweight we mean it, as it just weighs a tad bit over a pound for the entire carrier. It offers a variety of configuration options to suit an operator's needs in terms of protection, modularity, and comfort. Most importantly, this is a fully licensed offering. As Crye Precision makes some of the world's finest combat gear for Special Forces around the world, you as an airsofter can now have a chance to own one without having to pay high prices.
Pros
Highly modular
Superior protection 
Lightweight
Easy to use
Cons
Expensive
No pouches included
Whilst many of these airsoft tactical vests here are all very good in their own manner the order they represent is not from worse to best. This one makes the best airsoft tactical vests of 2020 complete, the LBX Tactical Armatus II Plate Carrier. For those that play video games, you may recognize it from Call Of Duty Modern Warfare! We find that the LBX Armatus has an extremely low profile, which makes it less bulky and easier to move around in.
Pros
Highly modular
Superior protection 
Lightweight
Easy to use
Comes with pouches
Cons
Final Remarks
We hope this comprehensive, ultimate guide gives you a better understanding when considering the best tactical vests. Most important is it does what you want it to do and suitable for the situation you're in, having the most expensive piece of equipment doesn't mean you will perform better. As you grow and develop with more experience then you'll have a deeper understanding of how to fully utilize these tactical vests, by all means, you can go ahead and go for your dream set up. To find out more, head over to our website and discover more about this sport!