AIRSOFT M4 | AIRSOFT AR 15
AIRSOFT M4 | AIRSOFT AR 15
A scaled down version of Eugene Stoner's AR-10 battle rifle, the ArmaLite AR-15 was originally designed in 1956 as a lightweight rifle to fire the new lightweight 5.56mm cartridge, its two part receiver was revolutionary its time allowing for an unprecedented level of modularity for accessories or new parts. Today AR15 style rifles encompass a massive range of semi and fully automatic assault rifles used across the world. Airsoft AR 15 and M4 airsoft style guns are the most popular model of airsoft rifles by a significant margin with both Airsoft AEG M4 and Airsoft M4A1 GBB models being available by most brands offering an immense range of best airsoft M4 examples. These M4 airsoft models ranging from the classic CYMA Airsoft M16, the full length older rifle the M4 airsoft gun was based on, the excellent Tokyo Marui Airsoft M4 MWS, Krytac Airsoft M4 Trident series, EMG Daniel Defense Airsoft M4A1, G&P Airsoft M4 Carbine and G&P Airsoft M4A1 MK18.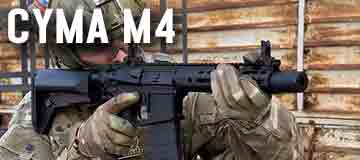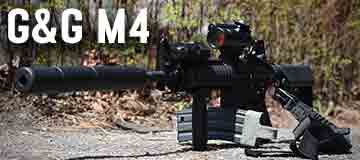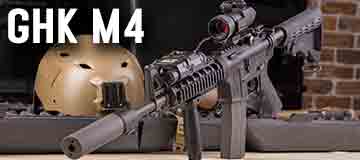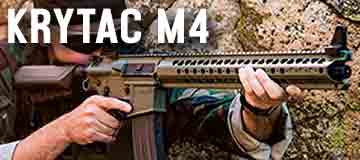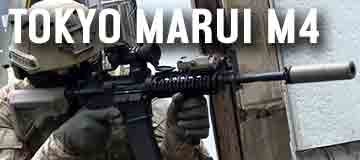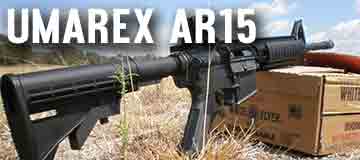 WHAT IS THE BEST AIRSOFT M4?
Airsoft M4s or Airsoft AR 15 rifles are based on the real M4 rifle, of which there are hundreds of variants. Airsoft M4s are used for recreational shooting, military simulation games, training exercises, and are also popular with collectors. Airsoft M4s come in a variety of styles and configurations, with different features such as adjustable stocks, rails, and scopes. They also come in many different lengths depending on whether you plan to use them for outdoor skirmishes or indoor games, where longer barrels generally give greater range and accuracy. Airsoft M4 rifles are customizable and can be upgraded with aftermarket parts to enhance their performance, regardless of whether they are electric powered or gas blowback models. When it comes to airsoft M4 rifles, there are many brands and models to choose from. Some popular brands include Tokyo Marui, G&G Armament, RWA, ARES, GHK, Systema, Umarex, T8, Novritsch, WE and VFC, although the list of manufacturers goes on. You can use our filter function on this page to see the different brands available.
There are many popular airsoft M4 / airsoft AR 15 models available and it is the largest category in airsoft. The popularity of specific models can vary depending on factors such as brand, price, and features. Here are some of the most popular airsoft M4 models.
These are just a few of the most popular airsoft M4 models, and there are many other great options available in our store. Ultimately, the best airsoft M4 for you will depend on your individual needs and preferences.
ARE ALL AIRSOFT M4 MAGS THE SAME?
For gas blowback M4 airsoft magazines, the answer is a firm no. Each manufacturer has their own proprietary design, so they are generally not interchangeable. However, for most electric powered M4 airsoft magazines, they adhere to the same standard as Tokyo Marui's original design from mid 1990s so in general they are all interchangeable, although minor differences in measurements by different manufacturers might prevent them from feeding smoothly if used in different brands of AEG airsoft M4s. Unfortunately, the possible combinations are too numerous to document so there is no definitive list that shows which brand of magazine works with which brand of gun. Much of it is left to trial and error.
HOW MUCH IS A AIRSOFT M4?
Prices can vary greatly and depending on whether you are a beginner looking for something basic, or an experienced player seeking a high performance M4 airsoft rifle, you should start by looking at different brands. Beginners and those on a budget can consider airsoft M4 rifles from Cyma, E&C, G&G, or ARES. The latter two brands make full polymer body M4 airsoft rifles which are relatively affordable and can be had for less than USD 200. If you have the budget for something more mid-range, the look at Arcturus, G&P, ICS, EMG, or King Arms, which will set you back somewhere between USD 200 to USD 400. If price is not an issue and you want the absolute best, look at Umarex, VFC, RWA, Krytac, or GHK, where prices are USD 400 and beyond. You can use the filter function on this page to see all the available M4 airsoft rifles by brand.