King Arms GALIL SAR Airsoft AEG Rifle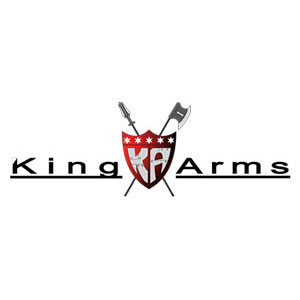 Constructed from a combination of Steel, Aluminum, and Nylon Fiber parts, the King Arms Galil SAR does a good job of recreating both the overall weight and mass distribution of the real thing.
SHIPS IMMEDIATELY
The Galil is a family of Israeli small arms designed by Yisrael Galili and Yaacov Lior, produced by Israel Military Industries Ltd (now Israel Weapon Industries (IWI) Ltd). The weapon system consists of a 5.56 mm line chambered for the intermediate 5.56x45mm NATO caliber with either the M193 or SS109 ball cartridge and several 7.62 mm models designed for use with the 7.62x51mm NATO rifle ammunition.

The Galils design is based on the Finnish RK 62, which itself was derived from the Soviet AK-47 assault rifle. It was selected as the winner of a competitive bid for the Israel Defense Forces that included many other designs and was formally introduced into service in 1972. Depending on the barrel length, magazine capacity and accessories, the Galil is available in the following configurations: a carbine variant known as the SAR (Short Assault Rifle), a compact MAR (Micro Assault Rifle) version, standard-length AR (Assault Rifle) and an ARM (Assault Rifle and Machine gun) light machine gun.

The Airsoft replica is done by King Arms, and done very well it has been too!
Constructed from a combination of Steel, Aluminum, and Nylon Fiber parts, the King Arms Galil SAR is very robust; due to the materials used, it has a near perfect weight distribution making it very comfortable to hold although replicated the real steels significant weight overall. Its full length form gives is a nice handling characteristic though, the weight befitting the size well.

The previous versions of this weapon featured a dummy bolt with cycled to simulate the blow back action but this newer version does away with that system instead keeping to a simplified version with no blowback feature to opt in favor of simplicity of use, maintenance and costs.

An officially licensed product; was Israel Military Industries Ltd., Trademark of UZI Brands International Ltd, used by permission of Cybergun. With 1:1 precise dimensions and specs, the King Arms Galil SAR is unparalleled in the world of replica Airsoft guns. It features a dummy left-side selector, and a Galil Specific Magazine which holds up to 130rds.
Specifications

| | |
| --- | --- |
| Brand | King Arms |
| Color | Black |
| Capacity (rds) | 130 |
| Power (fps) | 300 |
| Power Source | Electric |
| Shooting Mode | Semi Auto / Full Auto |
| Blowback | No |
| Hop-up | ADJUSTABLE |
| Net Weight (kg) | 3.2 |
| Length (mm) | 860.0 |
| Material | Metal |
Products from the same brand